Multistrada 1200 Ohlins Suspension – Changing The Rear Shock Spring
See also: Multistrada 1200 Ohlins Rear Suspension – Spring Change / Upgrade
See also: Ducati Multistrada 1200S 'DES' Suspension
See also: Ducati Multistrada 1200 Ohlins / DES Suspension Information
Many Multistrada 1200 owners have complained that the rear spring fitted as standard to the Ohlins rear suspension is too soft (isn't a stiff enough rating) for them ('heavier' riders and or average weight riders that ride with pillion and luggage regularly) resulting in the rear of the bike 'bottoming out'. Heavier riders are finding that they have to set the DES to Rider + Luggage even when riding solo and that there is not enough preload adjustment when carrying a pillion and/or luggage.
There's been a fair amount of discussion on the Ducati.ms and Ducatisti.co.uk forums on the subject (visit the forums and use the search facilities;-) for example this topic:
Shock spring replacement
Multistrada 1200S Ohlins rear suspension unit. Larger image and more photos here
 
Multistrada 1200 Rear Spring Change
The instructions / procedure for removal and refitting of the rear shock absorber (complete suspension strut/spring assembly) from the Multistrada 1200's rear suspension is covered in the MTS1200 Workshop.
Multistrada 1200/MTS1200 Rear Shock Removal/Fitting (PDF download 1294Kb)
**NB** this is taken from the 'draft' 2010 MTS1200 workshop manual – there may be differences to the instructions in the final version of the manual (but due to it's format it is not easy to reproduce extracts here – I have not compared the instructions.
Final version of the Multistrada Workshop Manual MY2010 is available to view online here: Multistrada 1200 ABS / 1200S ABS Workshop Manual (External link)
nb: not downloadable, viewable online only;-)
Ohlins Shock Schematics / Spare Parts
Shock TTX36 EC Ducati Multistrada 1200 S Ohlins TTX DU8600
(PDF download 974Kb)
CARE: Important, note that the part number listed for the rear spring is for the stronger spring not the OE Multistrada 1200 item.
The stronger spring is for 'heavier' riders, or those who are above average weight and also tour two up.I found that to ride solo the bike was best when set to rider + luggage. When two up fully loaded it was too soft. With the stronger spring it is just about right. Only cost around £70 too. [JohnW]

MTS1200 Rear Spring Removal / Refitting…Do It Yourself
By AdrianM 25Sep2011
Adrian's original PDF doc, Multistrada 1200 / MTS1200ST Rear Shock removal and Spring Compression Tool (1216Kb) here.
NB: Larger versions of all photos here
In order to remove or fit the spring to the shock absorber unit the spring has to be compressed so that the circlip that holds the spring seat in place can be released. I made my own spring compression tool as follows:
Base, 4"x6"x10mm metal plate – hole for shock 2.6" and 2 10.5mm holes for threaded bars 11cm apart between centres
2 x threaded bar 10mm x 500mm
2 x top brackets 35mmx4mm bent at 90° 11mm between centres
Custom ('homemade / DIY) Rear spring compression tool
The procedure…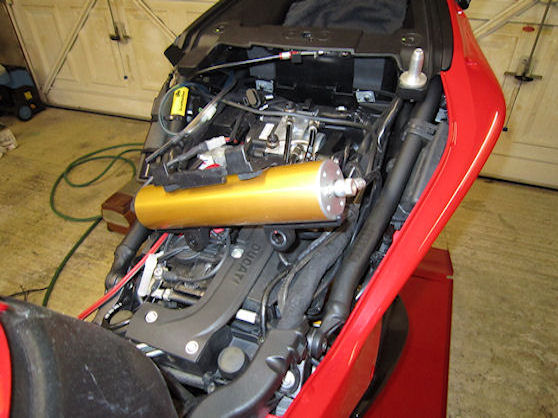 Ohlins suspension unit 'expansion reservoir' released from mounting brackets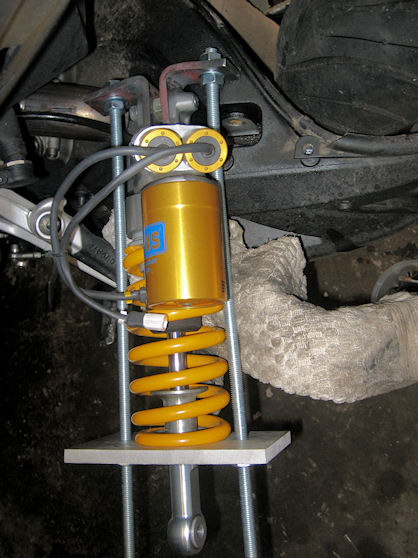 Compression tool fitted. The rear shock unit was removed from the bike as per the Multistrada 1200 / MTS1200 Workshop Manual
Closer look at how the compressor tool 'L' brackets attach to the top of the shock absorber. Install the two brackets to the top section of the rear shock unit utilising the
bike's rear shock top mounting bolt.
…and to the bottom of the shock absorber strut. Compress the rear spring by tightening the two nuts at the bottom plate until the spring retaining ring 'circlip' is visible to allow removal.
Spring seat and retaining ring (spring under compression)
…and the retaining ring / circlip removed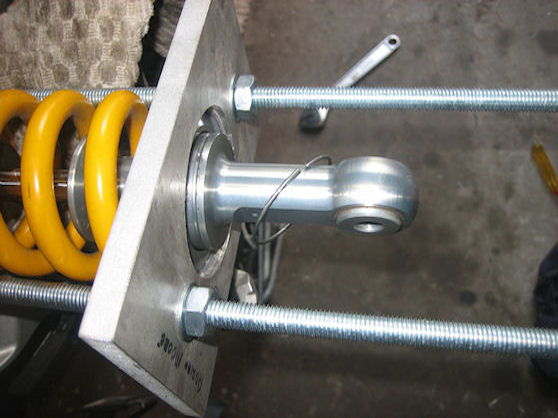 Undo the compressor bottom plate nuts to release spring tension
The removed spring, spring seat and spring retaining ring / circlip
A closer look at the spring seat retaining ring / circlip
The OE Multistrada 1200 Ohlins 85Nm rated rear suspension spring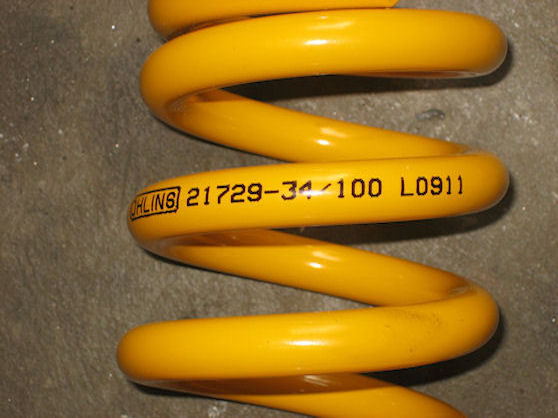 The replacement / upgrade Multistrada 1200 Ohlins 100Nm rated rear suspension spring
Adrian's Multistrada 1200
…ST3 and Multistrada 1000DS