Bayliss Replica Ducati Multistrada 1200S
Troy Bayliss Replica Ducati Multistrada 1200 – Not an official special edition from Ducati but a 'one off' special, a gift from a Swiss Ducati dealership to the man himself, Troy Bayliss
From www.ducatinewstoday.com (original source: Motoblog.it)
Troy Bayliss is a Ducati Superstar. The likeable Australian is so polite and friendly to the media it belies his status as a 3 times World Superbike Champion. Ducati created a 1098R Bayliss Limited Edition to celebrate his achievements but now it appears a Swiss Ducati dealer has presented Troy with his own Ducati Multistrada 1200S in Troy Bayliss replica livery.
Troy is not exactly sitting back and taking it easy in his retirement. He is in Europe for the upcoming World Ducati Week and also attended the Monza round of the World Superbike championship last weekend. He also nearly won the "Diece Colli" bicycle race. somehow it appears he had time to do a brief tour of Switzerland where he took delivery of his Multistrada 1200S replica. It looks pretty good doesn't it!!
I've no idea who the Nana Mouskouri look-a-like is in the first photo (answers on a post card please:-) but I'm sure I don't have to say that the guy behind her is multiple WSB champion Troy Bayliss, pictured with the Ducati 1200 Multistrada Troy Bayliss special.
To date I've been unable to find more information on this apparent one off 'special' – if you know more please let me know. 
The use of the Australian flag on the front fairing lowers makes for a subtle and tasty looking Multistrada 1200 paint scheme.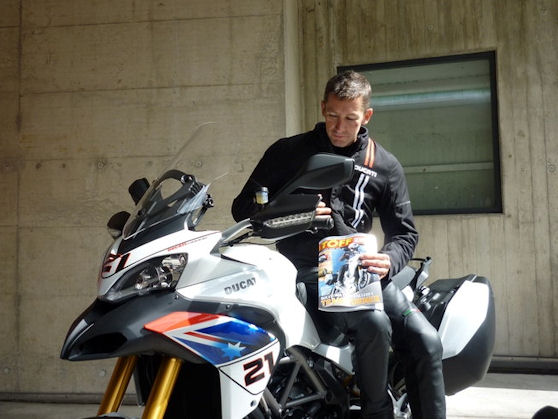 It would have been better still if they'd carried the paint job/decals further like Ducati did with the official 1098 Troy Bayliss special edition…(drool!)