Bursig Motorcycle Side Lift Stand for the Multistrada 1200
BURSIG Stands have been made in Germany for more than 6 years now and have undergone many refinements along the way. Now possibly the ultimate motorcycle stand, this side lift stand for the Multistrada 1200 is beautifully engineered using high quality materials and is immensely practical.
There's a well know saying… a picture is worth a thousand words so a video must be even better! The following video gives you a really nice insight on how practical and easy to use the BURSIG Stand is.
Ducati Multistrada 1200 Bursig Paddock / Workshop Stand
Video by US Bursig distributor www.maxmoto.com
Fast and effortless jacking up of the complete motorcycle
Model specific adapter plate (included)
High precision, tight fit of adapter and very stable positioning of the bike allows easy access for repairs, servicing and cleaning of all parts e.g. wheels, engine and forks
Teflon inserts (for more protection and less friction)
High corrosion prevention (powder coated / galvanized parts)
Load capacity 300 Kg
Weighs around 13 Kg only (incl. wheels)
Lifetime warranty
 
Powder coated and galvanized, this high quality lift system is now available for an ever growing number of popular Japanese and European bikes. A secure central lift system for storage and/or maintenance of your motorcycle. No particular strength is required to lift any bike completely off the floor safely. A must have for the race track or garage. If need be the motorcycle can be completely stripped down to the engine while secure on the stand. Ideal for long term storage also as the suspension and tyres are not under compression. Wheels / coasters (optional with some bikes, included with the Multistrada 1200 stand) will allow mobility in garage or workshop. No stand is faster or easier to use and transport!
Own more than one motorcycle or wondering what happens when you change your current one?
When you want to lift a different model motorcycle with your stand then you need to do is buy the appropriate adapter plate.
**NB** Multistrada 1200 Bursig Stands Specify the bike year when ordering. From 2012 the swing arm pivot bolt is 'blind' and the previous adapter for 2010/2011 bikes with a locating rod does not fit.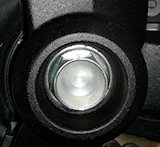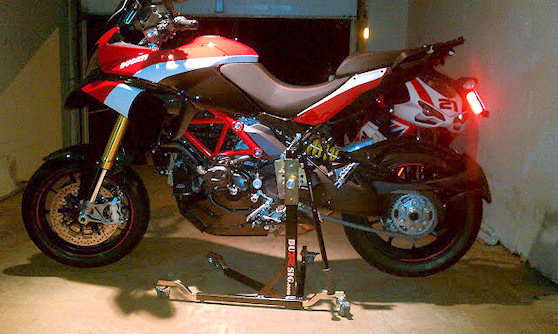 Other Ducati applications: Ducati 999/999S Ducati Streetfighter Ducati Diavel Ducati 848/1098/1198/1198SP