Multistrada 1200 – Fitting spotlights / LED Spot Lights Installation
 
See also: Multistrada 1200 / MTS1200 HID headlight / headlamps conversion
See also: Multistrada 1200 – Headlight, dual dip / high beam modification
See also: Multistrada 1200 / MTS1200 Headlight Adjustment
BikeVis Bullet LED Motorcycle Lights – unique, award winning motorcycle running lights….BE SEEN! – BikeVis, stockist for  Vision X Solstice Spotlights
---
 
Multistrada 1200 Spot lights fitted:
SW-Motech spotlight mount + Vision X Solstice LED lights
By Ducati.MS member 'TimOz' 21Sep2010 (see forum discussion here)
I fitted spotlights to my MTS1200 yesterday. I used SW-Motech light mounts I bought from here.
UPDATE (Oct 2011): This particular style of mounting bracket that attaches to the side of the radiator is no longer available.
SW Motech spotlight mounting bracket instructions…
The SW Motech Multistrada 1200 light mounting kit consists of 2 brackets and 4 socket head cap bolts that install onto the radiator. This is where the standard lower bracket for the front shroud is fitted and the brackets simply fit under this standard bracket using the supplied longer bolts, 2 each side. I used locktite and it took about 10 minutes.
The SW-Motech bracket has quite larger bolt holes for the lights so I fitted a rubber grommet. Right side shown here. I have not fitted a radiator guard to my bike but I do not think the light mount brackets will get in the way of the guards I have seen.
I used Vision X global lighting systems "Solstice" 900 lumens LED Eurobeam lights from the same supplier here.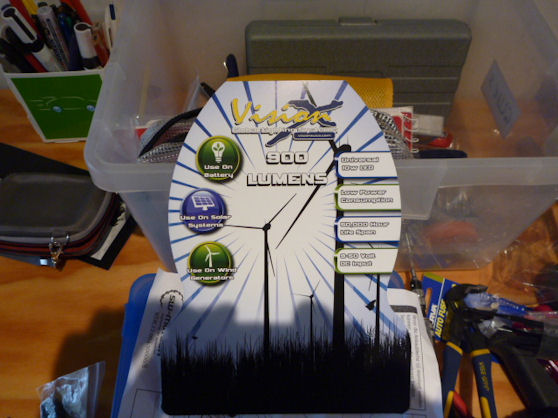 I ordered them together with the mounts and they arrived from Perth in about 3 days.
This is the full kit with 2 lights and wiring. As you can see the lights look like the Denali lights that Twisted Throttle sell and I think they are exactlky the same (but I could be wrong). They are 2 x 2 x 3 and are light and small. They put out 900 lumens and use 10 watts each. The Eurobeam has a 15 degree beam angle and is wider than a pencil spotlight but narrower than a foglamp. I like this as I want to send light down the side of the road, mainly to see animals just that bit earlier. I can also get pretty foggy where I ride so they will be used as foglamps when needed.
I found the wiring harness to be quite high quality but almost useless to me. It has a non-waterproof switch fitted and has 3 or 4 earths by way of ring terminals. I hate this idea and woiuld always run the earth back to the battery, or in my case to the Touratech TPS-15 CANBUS helper I have fitted. Trying to get good earths on a modern bike is a waste of time. Therefore I cut the harness up to use the waterproof plugs fro the lights and the fuse and made up a new wiring harness. I fitted the supplied relay under the seat near the battery and ran 2 wires to the lights and a single trigger wire to the high beam. I currently have it hard wired to activate when high beam is on but I have set up the wiring to allow the fitting of a 3-position switch. I want to have the options of 1. Off 2. On with high beam only 3. On. I will set this up to be triggered from the GPS power feed so the lamps will only go on when the bike is on. Apparently some people wire these up to be switchable on with the bike off for camping and the like but I can'e see me doing this as a flat battery would be bad. Mind you, at 10 or 20 watts this would take some time.
I fitted the lamps with a stainless washer underneath and they come with nylocs. I found it easy to adjust the bolt tension of the vertical and horizontal bolts to be able to move and aim the beam and still hold position well. The rubber grommet in the mount is actually good. It gives a small amount of flexibility like a shock absorber.
…from the front. They tuck in very well and fit really well.
Low beam with spots off…
High beam with spots on…
Link to bigger photos here.
Costs of purchase and fitting up the lights:
SW-Motech mounts AUD$89
Solstice Lighting kit AUD$359
Freight AUD$20
nuts, bolts heatshrink $10
Total AUD$478 (conversion 02Jan2010 – £314 / us$486)
Also note that the Solstice lights have linking connectors so that you can add more lights. The connect to the existing pods and have piggyback wiring. You can add spots or fogs to the Eurobeams as long as the current requirements do not tax the alternator output.
You can see the bits here.
Update Oct2010
The switch in the harness is one of those old kind of switches used for spotlights in old cars.
The one I plan to replace it with is a marine rocker type switch called a "Carlingswitch". They can be bought from most marine chandlers (in Australia at least). They are a bit bigger than the toggle switch but are fully waterproof, easy to use with gloves and are 3 position so I can wire the spots to be off always, on with high beam (normal setting) and always on. I have not done this yet and not even had the chance to see if it will fit as I have been riding around Phillip Island and just got back.
You need to cut a rectangular section with a Dremel and it press fits in.
Tech info and some pics here: Carling Tech: Sealed Rocker Switch
They may even have smaller ones in their list. Look at the "sealed" units as this means waterproof.
Pic here of both switches. Left is the one from the wiring harness. The one on the right is one that BMW used for heated handgrips on a R100GS I had many years ago.
Q&A:
[Buckeye] What's the power consumption of your lights? Not much headroom with power capacity…
[TimOz] Here is the maths.
The MTS1200 has a 500 watt alternator. Note that that will be the max output and this will be reached at mid level revs or above. It will be held to 500W by the regulator. It will be lower output than this at idle or low revs but will be "topped up" by the battery at this time.
The headlight bulbs are the main user of power and are rated at 55W each. So with low beam (normal riding) or high beam you will use 110W. The only exception will be when you flash the headlights when all 4 bulbs come on and you will use 220W.
Add to the the other power used by the bikes system, Dash, indicators, ECU, fuel pump, suspension adjustment when it is in use and you may be using another 10 – 50W. So chugging along the highway you probably have more than 300 – 350W to play with or "headspace" as you term it.
On my bike I have a Stebel Nautilis and this will draw 18 Amps (Amps = Watts/Volts) so this will use 216 Watts for the time the horn is tooted. So if my lights are on and I toot the horn I am still not in trouble.
The Solstice lights I have fitted are LEDs and use very little power for the light output as they do not make nearly as much heat as a halogen. Each light is rated at 10W giving a total extra power draw of 20W. In theory I could add 30 of these spotlights and still not have a problem.
I think the only time you will have trouble using up all of the MTS1200 alternator output is if you start putting high draw items on your bike like lots of heated clothing or an electric kettle or microwave oven.
Some extra trivia:
To compare the standard headlight bulbs and the LED spots:
Power use Light output Lumens/watt
Halogen headlight 55W 1,350 24
LED spot 10W 800 80
Those numbers show how LEDs are more efficient than incandescent sources. Soon we will have high output LEDs for headlights. They do exist now but are still expensive.
[MartyS] I think you're calculations of the bike's consumption needs are off. When I was wiring mine I was cautioned by the DNA Tech guy that the bike uses up to 27A. The 500W alternator produces 36.5A when running at 13.7v (500/13.7=36.5). 16.5A to run the bike's ECU, injectors, ride by wire, headlights, dash, fuel pump, etc., 4.5A for the fans (when on), 3.7A for the heated grips and 1A each for the GPS and battery charger. That leaves 10A or about 137W usable, which coincidentally is the limit of the accessory sockets.
You are right about high draw items straining the system. I have heated gloves, liner and pants. when they're all on an I'm sitting in traffic I can watch the battery voltage drop until I start going again and the revs come back up.