Pikes Peak International Hill Climb Ducati Multistrada 1200's
  
Ducati North America, Ducati Newport Beach and Spider Grips Launch an Assault on the 2010 Pikes Peak International Hill Climb with the Ducati Multistrada 1200 
Source/Links: Ducati North America, Spider Grips, Pike Peaks International Hill Climb
Update 04Jun2010 – video added: Pikes Peak Multistrada 1200S Race Bike Test
Update 16Jun2010 – video added: Greg Tracy Pikes Peak practice run (superb!;-)
Update 30Jun2010 – Multistrada 1200's take 1st and 3rd at Pikes Peak
Video by kind permission of 'traavel' – http://www.youtube.com/user/traavel
Ducati North America is has announced its participation in the 2010 Pikes Peak International Hill Climb. It will enter two Multstrada 1200's in the Race to the Clouds, set to take place June 27th in Colorado.
2010 represents Ducati's second attempt to win the prestigious hill climb, following a 2008 "skunk works" effort in which Ducati won the 1200cc class with the Hypermotard 1100. This year Ducati has organized an official effort surrounding the new Multistrada 1200, partnering with Spider Grips of Southern California to run the team.
"We are excited to partner with Ducati for this year's Pike Peak International Hill Climb," said Spider Grips Principal Paul Livingston. "The new Multistrada 1200 caught our eye when Ducati unveiled it in Milan last November, and we have been dying to race one since. We are really looking forward to getting out there in June!"
"Considering the success we had with the Livingstons in 2008, we've been plotting a return to the mountain in 2010 since the early days of developing the new Multistrada 1200." Said Ducati North America's Sales and Marketing Director, Jason Chinnock.

Team Spider Grips Ducati will field a two bike team with riders Greg Tracy and Alexander Smith. Greg and Alexander are no strangers to riding Ducatis up the mountain, both having raced the Hypermotard in 2008. Alexander and Greg are enthusiastic to race the Multistrada, planning to put its traction control, ride by wire throttle and other electronic revelations to good use.

The Spider Grips Ducati Multistradas will be officially unveiled at the team's dealer partner Ducati Newport Beach this Friday, May 21, at 5:00pm. The entire team including riders and technicians will be on hand until 7:00pm to chat and show off the newly completed race bikes. The world's first two racing Multistrada's will continue to be on display at Ducati Newport Beach for the remainder of the weekend after the unveiling Friday night.

The Pikes Peak international Hill Climb will take place June 27th in Colorado.

_______________________________________________
I don't have any details on the specs or modifications made to these bikes in preparation for track events but Ducati.MS member 'Barracho' has seen the bikes in the flesh (photos below;-) and noted:
Nothing has been modified that we as owners could not do ourselves. When the full Termi systems come, those will be added. The rest is just paint ('Corsa' paint scheme), race tires, custom molded carbon pieces and revamped tail section (no luggage racks needed!). Acerbis hand guards are also on and it looks like they took a smoked windscreen and cut it for the one bike, the other has a carbon shorty screen. Stock suspension, Race Tech carbon fork protectors on the one bike.
Many thanks to Ducati.MS member 'Borracho' for the following photographs of the Pikes Peak Multistrada 1200's. See more of Chris's photos here: Chris Kraft Photography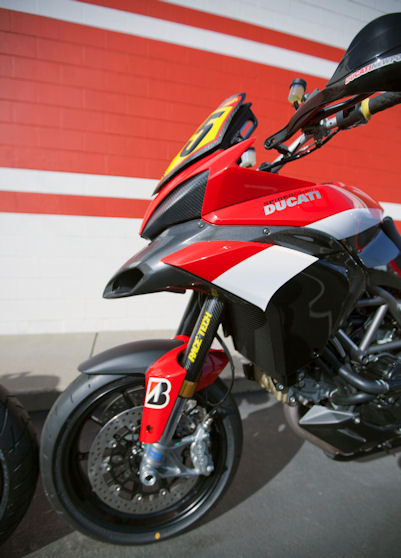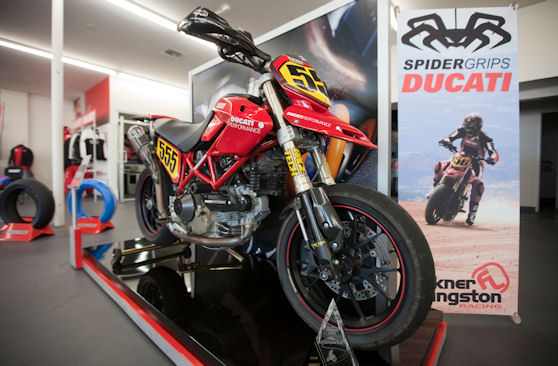 See full size versions of these and some additional photos here:
Ducati Multistrada Photo Galleries 
---
Pikes Peak Practice Run Video 16Jun2010 
The Multistrada 1200 S takes first and third positions in its maiden off road competition (source: http://www.ducatiusa.com/)
Ducati North America is excited to announce its first and third place finishes in the 88th annual Pikes Peak International Hill Climb, held on Sunday, June 27 in the mountains above Colorado Springs, Colorado.

In its very first international competition, the Multistrada 1200 S took top honors in the 1200cc class in the hands of Pikes Peak Veteran Greg Tracy. The Multistrada took a massive lead off the starting line, and rode into clouds to take the top podium position at 14,110 feet. Tracy ran a smooth, uneventful race which demonstrated the exceptional on and off road capabilities of Ducati's latest offering.

"That was an exciting week I've got to say. I want to thank Ducati for the opportunity they've given me- I was even pitted in front of Rhys Millen's Unlimited Class ride- that was pretty cool! The Spider Grips Falkner-Livingston Multistrada was an amazing ride. Everyone did an awesome job and that motorcycle is crazy fast- it hit 137mph at one point! The bike worked great on the dirt and the asphalt" said Tracy in the post race award ceremony. "When I was growing up, and all these factory teams would win races, I was sure they had these $100,000 engines and that was why they went so fast. I was wrong. This is my first year on a factory motorcycle and I'll tell you that bike was box-stock. It had some carbon, and few tweaks and that was it."
Greg's teammate Alexander Smith also put in a formidable performance, ensuring the second Ducati entry made the podium. Alexander fought his way up the mountain, battling an exciting race for the second spot and finishing third after an accident in the last corner.

"I have to repeat everything Greg said about the bike- it was really perfect. The race was good, and if you see the start line footage you can tell how awesome the bike was working," said Smith. "It was a pretty uneventful race up until the last corner where I kind of laid it down. I got off real quick and remounted which was still good enough for third and got two Ducati's on the podium."