BMW R1200GS / GS Adventure – Bridgestone Motorcycle Tyres
Motorcycle tyres that bring out the best in your bike…and in you
---
Get your motorcycle tyres from Two Tyres
---
Bridgestone.co.uk   (International Bridgestone.com)
Whether your R1200GS is used purely on the road and you're looking for a great road tyre, or it's used on and off road and you want a road/trail tyre Bridgestone have the tyres for you! See the links below to the September 2008 Bike Magazine R1200GS Tyre Test – road tyre test winner: Bridgestone Battlax BT020/BT021 combination.
Bridgestone is a leading Japanese tyre manufacturer, established in 1931. Today Bridgestone has a reputation based upon technological investment backed with Moto GP experience. Bridgestone will be the sole tyre supplier to the MotoGP championship from 2009 and the Valencia test marked the first occasion to evaluate new specification tyres with all teams and riders for next year. Bridgestone Motorsport Moto GP


It's time to put your trust in the world's best bike tyres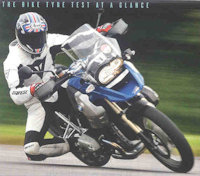 Bike Magazine R1200GS Tyre Test September 2008 Bike Magazine has been testing tyres again. This time back to Bruntingthorpe Proving Ground, now with a BMW R1200GS and offerings from Avon (Storm/Azaro ST), Bridgestone (BT-020/021), Continental (TKC80 Twinduro and Road Attack pairs), Metzeler (Roadtec Z6), finally Michelin (Pilot Road). "Brunters" is unique in the UK, with space for absolute top speed runs, ropey surfaces and controlled conditions. Each set of tyres was subjected to a minimum of ten flying laps. Conti's Twinduros were the odd ones out so the magazine, in fairness, didn't assess them against the competition, but for extreme contrast purposes. Amongst the other runners, scores of between two and five stars were awarded, with the Bridgestone combination being clear winner. "The Avons and the Metzelers are good, but the Bridgestones are just better everywhere", said Bike's Bruce Dunn.  www.bikemagazine.co.uk
Motorcycles are highly complex machines and its riders are highly demanding individuals. Both require tyres that enhance overall performance – in other words, match the technical features of any bike, and also the style of any rider. With Bridgestone's range of ultra high performance tyres, human and machine are united in perfect harmony. 
Battlax BT021 reviews by MCN, T.W.O and Superbike
"The all-new BT-021 is the replacement for the legendary BT-020 sports touring tyre, which was massively popular and a hard act to follow…"
Bridgestone.co.uk   (International Bridgestone.com)
Follow the link above to find the right tyres for you – whether for a motorcycle or scooter, on road, off road or racing, Bridgestone has the right tyre for you.
More recent reviews:
MCN – "The average rider will never get close to the tyres' limit on the road."
Bertie Simmons -"The Battle Wings gave me more confidence than I've had in the front end of a big Trail Bike for ages. , we all concurred that these tyres were a good step forward from what these bikes are normally shod with."
Superbike – "The Battle Wing feels like a road tyre and grips like a good sport touring tyre should, but also has the looks to satisfy the Adventurists."
T.W.O – "Having the confidence to simply chuck a big trailie into a corner isn't something I'm used to and the BW501/02 transformed all of the bikes."
Ride – "The Battle Wing makes a big trail bike handle like a decent road bike."
 
Bridgestone Tyre Range for BMW R1200GS & R1200GS Adventure
BATTLAX BT-020 – Riding comfort, high-speed stability and long mileage are basic "functions", and all are needed in sport touring type tyres. The brand-new BT-020 cleared every technical high level goal, most notably the unsurpassed wet performance.
BATTLAX BT-021 – Following on from our legendary BT-020, our BT-021 marks a new generation in motorcycle tyre technology bringing you more grip, more stability, more mileage and more fitments
BATTLE WING BW501 / BW502 – Designed for growing number of committed adventure bikers looking for maximum sensation without sacrificing durability, stability and all-weather grip. If your thing is big trailies… perhaps a BMW R1200GS or Honda Varadero… this is the tyre to take you wherever you want to go
TRAIL WING TW101 / TW152 – Enjoy riding freely on both streets and dirt, with Trail Wing's overall performance of pattern, blocks and compound. Trail Wing TW152 is an on-off road type tyre with an emphasis on street application
For more information visit Bridgestone.co.uk
Find out more and see the latest Battlax motorcycle tyre range here