2014 Affetto Ducati MTS1200 Special – Ducati Multistrada 1200 'Toubkal'
 
Another featured Multistrada 1200 from Affetto Ducati showing off their talent for designing, modifying and building bespoke / custom one off Ducati motorcycles.
See also: Ducs to Dakar
Ducati Multistrada 1200 'Toubkal' Special
NB: Full size version of the photos here
Photography by Mark Kamphuis
ALL PHOTOS © Mark Kamphuis | www.mkfotografie.nl
Most of the Ducatisti in the Netherlands are expecting it every winter now, the Ducati special build each year by Dutch Ducati Dealer Affetto Ducati in Overasselt (near Nijmegen), Netherlands.
Last year (winter 2012-2013) they build a retro cafe-racer which started out as a Sport 1000 and ended up with 996 front forks, Accessato brake calipers, some NCR parts and a handmade exhaust system, amongst other modifications.
This year (winter 2013-2014) Affetto Ducati owner Leo Fleuren was inspired by the highest mountain in Northern Africa……Toubkal, a mountain peak in southwestern Morocco, located in the Toubkal National Park. At 4,167 metres (13,671 ft), it is the highest peak in the Atlas Mountains and in North Africa and located 63 km south of the city of Marrakesh
With riding in rough sandy terrain such as you find in Morocco in mind Affetto Ducati have transformed a Ducati Multistrada 1200 in to a true Superenduro!
The Multistrada base model itself is already a great bike for touring but the special edition modified by Affetto Ducati is ready for the rough roads and the dessert! The bike is equipped with spoke wheels by Kineo wich are suitable for tubeless tyres. It has large aluminum sidecases, equipped with a small water tank and a bag for some tools.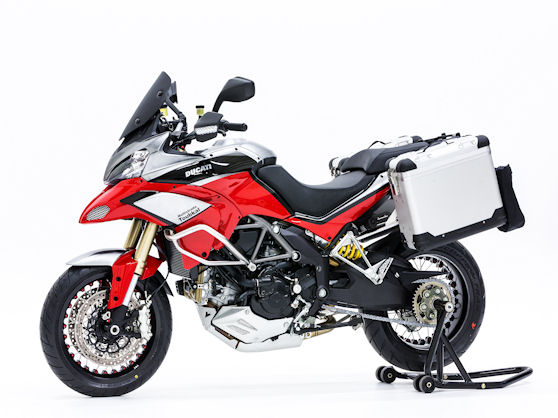 The windscreen is one with better aerodynamics to reduce wind turbulence. That's not all of it, the Multi also is equipped with lots of Touratech protection to make sure essential parts won't get damaged in a fall. It also has sturdy crash protection to keep the special custom paintwork safe.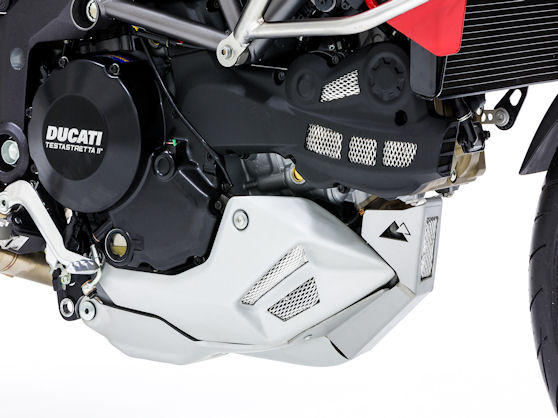 The bike has a complete bespoke exhaust system with the catalyst removed and the silencer made off titanium!
The selling price all this beauty is: €24490,- including all Dutch taxes.
More info:
info@affettoducati.com or +31(0)246222001
ALL THE PHOTOS ABOVE © Mark Kamphuis | www.mkfotografie.nl