Ducati Multistrada 1200 – Thumbs up Enduro Mode!
By Ducati.MS member 'motocow' 08June2010
Larger versions of the photos below can be seen here
Did a little off-roading today after work and I do have to say that I am very happy with the Enduro mode. It is definitely not a perfect off-road bike but for being a bat out of hell sport bike, the fact that it can do Enduro is huge!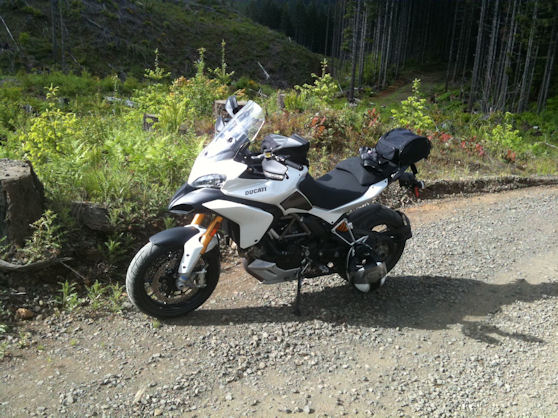 The Multi didn't give me the highest confidence on steep downhills, but I think that had more to do with the front tire than the bike itself. I only did about 10 miles total, but I wouldn't hesitate to take it 100 miles or more.

I don't think it would work well on loose, sandy terrain, but hard pack and gravel are a piece of cake and inspired confidence. Did hit a few wet clay sections as well and it did get a bit dicey, but again more to do with the tires than anything else.
I have ridden a lot of different dirtbikes in my life and "NO" the Multi does not compete with any true dirtbike, however, I have ridden a KTM 950 Adventurer off-road and I would have to say the Multi compares very favorably. Again the only edge that the KTM 950 had was the choice of tires. The 950 I rode had a more aggressive dirt oriented tire on it.
Hope this inspires a few of you to get your Multi dirty