BMW R1200GS (R1200) motorcycle CANbus system
CANbus (CAN-bus / CAN bus or buss) – what is CANbus, how it works and how it affects you when you want to add electrical accessories or make other changes to the electronic systems / electrics of your BMW R1200GS motorcycle.
See also: R1200GS Wiring Diagram (external link 2.67mb .pdf file)
(pre 2008 R1200GS / GSA models – CARE: there may be slight variations year on year)
CANbus technology has been used in automotive industry for some years. CAN (Controller Area Network) was developed by Bosch in the early 1980's and became an international standard (ISO 11898) in 1994. It was specially developed for fast serial data exchange between electronic controllers in motor vehicles.
I believe that the introduction of the on-board single-wire network system in 2004 for the BMW R1200 range of motorcycles is BMW Motorrad's first use of this 'technology' (if you know different please let me know!). However Ducati was the first motorcycle manufacturer to use CAN-bus in a production motorcycle in 2002. The Ducati 999 uses the two-wire digital bus to simplify the electrical system and reduce weight significantly which no doubt is why BMW adopted the system.
Controller–area network (CAN or CAN-bus) is a vehicle bus standard designed to allow microcontrollers and devices to communicate with each other within a vehicle without a host computer. All you need to know about CANbus – Wikipedia page
An electrical bus (sometimes spelt buss) is a physical electrical interface where many devices share the same electric connection – Wikipedia page
BMW R1200 / R1200GS CANbus System – What BMW say…
On-board network – CAN-bus technology: With fewer cables than ever, the new on-board network ensures a high standard of reliability plus an even wider range of functions. The single-wire system transmits all relevant data via one single wire to the respective control units. Physically, it is a double-wire system with CAN-bus (Controller Area Network) technology consistently interconnecting all control units and the central vehicle electronics (CVE) to form a permanent data network – the various units exchanging data with each other. Apart from simplifying the main wiring harness it also allows efficient, comprehensive diagnosis of all vehicle functions.

A further advantage is that the system no longer requires conventional fuses. CAN-bus technology automatically switches off the suspect component – where possible – and checks whether the function is still defective when the rider again starts the motorcycle. The network also serves to feed all data to the cockpit display on the info-flat-screen. To easily adapt and integrate electronic accessories into the on-board network, there is a plug for special equipment.
Can Bus compatible battery charger
Don't cause yourself unnecessary problems by using a battery charger that might cause an issue with your electrical system. This is a recommended battery charger that's can-bus compatible.
Adding electrical accessories / power for electronic items (fog lights, spot light, HID ballasts, heated clothing etc)
See here for GPS Sat Nav power connection
You'll have to avoid taking power direct from CAN Bus controlled systems as the additional power draw will trigger a system fault. The CANbus systems are programmed for certain limits on current draw so it's best to install a relay which will be triggered/switched via the CANbus system (e.g. headlamp wiring for additional spotlights) and power to the accessory direct from the battery via a fuse. If you intend to install a number of accessories that require power an auxiliary power / fuse panel such as the Centech AP1 or Touratech TPS 15 should be used.
Centech AP1 Auxiliary power fuse panel
Fused power for up to eight individual electronic devices, including radio, GPS and other accessories up to 60 amps total.
TPS 15 CAN Bus Output HelperUseful for any motorcycle with 12-volt power that you want to be able to switch devices on and off with the ignition but do not want to draw power from the existing wiring harness up to 15 amps total.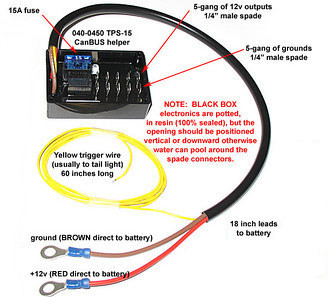 NOTE: Touratech TPS-15 – do not use the 'scotch lock' quick connector to connect the TPS 15 trigger wire, for all motorcycle electrical connections use proper electrical connectors or make soldered joints!
Here's how Jim Bade (aka Jim Vonbaden), went about adding powered accessories to his R1200GS. Make sure you check out Jim's website! www.jimvonbaden.com
The R1200GS Canbus system is somewhat reluctant to be messed with. OK, that is an understatement. It wont tolerate being messed with!

So, if you want to add accessories, you need to either wire them directly to the battery, or create a fuse box. Of course for the fuse box to work right and to prevent your accessories from killing the fairly small battery on the 1200GS, you need to hook the fuse box up to a relay.

Here is the wiring diagram I made up and used. Note that I have the GPS wired directly to the battery still, since I want power at all times. If you have a unit with a battery, you can use the fuse box.
Lots of wires can be messy, but BMW was thinking about us when they elected to furnish a tool kit with no tools in it (for all intents and purposes), so I put the fuse box in the spote where the tools used to be. It is the perfect location.
I used a Blue Seas fuse box because it is a quality unit, and marine rated for protection, so I figured it would work on a bike.
I took the signal power for the main 30amp relay, purchased at Pep Boys for $3.99, from the bike's testing plug at the back of the fuse box. I used the green wire with blue stripes because it is ignition on only, so the fuse block is only powered when the key is on. The power needed is so low that the Canbus ignores it.
See here for photos.
Single-WHAT-System?
by Anton Largiader, OTL January 2006
Confused by the barrage of TLAs coming from BMW lately? CAN, ZFE, SWS, BMS, DWA, ABS, ESA, WAD, EWS, and stuff like that? Here's the lowdown on some of the high-tech that the new R1200 and K1200 models have brought us. One key to understanding the new BMW motorcycle electrical systems is the wiring, so we'll start by looking at the advancements there. [TLA self-referentially stands for three-letter abbreviation. –Ed.]…continued here