Multistrada 1200 Full Termignoni Exhaust 'Stubby' Conversion
Update Mar2012: Another example of a cut down exhaust silencer (Arrow) on a Multistrada 1200…..see below.
 
Multistrada 1200 Cutting Down a Full Termignoni Exhaust Can / Silencer ('Stubby' Conversion)
Whilst the advantages of the full Termignoni exhaust system (NB: the installation includes a replacement 'high flow' air filter and new ECU) are clear…performance, sound(! :D) and getting rid of the huge ugly CAT (catalytic converter) exhaust box (which also weighs a ton) not everyone likes the looks of the full system silencer, especially compared to the nice short 'stubby' DP silencer/muffler available for the MTS1200.
One Multistrada 1200 owner has come up with a slightly drastic solution for all the benefits of the full exhaust system but the looks of a 'stubby' can….see below.
MTS1200 Standard Exhaust
MTS1200 DP Termignoni Carbon 'Stubby' Silencer
MTS1200 DP Full Termignoni Exhaust System
…and modified 'stubby' version!
See also: Fitting an Arrow Full Exhaust System to a Multistrada 1200
Cut down my Termi
By Ducati.ms member 'Humpo' 23Aug2010 (updated 14Sep2010, more photos and Q&A)
Hi all I have just cut down my rear can on the full system. Why?….because I did not like the look of the ti (titanium) long can and thought that it would look better short like the carbon DP can. 
And it sounds great!

To do this you will need a Dremel or a small grinder.
Scroll down for photos 😉
take off take off the can.
mark with a compass how much you want to cut off. I cut off 140mm
drill out reverts from the bottom end and remove band. Do not cut the top end as the centre pipe is welded to the bottom end so you will have to remove it any way.
cut along the line you have marked and straight down the centre. Only go deep enough to cut the skin. There is glue holding the pipe in so you will have to cut down the centre to remove skin.
pull out pipe be careful not to pull out the packing. There is also a fine mesh gauze that you have to remove.
cut inner pipe and gauze to match what you cut off the skin.
find a socket that fits in the flared end of inner pipe. You have flare the end that you just cut. You will need to heat it up a few times then bash in the socket to flare it. You may have a tool to do this and it would be easier.
cut the fibre packing
repack all
revet the strap back on.
This took me about 3 hours to do. Its really not a hard job but you do have to take your time cutting the skin. The strap that you put back on covers the edge so you can be out by a mm or 2 and still look great.
I'm going to have to replace the sticker. It just does not look right. It needs to be further back.
I was so unhappy with the look of it I had to do something. Im thinking now that it would look better if you only took off about 120mm to line it up with the hugger but that is here nor there for me.

And as a wise man on this forum said…."LOUD PIPES SAVE LIVES" 😀
See the full discussion here on the Ducati.ms forums.
Ok now for the all the questions:
Yes it is louder but by how much I'm not sure. I'm going to get the DB checked with another multi next week and will post the results
No there is no power gain ( from what I have found)
No there is no power loss ( from what I have found)
I thought custom exhaust systems were tuned specifically for the engine. IE to provided right amount of back pressure etc. I'm a not an engineer by any means. Have you noticed any difference in torque or power delivery?
As for HP or Torque I cant see any difference. The main back pressure is coming from where the pipe goes in to the can. It drops from about 70mm back to 50mm on the inner tube. This does not change. After that the job of the can is to stop sound by bouncing noise of the packing.
And yes before people jump on me, you do get a amount of back pressure from the drag in the inner tube but it is not great.
Q&A
(Q) Hey, what type (size and material) rivets did you use. Thanks in advance!
(A) Hi Andy they were 3/8 stainless steel rivets. I was told to use blind ones but could not find any so used standard ones and they have been fine. Gaz
[AndyW] Info on 'blind rivets' on Wikipedia
Update Mar2012: Another example of a cut down exhaust silencer (Arrow this time) on a Multistrada 1200. Couple of photos here but see more plus further information on the Ducati.ms forum here: Home Made Arrow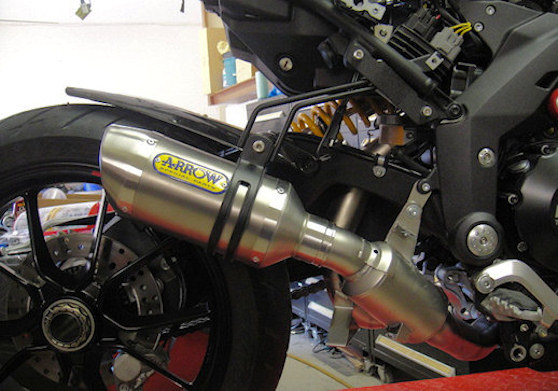 Not for you?
If you don't quite trust yourself with your £800 exhaust and a Dremel, then check out this range of Multistrada 1200 exhausts. There are lots of stubby options available!