Motorcyclist – 2005 R1200GS First Ride
  
R1200GS MotorcycleBMW's ultimate do-anything, go-anywhere motorcycle, the big GS, just got impossibly better. By Roland Brown (www.motorcyclistonline.com)
This is what big, adventure-touring streetbikes are all about. A couple of hours ago I was riding along a shallow stream dodging submerged rocks in first gear with the BMW R1200GS up to its cylinder heads in water. Now the new boxer is speeding through a series of smooth asphalt curves. Several other bikes could have managed the route I've followed today, up into the hills and then back down to our launch base in the town of George on South Africa's southern coast. But as this new Beemer sweeps through another corner without a twitch, I'm convinced that no other bike would have been as fast, as comfortable and as much fun to ride. On these well-surfaced roads the big boxer feels every bit as capable and confident as it had back in that stream, or when tiptoeing down a steep gravel track in the rain.
Handling radically different riding situations is what big adventure-tourer/dual-purpose streetbikes are built for, of course, and BMW's GS has been doing it better than most for a long time. The R80G/S invented the category in 1980, proving that it wasn't just a funky styling job slapped on an old Airhead boxer by racking up four Paris-Dakar Rally wins. (Yes, the racers were "highly developed" from the production bike.) Since then the ruff-tuff boxer has become the firm's most successful model ever, selling nearly 160,000 units between '93 and '03. The outgoing R1150GS was itself the top-selling bike in Germany the last three years. (BMW will sell the extreme R1150GS Adventure in previous spec alongside the new bike for now.)
Ford a stream. Clip an apex. Impress the locals at Starbucks. The R1200GS is up for whatever is on your moto agenda.
Given the success of the GS, it's no surprise BMW has thrown plenty of resources into creating a successor. The R1200GS has an even more distinctive look, with its birdlike beak and jutting cylinders, but this is a completely new bike—lighter, more powerful, smoother and more economical than the R1150GS. Nearly every component has been reworked to create a machine that is better in almost every respect.
The most obvious change—apart from its leaner, more dramatic styling—is a significantly revised Oilhead engine that should be considered an entirely new generation of the breed. A 2.5mm increase in stroke along with the old motor's 101mm bore brings displacement to 1170cc. Not only is the engine 8 percent more fuel efficient, it also pumps out an impressive 100 horsepower, up from the 1150's 85. It does this via new cylinder heads—still with four valves per cylinder and midmounted, chain-driven single cams—coupled with a revised dual-plug system controlled by thoroughly revised engine management. In the previous two-spark engines, the plugs fired simultaneously, but the new setup can stagger ignition timing (called "phase shift") to improve driveability and fuel economy. These improvements, allied to a new solid-state knock sensor that permits the use of subpremium unleaded fuel, allowed BMW's engineers to boost the compression ratio by a full point, to 11.3:1.
Numerous other engine changes include the adoption of a contra-rotating balancer shaft for the first time on a BMW boxer. It is ingeniously located coaxially inside the secondary shaft used to drive the cam chains and oil pump, thus taking up little space and adding a modest amount of weight. Despite that addition, the new motor is 6.6 pounds lighter and contributes to a substantial overall weight reduction.
The inspiration behind the development of the new GS is an unlikely object: a big blue plastic water container that weighs 66 pounds when full and has the word "ziel" (target), in German ,on its side.
"Our development team's aim was to reduce weight by 30kg [66 pounds], so this water tank was placed where it was in view every day," says BMW's bike boss Herbert Diess. "Reducing weight was the key to the new GS because it affects performance, handling and economy."
BMW hit that target. At 498 pounds dry, the GS is far lighter than most of its big adventure-tourer rivals. Simply lifting that water container was enough to emphasize just how much weight the GS has lost. More to the point, the bike felt light from the moment I climbed aboard—a process that will be made considerably easier for many riders by its effectively lower seat height. A choice of three seats, two of which are adjustable, gives a seat-height range from 35 to 31.9 inches. Moreover, BMW has revised all the seat shapes by making them narrower at the front, which should let most riders get both feet flat on the ground.

The GS felt slim and generally manageable. Its plastic fuel tank is narrower, and there's less distance between the seat and the wide handlebar, which is made from tubular steel for strength and crash resistance. One of BMW's Boston-born design chief David Robb's main aims was to reflect the bike's reduced weight in its look; hence the impression of space at the rear of the bike. There are numerous neat details, too, notably the windscreen, which can be adjusted through five positions in seconds.
The motor fired up with slightly less traditional BMW rocking motion, due to its balancer shaft, and took only a few seconds to reveal its newfound liveliness. The extra engine response and reduced weight were clear even as I followed a group of bikes down the hotel driveway and out onto the main road.
At every tweak of throttle the GS leapt forward enthusiastically, feeling responsive and eager to go—as you might expect of a bike whose power-to-weight ratio has been improved by approximately 35 percent. On the fast road heading north toward Oudtshoorn it was clear the balancer shaft was doing a good job. The BMW sat at a steady 100 mph, feeling smooth and providing plenty of speed in hand, when its predecessor would have felt distinctly less relaxed.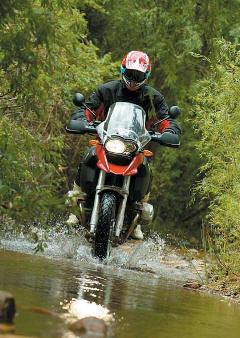 The big twin's midrange grunt made glancing at the tach optional. I didn't need to downshift on most sweeping curves—one upside of the revised ratios, which do away with the old bike's big gap from fifth to sixth. But the light and precise six-speed gearbox meant I was happy to do so anyway, and to make use of the power near the engine's 7750-rpm redline. The GS's improved fuel efficiency should make the not-particularly-generous 5.3-gallon tank good for well over 150 miles unless you head toward the bike's 130-mph top speed on a regular basis.
The bike is comfortable enough to handle that type of in-one-sitting range, too.
We didn't ride far enough at one stretch to be sure, but the upright riding position, wide bar and generous seat suggested big distances would be no problem. (They certainly weren't on the old bike.) The tall screen took away most of the turbulent windblast, and it was very easy to adjust to a less noisy position. On a damp summer morning I even found myself glad to have the accessory heated grips. Another accessory is a clever hard luggage set that consists of a top box and panniers, all of which can be expanded to provide extra capacity when needed.

The new GS handled wonderfully. BMW's Telelever front suspension system is well-suited to such a long-legged machine due to its resistance to brake dive. When the pace heated up, the BMW could brake extremely hard while remaining superbly stable— a difficult thing for a bike with so much front-end travel. It also steered well, with that wide bar meaning little effort was needed despite the 19-inch front wheel. In addition, the GS tracked precisely, requiring the lightest of nudges if the bend tightened unexpectedly. The only drawback was that the bike felt a bit lively in blustery winds.
The rear suspension was very well-controlled. As before, the shock has a useful remote hydraulic preload adjuster. The revised and lightened Paralever system was so efficient that I never consciously noticed the shaft final drive. Metzeler's Tourance tires gripped well on both smooth and rough surfaces. The GS comes with new five-spoke cast wheels standard, but serious off-roaders can pay extra for optional wire-spoke rims, which accept the same tubeless rubber.

Braking was excellent thanks to a version of BMW's EVO system, which uses the front lever to work the two 305mm front discs plus the smaller rear, leaving the foot pedal for just the rear disc. To simplify production, all bikes will initially come with ABS, though a cheaper non-ABS model will follow before the end of the year.
After one small warning sign, the launch route—once a wide and well-surfaced road—suddenly changed into a narrow dirttrack that tested the opposite side of the bike's character. Plenty of big trail/adventure bikes would have been a real handful, especially when the two-track began to wind up a steep hill through increasingly thick mist. Here, and even more than on the road, the GS revealed the advantages of its light weight. Smaller single-cylinder bikes would doubtless have been more agile, but the GS was easy to maneuver even when negotiating rutted hairpins on the way back down the hill. And its big motor made life easy, too, by always delivering plenty of controllable low-end and midrange power.
Of the big trail/adventure bikes I've ridden, only KTM's Adventure 950 is as good off-road (and the tall Austrian V-twin is nowhere near as smooth or comfortable on-road). When the sun reappeared and the route opened out into a wide, straight dirttrack at the valley bottom, it was great fun to stand on the pegs, wind back the throttle and kick up a high-speed dust cloud. For a brief, dreamy moment I was blasting across the desert in the heat of Paris-Dakar competition.
Fortunately the reality was the much less demanding destination of the area's most luxurious hotel via an all-too-brief final blast on the road.
But next time, BMW, why not fly us to South Africa, hand over the keys and let us ride back to Munich or beyond? If ever there has been a bike perfect for the job, it's the R1200GS. For combining on- and off-road performance with comfort and style, few bikes come close.