Tricolore Multistrada 1200S by Motovation USA
November 2012…Who doesn't love the classic tri-colour paint schemes of the Ducati limited edition 'Tricolore' bikes?! The latest offering (from the Ducati factory anyway;-) is the awesome 1199 Panigale S Tricolore…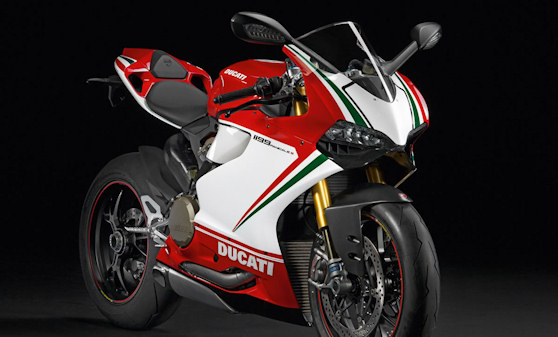 Ok, so there's the Pikes Peak editions of the Multistrada 1200, I really like the colour scheme of the latest 2012/2013 updated version…
…but still no official Tricolore Multistrada 1200 from Ducati. Looks like the guys at Motovation Accessories think Ducati have missed a trick and so have addressed the situation by modifying their Ducati Multistrada 1200 S Touring with a Tricolore paint job and added a whole load of top notch accessories and replacement parts not to mention a number of other modifications…….very nice! 😀
 

 
Motovation Accessories decided to take the amazing Ducati Multistrada 1200 and turn it into a truly custom work of art……their Multistrada 1200 Tricolore
Motovation Custom Ducati Multistrada 1200S Tricolore
by Motovation USA (original article)
NB: larger versions of all images here
Mix equal parts superbike with equal parts motard. Add a dash of touring and a whole lot of torque, and you find yourself with an Italian Adventure Weapon! Intended for "many roads", the Ducati Multistrada 1200 is an all around brawler ready for anything you can throw at it. Urban roads, potholes, dirt roads, gravel, even race tracks. Don't let the optional luggage fool you, this bike has got what it takes to put a smile on your face and the competition in your rear view.
Motovation Accessories decided to take this amazing motorcycle, and turn it into a truly custom work of art. Ducati offers its famed "Tricolore" edition is several other applications. As of this moment, they have not released a factory edition of the Tricolore for the MTS1200 riders. We thought we might give them a nudge and offer the community a glimpse at what a true factory Tricolore Multistrada 1200 would look like.
It was extremely difficult to customize this new Multistrada 1200. Firstly because Ducati had done such a phenomenal job with its design in the first place and we did not want to do anything to it that would take away from all the key things that made this bike so special and beautiful. We spent many days staring at it from all different angles just to find a way to make full use of all the complex lines that already has such a synergy of design and function.
We wanted to to keep the design current but also enduring so we decided to emulate the new 'Tricolore' paint scheme that we saw during the Panigale unveiling at Milan in 2011. It took us a whole 6 months just to come up with the way the lines would flow.
Well, today you see before you the results of much love and attention.
Complementing the design with top shelf components from Rizoma and carbon from CDT and Shift Tech, the Motovation Multistrada 'Tricolore;' also goes really fast and is loads of fun! See below for the build / parts list for the Motovation Accessories Ducati Multistrada 1200 S Tricolore.
We decided to use the Leo Vince cat eliminator midpipe to shed some weight and gain more power. The Termignoni slipon provided the perfect aesthetic complement for looks and sound. Redline performance did a custom ECU reflash for us and the result was smooth power delivery from idle with no stumbling or surging with midrange torque like a V8 diesel. This bike will now pull a wheelie extremely easily from 1st – 3rd gear just with a blip of the throttle. Clearly the most fun riding bike we have ever customized!
So far, the bike has been well received even by the most hard core of Ducatistis and is slowly making its rounds. Our philosophy with customizing these bikes is to show that with some off-the-shelf parts and a little love and care, anyone can transform their Ducati into a truly one off and unique machine. 
 
Build list for the Motovation Accessories Ducati Multistrada 1200 S Tricolore
2010 Ducati Multistrada 1200 S
Custom Paint by Southern Metal Customs, designed by Motovation.
Motovation Custom Grab Rail Removal
Redline Performance Custom ECU ReflashMotovation Ducati Corse Wheel Stripes
Ducati Performance Termignoni Carbon Slip On
Ducati Performance License Plate Relocator w/integrated turn signals
EVR Clutch Slave Cylinder
LeoVince Cat Eliminator Midpipe
DNA Race Air Filter
Puig 'Sport' Smoked Screen
Luimoto Custom Team Italia Seat Cover
Ballistic 12 Cell Lithium Battery
Rizoma Multistrada 1200 Handlebar Clamp
Rizoma Flush Mounted Barends
Rizoma Frame Sliders
Rizoma Fork Sliders
Rizoma Rear Axle Sliders
Rizoma Adjustable Folding levers
Rizoma 'Limit' Naked Mirrors
Rizoma Mirror Adapters
Rizoma 'Lux' Billet Grips
Rizoma 'Next' Billet Fluid Reservoirs
Rizoma Billet Oil Filler Cap
Rizoma Billet Sprocket Cover
Rizoma Touring Pegs (front and passenger)
Rizoma Billet Lower Timing Belt Cover
Rizoma Waterpump Slider Kit
Cox Radiator Guard
Cox Chain Guard
Cox Oil Cooler Guard
CDT Carbon Front Fender
CDT Carbon Swing Arm Protector
CDT Carbon Air Deflectors
Shift-Tech Carbon Nose Intakes
NB: For pricing and additional product information see the Parts List at the bottom of the original article page here.