JP's Multistrada 1200S Touring 'Special'
A Portuguese Multistrada 1200 'special'……….
NB: Larger versions of all the MTS1200 photos below can be seen here
.
Multistrada 1200S Touring
by DucatiForum.co.uk member 'JPMTS1200' (aka Joao F) Mar2012
My name is JP, I´m from Portugal and this is my Multistrada……now…after a few changes! 😀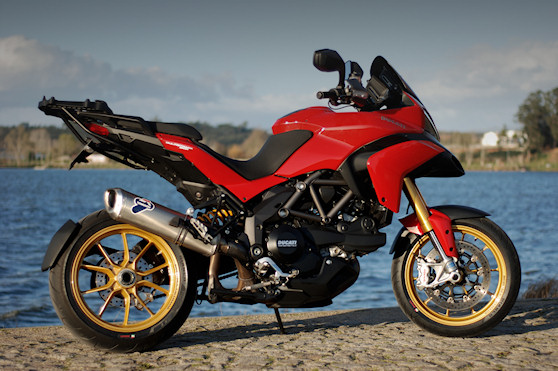 I´m 36 years old and and have been a bike lover since I remember. I had no chance to get a license earlier and by the age of 32 I´ve decided to follow the dream of getting my license and get a bike. The reason for this late urge?…..theDucati 848!
Since the day I saw the first glimpse of the new Ducati bike I was immediately in love with it. I got my license but the funds didn´t allow me to go that far and for my first bike I got a second hand Suzuki GSXR600 which I loved.
For many friends it was a risky move since I´ve never ridden any kind of bike before in my life but for me I´ve always loved sports bikes and it had to be a sport bike for my first bike. I think my age helped me keep it together but indeed it´s a bold move for younger lads.
But the Ducati bug was still in me. And after a year I got my first Ducati, a brand new Monster696.
It was a fun bike and definitely showed me that Ducati was a breed apart. I´m not saying Ducati motorcycles are better than others, just saying that Ducati makes things different and for that reason Ducati bikes feel differ rent….and we Ducatisti we all love that difference 🙂
Another year passed and finally I was able to fulfill my dream – the Ducati 848!
The looks, the power, the sound, everything was like I´ve always dreamed it would be…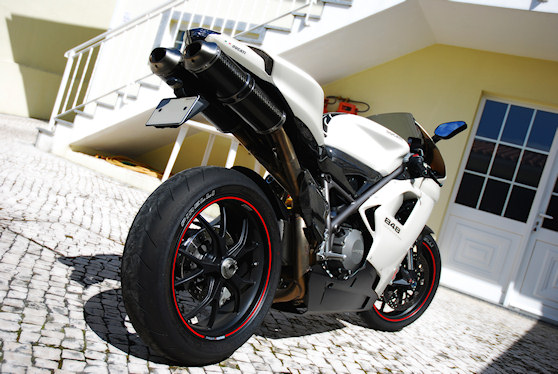 I was in heaven!
With that bike I did amazing trips and although comfort was not one of its attributes I´ve always enjoyed every single bit of it. In a year I got 8000 miles with the Ducati 848. Not bad for someone married with a wife that hates bikes and a little boy!
In 2010, Ducati launched the Multistrada 1200 and that announcement made me think about my need of comfort without losing the sport feeling of riding a bike. I took the risk of trading the bike of my dreams for the Multi – and how happy I feel about it. 🙂
The Multistrada 1200 is the best bike I´ve ever had – only 4 bikes, you´re right, but still – it has everything in it, the looks, the power, comfort, electronic gizmos, great handling, and room for luggage. I decided on the S Touring because of the luggage and comfort it provides, and since my 848 was full of carbon I´ve chosen the touring side of things.
I´m a sport bike fan and I´ve tried to change the Multi slightly to give it a more aggressive looks although I´m a peaceful chap 😉 The extras I´ve placed on my bike are pretty simple:
Ducati performance alarm
Full termignoni exhaust system
HID
Rizoma tail tidy
Ducati top case
DIY shorty / sport dark screen
Palmer screen adjuster bracket
Aluminium parts powder coated black
Next I´ve decided to change the looks of it. I had all the aluminum parts powder coated in black matt to deliver a cleaner looking bottom part of the bike and also the handlebars.
Next the windshield. I started by cutting the stock windshield using the following drawing made by myself (see drawing attached). After that I polished the cut area using different sandpaper on the edges until it was silky smooth. After I used a soft scotch-brite to polish all the windshield, on the inside and on the outside – in order for the paint to grab better onto the plastic. [à la AndyW – see here]. Next I created a vinyl with the letters "Multistrada" using the same font as Ducati did. See the attached EPS file (and PDF version) in case you want to use it. (click to download)
Template for cut down screen…(click to download DXF CAD drawing and PDF file) 
I applied plastic primer on the windshield and two layers of black mate ink [oaint]. I´ve waited until the ink was fully dry before I applied the vinyl. After the job done I used two layers of matt varnish to secure a good finish on the windshield protecting the vinyl from weather and scratches. The reason I´ve decided for the black matt and not the shinny one [gloss?] was that all my plastics are black matt (since I use no carbon parts) and it fits perfect.
The last mod was the one that was harder to make my mind onto. The wheels. I first thought of getting them the same color as the magnesium forged wheels, but after simulating the effect on Photoshop I got myself thinking that it was too many different colors on the bike. For that reason I decided to paint the wheels the same color as the Ohlins front forks. And the final result was … well … check the pics 😀
The color code used is…Ohlins Color code: Maxmeyer: C4-293
Best of wishes to everyone and……
Keep it safe!
JP