Laurens' R1200GS Wunderlich Special
Another Dutch R1200GS! 🙂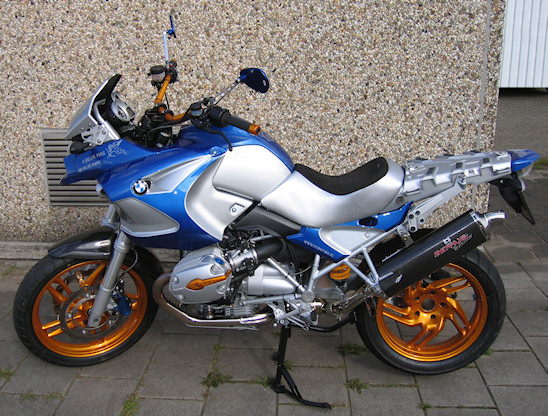 Intro by Roland Meerman of Motopaint (Ridderkerk, The Netherlands) www.motopaint.nl
Paint by MotoPaint – as you can see the bike's been treated with the complete Wunderlich accessory line plus some original BMW parts options. The body work is also from Wunderlich; the body panels style is called "Jararaca". Nice stuff but a pain to paint; it requires a rather unusual treatment to get the paint to adhere to the plastic. Wunderlich use a kind of plastic that is "old fashioned"; there are much better plastics to work with on the market these days. Knowing Wunderlich it's a money thing….
The grey and blue paint are original BMW-colours. The grey metallic is nothing special but the blue paint is a shade that's only been used on special cars (like for instance the M3) and is rarely seen on the road. The paint scheme is unfortunately mostly like the bike in the Wunderlich catalogue; a bit (too) simple for my taste. Then again, it's not my bike.
The clear coat is a scratch-resistant 2-packs clear-coat. This kind of clear is extremely clear, shiny and a lot stronger than the usual clear and offers very high resistance against scratching. After a day's driving you could see some very slight scuff marks where the knees touch the fuel tank; the next morning they're gone…. Magic stuff, and worth the (relatively small!) extra cost, especially if you use your bike a lot. I've painted brand new bikes in this clear coat and after doing 50.000 km's they looked like new.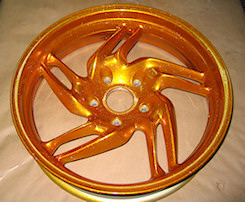 The wheels, handlebar, handlebar end caps and spark plug covers have been painted in gold flakes with candy lacquer. The flakes are very crude so 4 layers of high solid clear coat were needed the get the surface as smooth as the rest of the body work.
The bike has been featured in a Dutch bike magazine which resulted in some more paintwork on Wunderlich parts for us! Apparently more people had trouble with their panels losing paint!