Review – 2008 BMW R1200GS / R1200GSA
  
Ridden: BMW R1200GS and R1200GS Adventure
By Jane Omorogbe, MSN contributor February 14 2008
Original article on MSN
See also: 2006 BMW R1200GS versus 2008 BMW R1200GS Adventure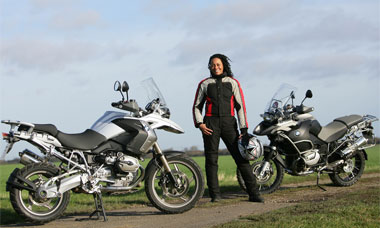 BMW's revisions to its best-selling globe trotters – the excellent R1200GS and the beefier R1200GS Adventure – don't look too dramatic in the showroom.
The bikes have been given slightly sharper styling and reshaped screen, but it's in the mechanicals and electrics where the big changes are made.
Both models get a smoother gearbox (after years of criticism, BMW can't launch a revised bike without having a smoother gearbox) and both are now powered by a version of the R1200R's 1170cc boxer engine. The 105bhp engine is up 5bhp, the redline's now at 8,000rpm and the power delivery is noticeably smoother than before. On the R1200GS, this extra 5bhp adds punch to an already impressive engine, but it's less noticeable on the Adventure as those knobbly tyres tend to curb your enthusiasm when it comes to heavy use of the throttle. But the most significant improvement is definitely all the technology. There's enough magical wizardry to put Harry Potter to shame – at a price.
Electronic extras
The GS Adventure I rode was stacked with optional extras. Its onboard computer is like KIT to the Knight-riding David Hasselhoff. It's the first time BMW has put Electronic Suspension Adjustment (ESA) on its GS bikes, but its introduction takes this class of bike to another level entirely. ESA was launched in 2004 for the K1200S, but it has had to be altered to cope with the off-road demands of the GS. And this Enduro version couldn't be simpler to use. Press the button on the adjustable handlebars and you instantly change the suspension by choosing between various pre-determined settings that really do their job. The bike also self-adjusts to riding solo, riding with a pillion and with or without luggage.
On top of that, you can opt for soft, normal or hard settings which can also be used alongside two off-road options. These help the bike handle really rugged terrain and you can even avoid the Beemer bottoming out by lifting the ground clearance by 2cm. It's pretty impressive to watch a stationary GS literally adjust itself before your very eyes. But the electronic wizardry doesn't end there. Traction control has three settings which either limits rear wheel spin completely, gives you a taster, or lets you slide around to your heart's content. There's even a tyre gauge that warns you the moment you get a puncture.
Comfort or agility?
The Adventure is a tourer in funky Enduro clothes and with huge appetite for off-roading. I'm continually impressed with how versatile it is every time I grab a ride. And now it's nigh on perfect, having the ability to do just about everything but make you breakfast in bed. On the soft suspension setting, the Adventure feels as comfortable as your favourite spot on the sofa. The slimmer R1200GS feels anything but 'standard'. It's also incredibly agile and easy to handle and its steering lock makes you feel like challenging a Springer Spaniel to a tail gnawing competition.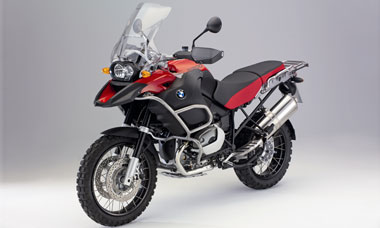 Where the Adventure has a whopping 33-litre tank (that's good for up to 400 miles) and larger screen, this bike has a 20-litre tank and a smaller but still much improved windscreen. It weighs 27kg less than the bigger bike's 256kg and it loses the Adventure's tank and engine protectors, wider footpegs and spoked wheels. The hand protectors, luggage rack and longer fork springs for off-road use are gone too, and the price matches the lower seat height at about 10% less.
Verdict
The most impressive improvements to GS models are the electronic gadgets and they're all optional extras. Enduro ESA is £500 and ABS is £800. But you'll save yourself a few hundred quid by ordering a 'Premium Package' instead of buying the options separately. So the question, my friends, is this: do you raid the bank for the all-singing, all-dancing R1200GS Adventure, save a few pennies on the R1200GS, or a small fortune by buying a second-hand bike? The expensive truth is, unlike the gadgets on my mobile phone, BMW's technology is actually useful and it works.
Need to know

| | |
| --- | --- |
|  Engine |  1170cc flat-twin |
|  Power |  105bhp@7,500rpm |
|  Torque |  84.8lb/ft@5,750rpm |
|  Top speed (mph) |  n/a |
|  Transmission |  six-speed, shaft drive |
|  Weight (kg) |  229 & 256 |
|  Seat height (mm) |  850-915 |
|  Fuel tank capacity (litres) |  20-33 |

More photos: GALLERY: BMW R1200GS and R1200GS Adventure