Crazy Pink R1200GSA – 'custom' highly modified BMW R1200GS Adventure
Extreme Pink 2008 BMW R1200GS Adventure (R1200GSA)
The story behind this 'mad' pink motorcycle…by 'anonymous' Buying her from across the globe.
Getting my license
Riding her for the first time
Creating the artwork (care some images may offend!)
Finding an artist to airbrush the art and do the paint job
Researching the best parts and ordering them
Taking her apart and Installing the parts
The Ultimate Riding Machine – It is fully loaded with every possible feature, the BMW GPS III and three aluminum luggage bags. This is the most popular BMW bike of all time, selling over 100 000 units. People have ridden this baby across the world, literally. Check out "The Long Way Down". Ewan Mcgreggor and Charlie Boorman rode these bikes from London to Capetown.
This is my R1200GS Adventure, she has many names. 'Roxy' when she is bad, the moniker I gave to a character I created and now serves as the female representation of the bike. 'Noones' when she is a good girl, the dominant nickname of our deceased mutt Heidi, who we loved very much.
She is a 2008 BMW R1200 GS Adventure. Totally loaded and upgraded in ever conceivable way with pure love and sexual energy. I bought her from BMW of Manhattan over the net while I was in Thailand. I saved up for years for her after seeing her one day in the BMW showroom. The sales lady looked at me and said, forget every other bike here, this one is yours. She was right. Thanks Jane!
Since April 2008, I have put everything into her, not just money but the entirety of my nut as well as I have not had sex since then. I saw her in my mind, drew the art, did the research and put my blood, sweat, tears and hands to use constructing her.
I love you baby!
Parts & Modifications
All the Goodies and little details that have gone into my R1200GSA. No expense was spared to create the ultimate riding machine. This baby girl is farkled out to the MAX.
Paint Job
A hot pink BMW (fuscia). This is of course what people notice first. Girls love it, from School girls, to strippers to Old English ladies it gets raves.
Stupid fat ugly men with masculinity complexes ask me if I am gay or why would anyone choose pink. The answer is simple…"It takes a bad man to ride a pink bike!"
Sugar Ray Robinson, the greatest boxer of all time and Elvis both drove pink Cadillacs. My hero Jack Johnson (the boxer) made ring entrances in a fuscia robe. Now welcome the Gladiator, rocker on a pink bike. Times have changed but the tune remains the same.
The paint and art airbrushing was done by Jorge at Nations Cycle in Hempstead, New York. He did an amazing job and for an amazing price. Jorge is the man and my man Jeff who works the desk is awesome, these guys treat you right.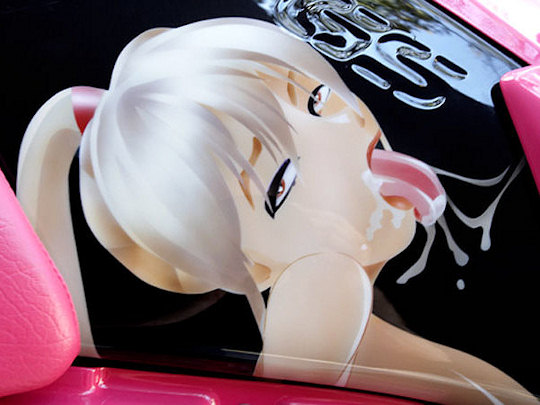 TsukaMaki Handlebar Wraps
These are the way Japanese long swords such as Katanas have their handles wrapped, think Kill Bill etc… Check this TsukaMaki link and you will get an idea of how deep this art is.
This was done by one of the worlds premier Japanese Swords Smiths. His name is Kunio and he is also an artist. He has practiced swordsmsithery his entire life and did this for me as a favour. I will try and get a picture of him. He looks like Mr. Miyagi, and no I am not just saying that because he is Asian.
He used real white Sting Ray skin underneath. The cloth is black TsukaMaki cord and it has been lacquered to prevent weather damage, much as real Samurai would do. Both sides are of course wrapped. This doesn't just look good, it feels good and works beautifully. Much as this allows a Samurai to utilize a sword precisely in a life death situation it gives the rider added control. And let's face it, it looks DAMN COOL!
Also notice
The Kaoke Throttle Control
The Touratech Handguards with Spoilers (painted pick of course)
Vario Brake Lever, also used on left for clutch lever.
Akrapovic Twin Can Full Racing Exhaust
A good performance boost at half the weight and truly lovely sound.
Igor Akrapovic is a genius of exhuast design. He is a Solvenian engineer and these exhuasts are produced in England. It is not loud like a Harley but it is such a sweet deep growl with a mighty base. I have set off many car alarms driving by and you can feel the reverberations of the exhaust bouncing off the walls. when you drive in a tunnel.
The pink bullet gun belt was acquired at Trash/Vaudeville at St. Marks New York.
BMC Air Filter (397/01)
BMC is an Italian company that supplies racing gear. They make nice air filters. These things last forever and are so easy to clean. An improvement over the stock filter as the engine breathes much more deeply now. Website
Warning: Avoid K&N air filters at all costs! (personal opinion;-)
Suspension
Ohlins. Arguably the best racing suspension on the market for bikes. This Swedish company revolutionized suspension tech for bikes years ago and I must say these shocks feel great as compared to the stock ESA BMW shocks.
These shocks were made as stiff as can be from Ohlins. I had the springs tuned for their super heavyweight class 265+
Notice the front shocks as you look up my baby's skirt. If they were pink that would have been perfect.
Front Shocks BM 607
Rear Shocks BM 606
The rear shocks are also installed and well protected from dirt via a Machine Arts Moto Mud Guard.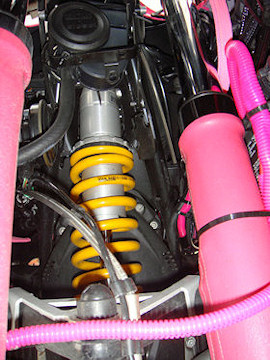 Windscreen
A Parabellum Windscreen at the max height 22 inches. Tinted black. The buffeting has really been cut down with it. A fine windscreen, but you might have to adjust the positioning of your hand guards if you have raised your handlebars because this screens handlebar grooves are not placed for raised bars.
I have also added a Touratech Spoiler. It helps a bit.
Of course "The Toast" (me!) has been air brushed right onto it. IT is a masterful job, it feels like he did it inside the glass.
Lights
Looks like a starship landing when all these lights are on.
BMW Fog lights installed by BMW of Manhattan. I took the bulbs out and put in the BestRest replacements, they are brighter.
Trail Tech SRM16's HID's. These are the same exact lights as PIAA;s Cross country HID's with the internal ballasts. They just rebranded them. The Trailtechs are half the price. I am setting these up to work with the High Beam. The blue rubber covers are cool. I installed both of them on the Best Rest lightbar.
Motolights, the fork clamp version. They turn on when the bike is on via turning the key. They give the bike a triangle of lights effect which really helps visibility by other drivers.
The low and high beam are also HID's. I got this kit from Xenonrider and they work well. This bike turns night into day!
Protection, Guards and Armour
Every single part of this bike that could be armoured has been armoured. 
Throttle Position Sensor Guard,
Engine Head Crash Bar Extensions
Bash Plate & Center Stand Plate, from Ernie on Advrider.com
Frame Protector left and right
Front Fender Extender
Alternator Guard
Front Caliper Guards
Front Fork Crash Guards
Headlight Guard
Pivot Guards LEft and right
Telelever Axel Guards
Did I miss anything?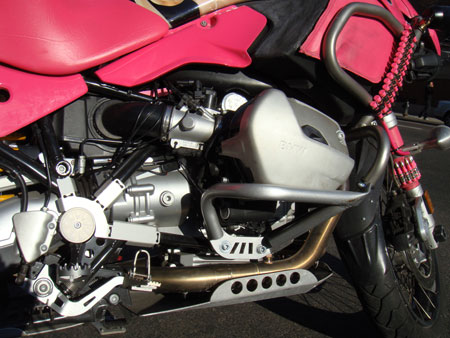 Rider and Pillion Seats
Russel Day Long Seats, passenger and rider. Both are heated and the rider seat is further reinforced for my fat ass. The pink matches the bike perfectly! These seats are so comfortable. They do raise the bike by two inches tho!
*** With these and the Ohlins you must be at least 6'3 to ride this bike!!!! ***