JD's 2005 R1200GS
Jim Daniels' (aka JD) BMW R1200GS 
Here's details and photos of Jim's R1200GS – find out more about Jim, his travels and personal interests (motorcycles, endurance motorcycle riding, travel, photography, computing, veteran's affairs (Combat Veterans International), Amateur Radio, Special Olympics, family and friends. at JDsRoad.com
One of the first things I changed on my R1200GS is the saddle. For me the stock saddle was literally a pain in the A. Rich O'Connor, of Rich's Custom Seats, had already reworked my K1200LT saddle and it was a great improvement to saddle that wasn't that bad to begin with. When I took my R1200GS in I was also looking for something other than a simple black saddle. I wasn't sure exactly what I wanted but I had a couple of ideas. I told Rich I was looking to have the saddle colors flow from the yellow and silver coloring of the gas tank. I also wanted vinyl rather than leather to reduce the upkeep a little. He initially didn't think he had a yellow vinyl that would work but then he remembered some special order material he had from a custom car project. He brought it out and I wasn't initially sure it was going to look that good. He brought out the silver vinyl he had in mind and he said he thought it would look great.
Of course Rich was right and the results speak for themselves. I also had him add a seat heater which I wired up during my major mod session. I joked with Rich at the time that he had certainly pimped my ride . He also re-covered my Bakup back rest to match the saddle.
When I took the GS in to have the saddle done I did not yet have the Micatech side cases shown in the pictures. After installing them I discovered that the left side case rubbed the corner of the saddle. One day after work I needed to go to Ride West BMW to pick up a pair of Gerbing heated socks. Rich's shop is just a short distance away so I thought I would drop by there first and set up an appointment to fix the saddle.
It took about 30 minutes and he refused to take any money from me. He said "It's part of the gig." Customer satisfactions is demonstrably Rich's number one priority.
I have already done some rides locally and even a little off road dual sport action with the re-worked saddle. The difference is like night and day. Throw a sheepskin butt pad on and this is now an all day long riding machine.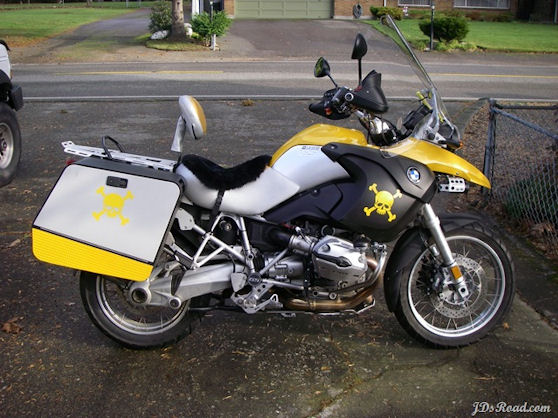 I had to cut out a notch to accommodate the Hella Micro DE mounts. The following photo also shows the bracket I made to move the lights forward four inches.
I have Long Distance riding and touring goals that my R1200GS should be great for but I had minor concerns re fuel capacity. This lead me down the path of researching all the options to increase the fuel capacity of a stock R1200GS gas tank which is 20 liters (5.2 gallons) . I looked at fuel cells first but mounting one where the passenger seat is would take up a lot of cargo space that I would need for some of those other LD riding ambitions I have. That left some other kind of solution.
I then looked at auxiliary tanks from Touratech and Wunderlich. The Wunderlich "Jararaca 18" and the Touratech 2×8 liter side tanks both looked very nice even though they look quite different from each other. The Wunderlich would definitely alter the visual style of the R1200GS. The Touratech option looks more like the BMW styling.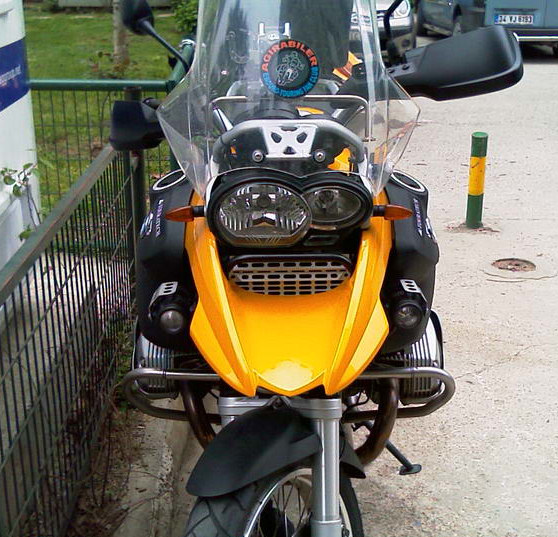 There were two major issues I had with both of them. The first is they have a gas cap for each side tank. This isn't a problem for LD touring but un-locking, opening, filling and closing them would take additional time. This is a concern for more extreme IBA type rides or rallies. The second issue was the cost, the Wuderlich was $1984.00 and the Touratech was $1427.00 . I could buy a fuel cell kit for about $800-$1000 or roll my own for something less. There was another minor detail with their designs. The fuel gauge on the GS wouldn't really indicate correctly because the gauge only works for the fuel that is in the stock tank. The side tanks are just fancy jerry cans that feed into the main tank. The way the R1200GS gas gauge works, you probably would just see a full fuel indication until you used up 3/4 of your fuel. Not a major issue but something else to consider. There was also one other issue with the Wunderlich, it would not let me use the Touratech lights I had already installed on my GS.

I came close to ordering the Touratech tanks but then I spotted this roll your own solution. This is a modification that replaces the stock R1200GS 20 liter (5.2 gallons) gas tank with a 33 liter (8.7 gallon) R1200GSA gas tank. I discovered the parts for this conversion cost about $1200 plus shipping. Certainly not cheap but everything would be factory BMW parts, there would be just one gas cap and the gas gauge would read correctly. If I had bought a GSA instead of a GS I wouldn't be going through this but I got a great buy on a used GS so I would still be ahead on the overall package. I've ordered the parts that are now waiting to be fitted.
Extending R1200GS Fuel Tank Range (fit a GSA fuel tank to a GS)
That's all for now folks.
JD