Suzuki SV1000 Real Life Review
By Nigel Porter June 2009
Subject: Suzuki SV1000S Test

The Suzuki Sv1000s has to have been one of the most underrated bikes ever produced !, and yet it now receives a near fanatical support from owners around the world. Many SV1000 owners moved on to R1's and Gixxers after a year or so of ownership, only to come back to the fold, after finding that they missed what the SV could do; in this, it is nearly unique.
The SV1000 has its heritage in the TL1000S from which it gained its motor, albeit much modified to make it more civilised, but because it didn't have the bad boy image that a certain rider group and certain magazines wanted, it was dismissed and classified as a sports tourer – which it most certainly is not! Interestingly most TL aficionados agree that the SV1000 is a better bike than the TL was.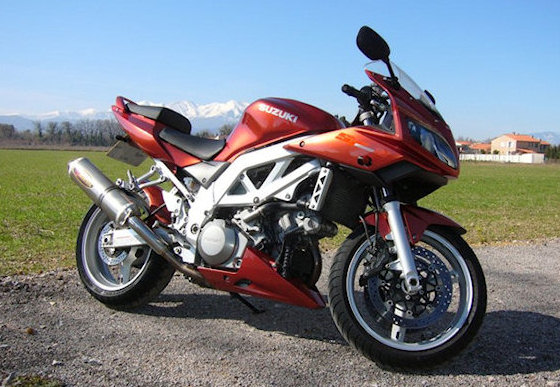 When one approaches the SV1000S one can see that it was built to compete against the Yamaha Fazer 1000 with a similar styled half fairing. However the SV is nowhere near as soft as the Yamaha and at launch the Yamaha was considerably more expensive.
The SV1000S has a distinctive and modern clock arrangement with a digital speedo and analogue tacho and superb headlights that melt bumpers. The rear is characterised by a distinctive twin LED rear lamp .The sitting position is a little heavy on the wrists, as most sports bikes are ,but nothing like as heavy as modern superbikes, which are disguised road legal racing bikes . The seat is relatively comfortable and the pillion seat is quite luxurious by sports bike standards, and it has a grab rail for the passenger.
The bike starts easily due to its dual butterfly fuel injection, and one immediately revels in that atmospheric v twin burble, more noticeable to most owners who have by now replaced the standard silencers with after market offerings. The gearbox is light, as is the clutch, and it easily snicks into first and pulls away without fuss due to its low down v twin torque. The bike accelerates well throughout the power range with well chosen ratios without much of a noticeable power band all the way to the red zone. The performance is more than adequate for most people, except for those that expect to break the sound barrier. Fuel consumption normally comes into the 36-42mpg bracket, giving 120 miles before the bingo light comes on – this can be extended to 150 miles before having to get off and push. However it has been known for the odd person to only get 76 miles to a tank full when riding at 10/10ths! Oil consumption is negligible between changes and servicing costs are minimal by modern standards, valves rarely need re-shimming before 20k so in most cases it is just an oil and filter change and kick the wheels.
The bike handles very predictably, and is quite light to turn into corners; however many owners have found that by dropping the yokes down the forks by 6mm it stops the slight tendency to run wide in mid corner . The 4 pot front brakes are superb (same as gsxr 750) and the bike has virtually unlimited ground clearance, if you can hear the footrests scraping the road it is because you have come off! The handling is best described as adequate for most people, but there are quite a few who have fitted gixxer usd forks and rear shock or new uprated springs.
The finish of the bike is generally good unless totally abused in winter, and it has no great reliability issues, there was talk of an engine knock which affected a small number of bikes, but in the majority of cases it was narrowed down to a slightly noisy clutch. The only other issue that does occur is an overheating green electrical plug located behind the head stock, which can cause a loss of electrical power – this is easily rectified once it has been identified.
The SV1000 that I ride has had its suspension setup according to the Ohlins manual, which takes 3 people to carry out but it is worth spending the time on this, because I cannot fault its handling – being located in the south of France next to the Pyrenees, the handling is all important for the local roads. It has had a few mods to increase its performance, most noticeable of which are the Akrapovic silencers.
I use my bike to give visitors to our biker friendly B+B (www.coupdecoeur.co.uk), accompanied tours of the region. In some cases they might be on touring bikes so the pace can be quite relaxed but others come down on sports bikes and then the pace can get quite hot to match the weather. I have had the chance to compare the SV against many bikes and find that it compares best with a 1098 Ducati. Yes, the Ducati would leave it standing on a race track but in a real life situation on twisty roads the SV has more low down torque to pull it out of corners and has quicker steering so is actually easier to ride. When compared to 4 cylinder sports bikes that have clear power advantages, it can leave most behind because you can get on the power much earlier coming out of a corner and by the time the fours get on the power you are already braking for the next corner and disappearing.
I have been asked by many people given an unlimited budget what bike would I buy, I must admit the latest R1 looks very tempting but then sanity and practicality kick in. There is no other bike out there at the moment that can do what the SV can do and where else can you buy a 1000cc bike with low mileage for around £2500? you simply cannot. For those wanting more info on the SV there is an excellent and friendly site, full of info at http://www.sv-portal.com which has over 11,000 members!
Ride safe!
Nigel