HELI BIKES Motorcycle Safety Initiative

The HELI BIKES Motorcycle Safety Initiative was first started to promote motorcycle rider awareness and improve biking safety.
After many years experience of dealing with motorcycle accidents whilst working on helicopter air ambulances (Helicopter Emergency Medical Service) and drawing from the knowledge & experience of other emergency services, HELI BIKES was initially started to provide first hand feedback to the biking community at large.
The main website www.helibikes.co.uk and the Facebook pages www.facebook.com/HeliBikes are delivering safety related content and
are acting as an information hub for motorcyclists.
Originally formed to act within the counties of Berkshire, Oxfordshire and Buckinghamshire in the UK, the HELI BIKES initiative very soon extended to provide 'real' safety information to any and all motorcycle riders, locally, nationally & internationally.
Heli Bikes resources include: Motorcycle safety advice and article ~ related videos and photos ~ bulletins ~ accident and injury statistics ~ anatomy of motorcycle accidents ~ training…….and much more.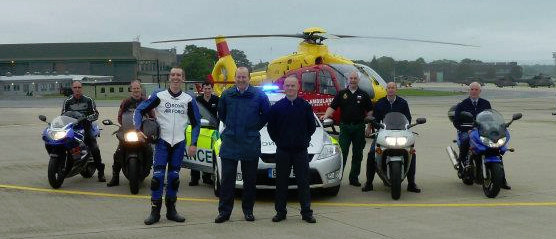 Heli Bikes will share information on the causes of motorcycle accidents and injuries to raise rider awareness and improve biking safety. RIDE AWARE!/RIDE SAFE!
HELI BIKES Motorcycle Accident Survey
In August 2011 HELI BIKES devised a motorcycle accident survey form that has been distributed to Ambulance personnel within the Thames Valley & Hampshire regions in the UK. The survey is designed to show what factors are involved in motorcycle accidents. We can use this information to help riders raise their awareness on the roads and we hope that drivers will also find this of benefit in their observation of motorcycle traffic….[More scroll down page]