BMW R1200GS Alternative Engine Oils & Other FAQ
See also: Motorcycle Engine Oil Frequently Asked Questions (FAQ's / FAQs)
One of the most talked about subjects on various GS forums and other websites – what engine oil do I put in my BMW R1200GS?! Just do a few searches on the likes of ukGSer.com and ADVRider.com and you'll see what I mean!!
A good place to buy engine oil online
If you don't have time to read everything below, just head to this link and order either 15w/50 or 20w/50 if you have a 2004 to 2012 R1200GS and if you have a 2013-on R1200GS (or R1250GS) then go for 5w40.
The best engine oil for the R1200GS
See also: BMW R1200GS Engine Oil Change (inc 'Checking engine oil level')
This page is a continuation of Castrol Engine Oil – Q&A so have a read of that page which includes the official word / recommendations from BMW on engine oil specifications and information from the Workshop and R1200GS Owner manuals. As of March 2010 BMW still recommend Castrol GP (Castrol ActEvo GP 4T) for "trusted protection" as shown in this BMW Motorcycle Recommended Oils & Lubricants leaflet downloaded from the BMW Motorrad UK website Mar 2010.
Bare in mind that the information you'll find here is not the be all and end all of the 'what engine oil' question and I [AndyW] don't have any relevant qualifications to advise on the subject – the information here is the result of my own research via resources like ukGSer.com, BMW documentation and having asked 'the question' of a number of oil manufacturers / major oil retailers (not many bothered to reply though! – see below)
If you're a cynic like myself you'll wonder whether BMW's recommended engine oil for the R1200GS (BMW motorcycles) is actually the best engine oil you can choose or is their recommendation based on a financial 'partnership' they have with Castrol?!….I'll say no more! 🙂 
Fact – as long as you use an engine oil that meets the specifications stipulated by BMW you'll be fine, even if a Warranty issue should arise 😉
BMW GS Model History
R80 G/S (1980-87)
R100GS (1988-1990)
R100GS (1991 – 1994)
R1100GS (1994-1999)
R1150GS (2000-2003)
R1200GS (2004-2009)
1170cc air cooled. Best oil: 20W50, fully synthetic
R1200GS (2010-2012)
Water-cooled head. Best oil: 20w50, fully synthetic
R1200GS (2013-2019)
Liquid-cooled. Best oil: 5w40, fully synthetic
R1250GS (2019-)
Liquid-cooled. Best oil: 5w40, fully synthetic
From BMW Motorrad UK – Which oil and why?
BMW recommend Castrol oils as they are co-engineered with our BMW motorcycle engineers. Use of the incorrect oils or products can lead to premature wear, poor performance and incorrect operation of engine parts, clutch, gearbox and axles. Please refer to the Castrol Recommended Oils Guide.
BMW Says….
From the BMW R1200GS Owners Handbook (see a digital copy here) – engine oil grades / oil specifications:
What Grade Oil To Use?
Engine oils of API classification SF or better.
Engine oils of ACEA classification A2 or better.
BMW Motorrad recommends not using synthetic oils for the first 10,000 km. Please do not hesitate to contact your authorised BMW Motorrad dealer if you have any questions relating the choice of a suitable engine oil for your motorcycle.
What Viscosity of Oil To Use?
Permissible viscosity classes
SAE 5 W- ≥30 -20…20 °C, Operation at low temperatures
SAE 10 W-40 -10…30 °C, Operation at moderate temperatures
SAE 15 W- ≥40 ≥0 °C
SAE 20 W- ≥40 ≥0 °C
SAE 5 W- ≥50 ≥-20 °C, High-grade and synthetic oils, operation in all temperature ranges
SAE 10 W- ≥50 ≥-20 °C, High-grade and synthetic oils, operation in all temperature ranges
You'll find some BMW dealers don't tow the party line and will have their own unique opinion on what engine oil to recommend, it's always worth a quick phone call to see what you're local Dealer advises. The bottom line is that BMW recommend mineral oil for at the very least the first 10 000 miles running, ideally 2 services worth / or 12 000 miles to fully enable the engine to bed in correctly. Synthetic oils slow the 'running in' / 'bedding in' process as effectively they're too efficient at this time reducing the required friction that's needed for the bedding in process meaning that the GS boxer engine struggles to fully bed in correctly at it's most critical point, those first 10 000 miles.
There are many people who'll say you can use a good quality car engine oil rather than pay a premium for a motorcycle specific engine oil on the basis that the R1200GS gearbox and clutch are separate from the engine i.e. the additives that are specific to motorcycle oils for motorcycle wet clutches are irrelevant. Personally I keep within the specifications quoted by BMW just in case and for piece of mind buy motorcycle specific engine oils!
With 6000 mile oil changes and assuming 'normal' (non extreme) bike usage, there is no real benefit in using more expensive synthetic oil and the  higher viscosity / 'thicker' 20/50 oils certainly suit the GS at higher ambient temperatures with many owners reporting that the engine runs quieter.
What The 'Experts' Say
Here's the few responses to my question on engine oil recommendations that I received:

BMW Motorrad UK
20W-50 will be ideal, although we have just introduced the Power 1 Racing 10W-50 full synthetic which is BMW preferred grade now for the boxer engines, so if it's run in and you want a higher performance product, the Power 1 Racing would be the best oil for protection and performance – but Only BMW will carry it."

Fuchs Silkolene www.fuchslubricants.com
There are a number of Fuchs Silkolene grades you could use but a good choice is Comp-4 20W/50

Motorex http://www.motorex.co.uk/
Motorex Top Speed 15/50 is fine. 15/50 is recommended by the top German BMW specialist A.C. Schnizter and in the next few weeks we will be receiving first shipments of the  15/50  packaged in new BMW packaging and labeled approved by A.C.Schnitzer Nov2009
Opie Oils
(Q) The system on your website recommends Silkolene Comp 4 15w-50 Synthetic Ester Based 4-Stroke Engine Oil however BMW recommend Castrol GP 20w-50 (Castrol ActEvo GP 4T) Engine Oil. My understanding is that fully 'synthetic' oils should be avoided until a motorcycle engine is fully bedded in / run in which can take upwards of 15,000 miles for the BMW boxer engines. Can you clarify your recommendation please, is the Comp4 15w-50 better/more appropriate than the GP 20w-50 oil?
(A) The difference between 15w-50 and 20w-50 is the cold crank performance, they will both perform the same at temperature because they both meet the sae 50 spec.
The answer is simple, you can use both but the 15w will give less wear on start-up and will be better in the winter than the 20w.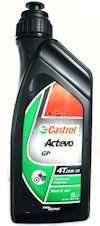 BMW 1200 engine oil FAQs
Engine Oil Consumption / 'Burning Oil'
Some riders have reported using 1 litre per 1000 miles which is certainly excessive! However, correctly, well run in GS's using Castrol or other brand 20W/50 mineral oil  from new would see a more typical oil consumption of 1 litre per 6000 miles or less. The engine should use less oil as it beds in through the first 10,000 miles or so.
In closing (for now anyway!) – I've been using Silkolene Comp 4 15w-50 Synthetic Ester Based 4-Stroke Engine Oil for the last couple of oil changes but having noted that there's offers on Castrol GP 20w-50 (Castrol ActEvo GP 4T) Engine Oil at the moment (Mar2010) may well stock up on this at the good prices. I wonder if the sale price is an indication of 'end of stock clearance' prior to the release of the next BMW/Castrol recommended oil??!! (remember BMW originally recommended Castrol GP 20W-50 which was subsequently superseded by Act Evo).