Panda Moto R1200GS (SM) SuperMotard
BMW R1200GS Super Moto
Larger versions of images here 😉
Panda Moto are a French company specialising in modifying BMW motorcycles:
http://www.pandamoto.fr
I came across their website by chance and the following scan of a motorcycle magazine article on the Panda Moto R1200GS SM (SuperMotard / SuperMoto) caught my eye. Many thanks to ukGSer Manny 'London Mole' for the French/English translation below 🙂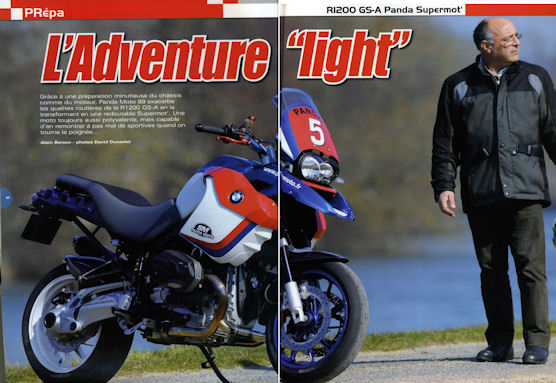 BMW R1200GS SM SuperMoto
by Panda Moto 89 R 1200 GS/SM
[First page, above] L'Adventure "Light"
Thanks to a careful frame and engine preparation, Panda Moto 89 sharpens the riding qualities of the GSA, transforming it in a fierce supermoto. A bike still very versatile, but able to show off to sports bikes when you twist the throttle… [Page 3 top left below photo, red text]
The supermoto preparation realised by Panda to the GS 1200 transforms the handling of the big BMW off roader. The beast becomes playful and lively, and can even "overtake" some sports bikes…
[Page 3 cont. – middle, black letters/white background]
… more liberated, the Iridium spark plugs and exhaust, helped by a (wider) rear wheel allowing to get slightly slimmer (50 tyre) gives better acceleration. Those are very lively, revealing a much more thorough engine preparation. David, our photographer was left "standing still" with his R1200RT, during each acceleration in the test. Once more, Panda Moto 89 surprises us. Thanks to a preparation which was planned as a coherent work on frame/engine, the SM transforms the GS Adventure; certainly already full of qualities; into a formidable aggressive bike. It is indeed able to compete with far sportier bikes, but remain civilised if need be. Tell me Jean-Luc, could I carry on the test for a week or a month?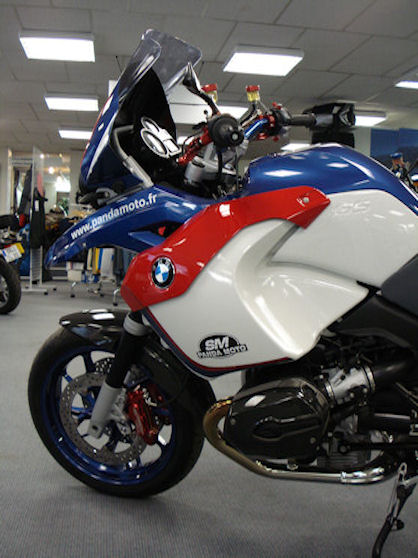 [Page 3 cont. – bottom left, white letters/red background]
How much?
Front wheel = €1221
Rear wheel = €1287
Special paint = €1200
Rocker covers = €598
Alternator belt cover carbon = €309
Front mudguard carbon = €249
Rear mudguard carbon = €245
Double exhaust carbon = €745
Handlebar "fat-bar" = €179
Handlebar end weights "crash-ball" = €33
Rear view mirror "tuning" = €49.50
Clutch master cylinder/lever Beringer Aerotech = €489
Brake master cylinder/lever Beringer Aerotech = €489
Brake callipers Beringer Aerotech = €509
Sport seat "breathing" = €460
Front shock Ohlins/Panda = €725
Rear Shock Ohlins/Panda = €825
Footrests rubbers = €31
Low windshield = €195
Ceramic clutch = €415
Iridium spark plug = €22
Sport air filter = €98
Lockable oil cap = €29
Rear wheel hub aluminium cover = €72.40
Xenon lights kit = €198
Forged pistons kit, 12:8 compression = €397
Connecting rods kit, 3mm longer = €1.199
Injection preparation = €550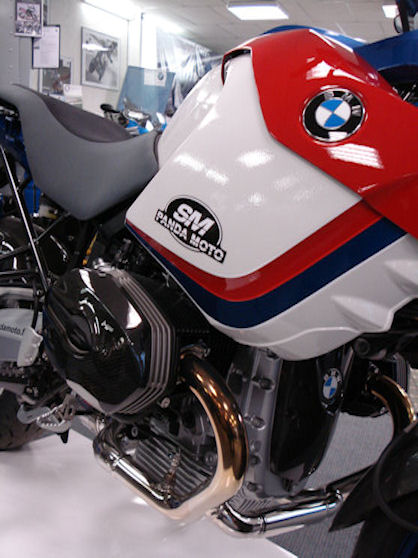 [Page 3 cont. -bottom right, small pictures list, white letters/red background]
Details Review:
1: The two original seats have been replaced by a single seat which allows to lean down.
2: Twin carbon exhaust = superb sound.
3: Lighter forged wheels from an HP2 get Michelin "Power One" (120/70 x 17 front, 190/50 x 17 rear).
4: Ohlins rear and front, set-up by Panda Moto 89: top quality shock absorbers.
5: footrests fitted with rubbers from an X650, clever and practical.
6: Many items from the HP catalogue appear on this GS/SM, including carbon rocker covers with sliders. The engine gets a very neat preparation with forged pistons and 3mm longer connecting rods.
7: Mini indicators are from the HP catalogue.
8: You have to admire the clutch master-cylinder (same as for the brake) and its light lever.
9: Superb, the "Motorsport" colour scheme chosen by Panda Moto 89 for its GS/SM.
10: The "close to the wheel" rear mudguard is carbon, like the front one.
11: Handlebar is forged aluminium by LSL. Please note the elegant brake and clutch master cylinders.
12: Superb Beringer 6 piston callipers: biting and tough braking. The ABS has been taken off to allow the rear wheel to lock-up.