From Cruiser to Dirtbike

Update Jan2008 – sadly Ton (ECM) crashed his GS at the end of last December and the bike is no more 🙁 ….fortunately Ton was unhurt 🙂
A tribute to Ton's black steed, RIP
Full size photos of Ton's R1200GS Pink Floyd 'Special' HERE
 
ECM's Biking History and Modified Custom BMW R1200GS
By Dutch R1200GS rider Ton (aka ECM) – 23Oct2007
(AndyW – Obviously Ton's first language isn't English so I have made a few changes here and there, deleted a few of his strange ramblings (a Dutch thing I think! LOL) but predominently left his writing as is to keep the 'character' of his article).
It all started when I got my motorcycle licence in October 1999. Of course you want a bike then! At first I thought I wanted the same bike as I had done my training on but how do you choose?!
Some time later I was out looking at motorcycle gear and thinking of buying a jacket. Well.. I did not buy the jacket but I did buy a BMW R1200C :-0 ….it was the day before christmas…….Happy Christmas to me 🙂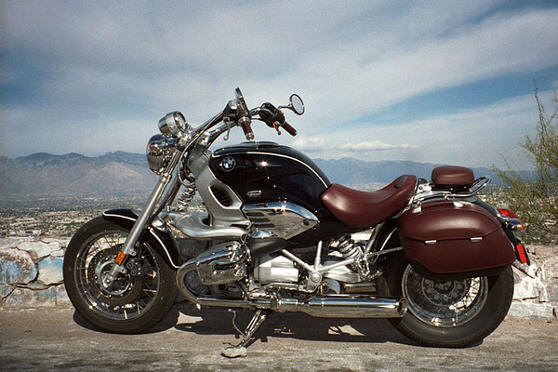 At that time I became very active on different forums like www.r1200c.de (German) and www.chromeheads.org/ (American). My stories and photo's were shared on a special cruiser website at one time and I made lots of 'internet friends'. It got me a fine riding buddy in Mallorca and a nice crew over at the "Erste Internationale Cruiser Treffen in mitte Deutschlands" (First international cruiser meeting in the center of Germany). Lots of cruisers of course. You know what the "international" angle was? Right.. It was me 🙂 ……the only foreign person present.
I very much enjoyed that bike and made several long holliday trips with it but basic use of my riding is daily commuting a 60km single trip every day each way. So soon enough there were about 76000km on the odo in 3.5 years. At the German meeting I got questions where I got these typical black exhaust from?? Huh?? whaddayamean?? Ah.. them..Oh, just don't wash your bike…… 🙂 Can you imagine these Germans? Even ON a ride that day, they washed their machines 🙂

So time to move on and find something else. Something a little more durable and without chrome! After some test rides on different motorcycles, the half hour test ride on a 2004 R1200GS sold me. Man that thing does curves!!!! In the first year of the R1200GS the only colors you could pick from were red, yellow or blue. I wanted black so part of the deal for the purchase was the dealer respraying the plastics black for me!
So having bought the 1200GS that was modification #1 and I liked the look of the Touratech foglights cylinder protectors and oil cooler guard. The modifying bug had started!
Lurking on the Dutch GS forum www.bmwgsclub.nl/ I noticed that you could do so much more to the R1200GS then was known to me untill then. The bike was properly driven in by now so, after that first week ( ! ) I took an all road basic training course. Man it scared the s*** out of me. Almost as scary as my free fall parachute experience! The fact that the bike was brand new helped… hmmm.. not… 
Well that was back in October 2004. Using the GS again on some european hollidays and still daily commuting as well, I'm on 76000km again but this time I'm gonna
keep the bike because I love it!  I am keen on getting the maximum out of a piece of equipment so over time a lot of things got changed to my liking. The modifying bug continued to get worse! 🙂
One of the first things that needed changing was the windscreen. As a suggestion to anyone that has a problem with any windscreen, try taking it off completely!!! Just a basic screen suits. You can simply cut off the original screen (ok, I bought a spare standard screen). In black it looks even better, so the back of the screen got a layer of paint. Here is the ECM screen:
But why stop there!? These modifications were done in the past 3 years. A little bit each time. The list of modifications is long but here are the most important ones with a brief opinion of the change.
* Bos full exhaust: Nice sound. Buy it for this. But were it gets a tiny bit more power, it ruins your gas-air ratio (like most after market exhaust do!!!) . The carbon version suited the bikes color.
* K&N air filter: wasted money in my opinion. No powergain at all that I could tell (but hell it seems logical when doing an open exhaust as well)
* Rapid Bike3 module: Since the fuel-air ratio could do with improvement and at the same time you can adjust the power and torque settings. This ECU module can do a lot to the bikes performance! In combination with the two above mods you get the feeling of much more torque and handling. Nice!! This is how the dyno graph looked like after all final (power) adjustments.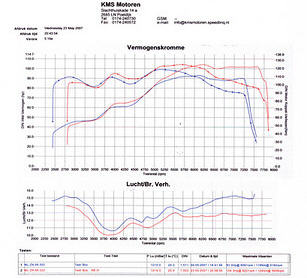 * Suspension: In time the old shock was not performing too well and with an upcomming Norwegian off road trip it was time to look at something different. The replacement shocks are a set of Wilbers (front and back). With these you can tell even small differences in changing the settings. Comfortable if you want to, stirdy if needed. Nice!
* Comfort: To add a bit more comfort the steering handlebars got a set of risers "up and front" from Nippy Normans.
In between things, the off roading with the GS club offered more challenge than I could cope with on my R1200GS. Changing it to more "off road specs" would mean an extra set of wired wheels with off road tires, crashbars, a roadbook etc etc. Inspired by a lot of others on the GS forum, I decided to buy me an extra bike for the off road trips. The money spend on that was about the same as altering the 1200GS. So I bought a converted R80ST, here shown in it's original looks before the last owner did the conversion.
I did not do that conversion, the previous owner did. And this is how I got it.
21″" spoked wheels and less weight to drag around (compared to the 1200GS). A lot of tourque and fun to ride with!

But somehow, that got under influence of my "changing" virus as well, so this is what it is now.
Painted the tank white and added a brand new cockpit with roadbook holder etc.
This bike was called "Kelly" by its former owner. A name that got stuck with the machine, so I addopted it. But Kelly and I had a few "incidents". She does not seem to like me and throws me off from time to time. The result until now: Severely bruised lower leg (a ditch), broken thumb (a tree) and last but not least two broken ribs (a low sider). All due to my stupidity and lack of terrain riding quality and skills…… 🙂 As a result I am not sure if I want to continue on this track. Maybe it's better to look for a new boss for Kelly… Let's see if time gives any wisdom.
So now back to the R1200GS……
After sorting out the power, comfort and the handling what else was left? Hmmm ….. …looks of course!!
The Desierto III fairing is great on looks. They promise too much on windshield protection and turbulence reduction though. The result is fine but not more than that though….. For pure wind protection it is too far away from the rider. Some aftermarket screens would perform better. But the looks!!! The day the Desierto III was attached on my bike I knew suddenly there was something wrong with the color sceme. The side panels of the Desierto now go over the glossy painted beak. The balance was disturbed. So back to the drawing board. Different sources on the internet showed me some special paint can do magic on the side panels as well.
……..so as a finishing touch the side panels and the Desierto were also painted in "nachtschwartz" as well as the aluminium sideparts. (AndyW – "nachtschwartz" – I have no idea, does not translate to English – gloss pearlescent or gloss metalic paint?:-) Update: "nachtschwartz" translates as "night black" (so much for AltaVista's Babel Fish translator!). It is now a standard colour from BMW.
I like this bike and I like music, especialy Pink Floyd and their timeless album Dark Side of the Moon. The front cover of that album was painted on the aluminium side panels for that extra little bit of sparkling.
For a little bit of contrast, the area behind the logo was painted in silver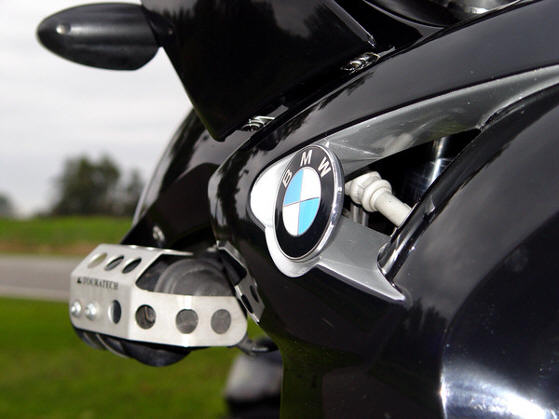 The final result is a nice looking, sounding and performing bike. I made a promise to it: If it does not let me down (unfortunately I have had my share of 12GS problems) it will stay with me for a long time. Well.. A  year more at least 🙂 One has to find new challenges not?

Ride safe
ECM (ex-cruise-me……..get it🙂
Full size photos of Ton's R1200GS Pink Floyd 'Special' HERE