Speed Limits – Road Safety Campaigns
 
In the Uk there are 'advertising' slogans like "Kill your speed or kill a child" and various TV and poster campaigns run by the Department for Transport Think! Road Safety team.
Here's another unusual approach, this time from the Danish Road Safety Council (NB: there is some semi-nudity in the movie 😉 Speedbandits "Speed Control Bikini Girls" –  an unusual approach to getting motorists to kill their speed!  This movie was made by the Danish Road Safety Council and aims to draw attention to speed signs and speed limits in Denmark. Despite a decrease in speed violations, 7 out of 10 Danes still exceed the speed limit on a regular basis. Respecting the speed limits is the simplest way to save lives.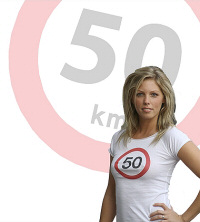 I'm not going to enter into the debate as to what impact on road safety or more specifically, road traffic accidents, speed (speeding) has. But without a doubt, leaving aside the breaking the law aspect, there are times and places where breaking the posted speed limit is dangerous and more consideration for other road users and pedestrians is needed.
Speedbandits speed control Bikini Girls – Quite frankly I'd be surprised if this approach didn't cause some accidents but you can't argue with the fact that they sure are getting the message across by being noticed!
Speedbandits …just hit the Play button below
(nb: wmv video only plays in MS Internet Explorer;-)