Ducati Multistrada 1200 – First impressions from an ex sportsbiker!
By Ducatisti.co.uk member 'Donnymark' (aka Mark) 15Apr2011
I thought I'd get a few miles under the belt before writing this. I traded in a 2009 Fireblade for the Mul;tistrada Touring 1200S spec in white. That was my second blade and I loved it so I was nervous about getting rid. From trackdays to commutes over the Pennines (Snake Pass/Woodhead Pass) the blade did a great job. But I'm 41 and my back reminds me! So does the missus – especially with a weeks worth of gear on her back for last years TT plus oxford soft panniers! Mind you, the view was pretty good to me…! (photos of swmbo on the MTS1200 to come later:-)
 So the blade has gone and the Mutley has taken over. I picked it up from Newcastle last week and rode for 3 hours on the North Yorkshire backroads to Doncaster. Fantastic!
I thought the fuel gauge was knackered when it told me to fill up – then I realised how long I'd been riding! Then it rained – all bl00dy week So I tinkered in the garage, fitted the Sat Nav, cleaned it, sat on it……how frustrating!
 Zumo motorcycle clamped on the bar riser using an old mini exhaust clamp!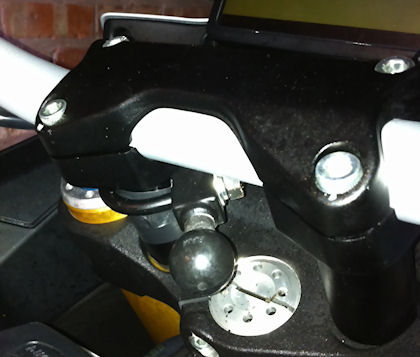 And the Zumo 550 mounts nice and centra leaving a clear view of the dash…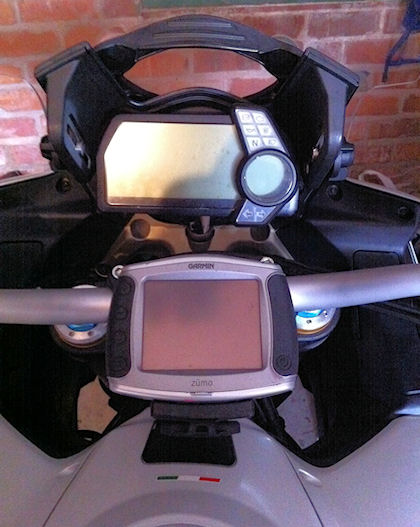 The weather was just cloudy but dry so off I went scratching on my favourite back roads around Crowle, Goole, Pocklington, Scarborough, York etc. A day of freedom and bliss! Here's my thoughts on how the MTS1200 performed (see later for 2500 mile updates;-)
Comfort – the best I've ever known;
Modes – I find all suspension settings too soft. But set to 2 up plus luggage seems best. I find myself switching modes as necessary but I'm still not sure if that is just 'cos I can and the novelty may wear off?
Handling – it tips in like a sportsbike! Wide bars are cool once you get used to them. Front end is light though and feels a bit vague due to lack of weight over the front. Once you get used to it it's ok but I did have a few high speed shimmies;
Engine – so different to the inline 4 screamers I'm used to. I keep hitting the limiter but I'm getting used to it. Love the torque. Starting to love the vibes too! I'm used to 175 odd ponies from the blade so the 150bhp is quite tame in comparison. But its all so useable!
Centre stand – my biggest gripe. I ride on the balls of my feet and so it touches my heel and vibrates. Aargh! (but there's a mod to fix this;-)
Protection – strangely it doesn't give the wind protection I thought it would. And my feet get cold and filthy whereas the Honda's shape kept the wind off my feet. More thermal socks required…
Tyres – again I'm impressed. They grip well when cranked over and give reassurance.
Public reaction – the blade used to draw attention from people on the street and in cars, especially kids! The MTS12 gets a glance but not to the same degree. (full Termi exhaust required!)
Biker reaction – more positive when they realise what it is!
Overall – without doubt the best bike I've had. It does it all. I reckon it's faster point to point than the blade in the real world on real British muddy, pot holed, greasy roads. I'll miss the blade for it's single purposefulness and Cadwell won't be the same but the rest of the time the Mutley wins!
About me and my bikes
(update on the Multistrada, after covering 2500 miles, later):
I'm 41 and have come back to bikes about 10 years ago. I started on a Kawazaki ZX7R – people said I was mad getting started on a Ninja but I never had any problems with it and at the time, it seemed fantastic. I live in Doncaster but was working in Warrington and my commute was becoming a nightmare – the Ninja changed all that as I would commute over the Woodhead Pass (Pennines) and back over Snake Pass. Suddenly I arrived at work with a smile! I racked up about 6000 miles a year on that baby for 3 years:
Long story for another day – I got ripped off whilst trying to sell the Ninja to raise the cash for a newer model – a 1998 RRW Fireblade. Eventually got it sorted and got the new blade – a whole new world opened up! It was more powerful, so much lighter and more useable. With the Ninja, you wrestled the thing into corners and jeez, was the steering damper needed! (I got an LSL unit which worked a treat). The blade just became part of you and it wanted to get on it's ear in corners, no hassle, no wrestling. Loved that bike…
The blade was also my introduction to track days – Donnington a couple of times and Cadwell lots of times! During this time, I started to work for myself so was doing less commuting as I had to be in Warrington just once a week. In 2009 I did a few Cadwell days and was having real trouble with the handling towards the end of the year. The rear shock was knackered, front forks needed new springs – the old girl was getting on a bit. With the high mileage I decided the cost of the new bits wasn't worth it, so time to go shopping…
….for a new blade!! (see the trend here! Lol)
Christ, my eyes were opened! How the world had changed in 10 years since the RRW blade. Faster, lighter, better in every respect. Now I really fell in love! Road or track, it was just awesome. Some mates had some slicks going cheap so Cadwell called a few times in 2009/2010: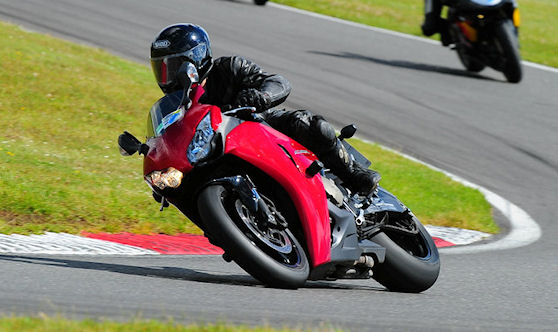 The TT's that year were unbelievable. A week with a mate and the missus at friends who live on the Isle of Man. Heaven! Practice, Mad Sunday, races and the weather held out until the last few days. But it made me realise that I wouldn't be able to do the amount of weekend riding I wanted with the better half – have you seen the size of a blade pillion seat?! Hmmm. But there was no way I was going to ditch the ultimate sportsbike for a tourer.
Then I read a write-up on the Ducati Multistrada. Then I read a few more…..and more…and more! You get the picture! I didn't believe all the hype TBH – it couldn't do everything that well like everyone said…could it?
So I had to have a test ride in the end:-)
OMG!!
I joined every Ducati forum I could find to see what real riders were saying. After all, we all know about Italians, temperament and electrics don't we!
Two months later I traded in the Blade for a white MTS1200S Touring. I went for a used ex demo owned by Ducati – £4k cheaper than new!. I wanted red, it is a Ducati after all but the only one in the country was white. Now I have the white, I reckon it's the best colour!
2500k miles on and here's my current thinking…
Still 'kin awesome! 2500 miles in a couple of months – all weathers, A & B roads with some motorway. It just makes me want to ride on forever. When I had the sportbikes, I'd do a good run and arrive back at my garage, thinking "that was fantastic. I'm ready for a beer/cuppa tea/smoke/shag/BJ now" (delete as appropriate;-). On the MTS, I get to the garage and think "That was fantastic. I wanna do it all again. Then I'll have a beer/cuppa tea/smoke/shag/BJ now" (…delete as appropriate:-).
So why the difference? The MTS doesn't knacker you out – you get the grin factor without the grim. On the Blade, you got the grin factor, but after a couple of hours hard riding, you'd be physically and mentally tired – ready for a break.
So, Cadwell is a definite for May/June 2011 😀
Now that will be interesting! But I'm nervous, 'cos I'm worried that a track will show up the weaknesses, especially compared to the blade. More on that later.
The only mods I've made so far are the cheapo Zumo fitting, 'DIY' lower seat and I've put on shorty levers:
They make a big difference for me as I kept graunching the gears 'cos I wasn't used to the long travel of the OE levers. They were £25 from Hong Kong (good old Fleabay), arrived within 10 days and fitted perfectly. One finger braking and clutching is here again.
The seat was fixed by the Dad of a mate who runs a bike workshop and has sorted all my bikes. He's a leather-worker and cobbler and charged me just £25 to take about two inches of padding from the seat and re-profile it. Now I can get both feet on the ground and I haven't noticed ANY difference to comfort on long rides.
Here's my comments on the usual MTS subjects that are discussed on the forums:
Tyres – the Scorpions were squared off by the previous owner so I only got about 1500 miles from the rear. I tried to get Pilot Road 3's as I'd heard great things about them, but there was a waiting list so I went for the PR 2's. That was about 500 miles ago and I like the feel and am happy. I prefer them to the OE tyre.
ECU updates – mine has had them all and I don't have any issues, except for the consumption which is low! Mind you, I ride it hard all through the rev range and the roads I use aren't most fuel-efficient! I'm averaging 34 mpg
Panniers – they're great. I love the ease of fitting and removal. The new latches work a treat. No problems.
Modes – I use Sport, touring & urban all the time. Maybe it's a bit of a fad and I only use them cos I got em?! But urban is good for around town although it's a bit gutless. I use touring in the wet and sport everywhere else
Personalised settings – I've hardened all suspension settings by a couple of settings and am slowly personalising each one. I still find the suspension to be on the soft side and I can't get used to the front end dive when braking hard!
Nanny state – I find the ABS cuts in a bit early. This only applies to the front brake however as the MTS does not have a rear brake (see next bit)! The DTC has kicked in a couple of times and that gives me confidence
Brakes – front are great. Rear is a joke. I can push the lever all the way to the stop and yes, it turns on the brake light, but no it does not slow you down! Bleeding, bleeding, bleeding brakes – bad design from what I've read. This is a pain actually as I'm one of the few riders who uses the rear all the time to steady the bike into corners when I'm hustling and also when I'm filtering. Particularly with that front end dive – the rear should make it much better. I think this is my biggest problem with the bike.
Gear change – I still get a few false neutrals and odd grate from a bad change but the new shorty clutch lever has stopped most of that. I do have occasional problems finding neutral at the lights though. When giving it some, clutchless shifts up through the box are as natural as on the blade.
Central stand – c'mon Ducati, you must have realised that it vibrated on your foot before launch! This will be my next mod, but I've learned to kept that foot in a different position rather than on the balls of my feet
Reliability – I'm tempting fate here, but no problems with anything so far, (rub rabbit's foot, cross fingers, pray to the Gods)
Noise – I'm a total convert to 2 cylinders rather than 4 inline. Just love that sound! I still hit the redline sometimes though, but less than to start with.
Performance – now this is the interesting bit. Straight line, the blade wins. Sweeping corners – the blade wins. Slow corners and flip flops – the Mutley wins 'cos I can chuck it from one side to another quicker than the blade (big wide bars!).
Overall – the Mutley wins! I've been doing the Pennine passes for a decade on different bikes and I can string it together and do a full pass quicker on the MTS. How do I know? Well I downloaded the MCN ride logger app for the iPhone and have the journey recorded and timed from the Blade.
I am quicker overall on the MTS!
This is because of the better visibility and the riding position which mean that I can plan ahead more. On the blade, with arse up and head down, you'd be pulling out blind then diving back in again to get past the traffic. On the MTS, I can see right over them! Best of all though is the grunt from the engine – it makes exiting a corner an absolute "grin" moment! I've been on ride-outs with mates on 600's and 1000's and I'm still faster than all but the best of them! I do still get a bit of a "wander" from the front end in fast corners and I've had the early twitches of a tank slapper a couple of times, (3 figure speeds on bumpy surfaces….private road of course m'lud;-). Compared to the Ninja – they are nothing though. I am interested to see how the track days go as I think these things will become more apparent.
Pillion – she loves it! At last she has a seat that is comfy!
Wind, etc – my feet get cold as there is no wind deflection. The screen is ok but not brilliant and it is quite noisy. Riding in the rain is a bit strange as the deflection blows the rain down my visor, rather than to the side as I'm used to.
Mirrors – there's something behind me but I'm buggered if I can tell the make or whether it's a copper
Plastic hand protectors – look nice but again, c'mon Ducati – cheapo, brittle plastic is not good. There's a fabricator near to me so I'm going to ask him to make up something similar to the Barkbusters protectors as I know they're gonna go one day.
So there you have it – my life with the Mutley. Overall, it is the best bike I've ever had and I don't regret changing the Blade at all. I ride it every week and just love it. Every time I go for a spin I have an experience that is worthy of a new story!
…..maybe an update in a few more months 🙂