Multistrada 1200 – Termignoni Full Exhaust System Install
A step bt step photo / pictorial guide with some guidance notes by Multistrada 1200 owner 'MrSweden'


Ducati Multistrada 1200 Exhaust options:
Termignoni Exhaust for the Multi 12 (secondhand bargains can be had from eBay)
Arrow exhaust for the Multistrada 1200
Multistrada 1200 Akrapovic exhaust options
Replacing the standard exhaust
Replacing the standard / OE Multistrada 1200 exhaust system with the full Titanium Termignoni (Termi) exhaust system which is supplied with a replacement 'race' ECU (in actual fact the same hardware with different 'software' / fuelling maps etc;-) and performance / high flow air filter.
The stock Multistrada exhaust system…
…and the full Termignoni Exhaust System / 'Race' System for the Multistrada 1200 / MTS1200

Ducati Performance (DP) Accessories / Parts – Multistrada 1200
/ MTS1200 full Termignoni exhaust system
Termignoni full 'Race' exhaust system, Multistrada 1200 – Ducati installation / fitting instructions (5.24mb PDF file)
I hope to have a more detailed 'how to' article soon, meantime…many thanks to 'dclarson' (aka Dan) for the following photos and comments.
Essential reading!
Multistrada 1200 – Access to and/or Removal of the Engine Management ECU
**NB** Full size versions of the images below can be seen here.
 
Multistrada 1200 – Installing a full Termignoni Exhaust System
The box opened and emptied of all the lovely new Termignoni parts…Termignoni full titanium exhaust system with race chip.
View down the Temignoni exhaust cannister (aka can, muffler or silencer!)
And the large bore headers / exhaust pipework fitted
ECU location – bike stripped of plastic fairing parts, nose fairing and fuel / gas tank for easy access to replace the stock ECU with the new 'Race' ECU remapped for the freer flowing Termignoni exhaust system with hi-flo airfilter.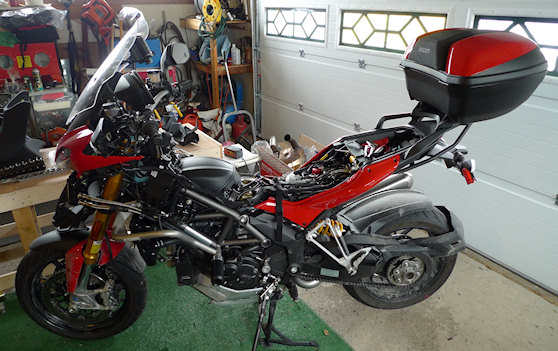 A closer look at the ECU mounting location
OEM and Race ECU's side by side……the 'Race' ECU is just a reprogrammed stock ECU!
Nice touch….Multistrada 1200 race ECU installed – new dash / digital display welcome 😀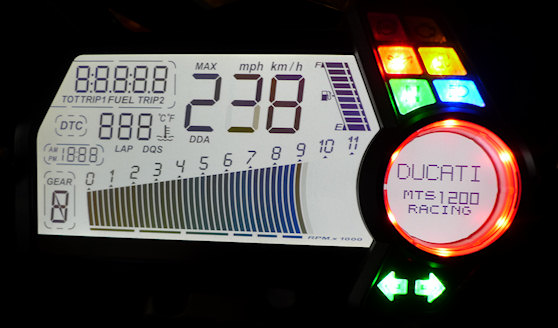 ….and finally the 'obsolete' bits – OEM Ducati Multistrada 1200 exhaust parts
OK, took it out in the fog and mist this morning (thankfully no lightning). Low end is awesome, no stuttering at all. Smooth as silk at low RPMs even in 6th gear. Did not notice a difference at mid to high end. Visibility was poor so I kept the speed relatively low. The traction control still works great though and I love the sound. Just need to figure out to get it switched from kilometers back to miles o_O
A couple of days later……I put 250 miles on the bike today – mixture of smooth pavement with tight twisties and bumpy back roads. I'm very impressed with the power delivery overall. Keeping in mind this bike was no slouch before the exhaust/ECU replacement – it now has perfectly smooth power in every gear from very low RPM. Open the throttle wide and it is just amazing. Of course, the sound probably has a psychological impact as well but I feel that this was money well spent 🙂
The main reason for purchasing the full Termi system with race chip for the Multistrada 1200 was to get rid of that annoying stutter when the butterfly valve opens or is opening/closing when you are trying to maintain a particular speed, typically where it's somewhere the police are a concern and you want to maintain speeds within the posted limit.
Not sure if stutter is the right technical term to use but it's not a surge, it's a drop off in power before it comes back on. Very annoying when you are riding pillion and helmet smack together!
The full Termi system with race chip resolves that problem and the bike is now such a pleasure to ride, with smooth power delivery from low RPM all the way up. And that's with the decibel reducer installed.
I tried it removed and it was way too loud, definitely would have drawn unwanted attention and the bike runs great with it installed so it doesn't concern me that I might not be getting maximum power.
The engine does have some mild popping sounds on deceleration that was not there before. I brought the bike to an authorized Ducati technician and he said that was normal and not to worry about it. Another bonus you get from switching to the full Termi system is losing that huge catalyser. I should have weighed both sets of components but I know I shed a significant amount of weight by losing that that catalyser,exhaust combo which weighed 19.9 lbs or 9 Kilograms.
Installation was not difficult and all parts fit together perfectly, with no cobbing required as I've seen with other aftermarket systems and bikes over the years. Overall I am very happy with the system and find that it was well worth the US $2300 I paid.
 
---
See also: Multistrada 1200 Full Termignoni Exhaust 'Stubby' Conversion
See also: Multistrada 1200 Arrow Full Exhaust System Install
See also: Multistrada 1200 / MTS1200 Exhaust 'Decat'
See also: MTS1200 Full Termigonoi Exhaust System Install Guide