Ducati Multistrada 1200 / MTS1200 Workshop Manual (Service / Maintenance Manual)
See here also for more downloadable Multistrada 1200 technical documents.
(Multistrada 1200 Online Resources & Downloads)
There's is now a Workshop Manual available for Multistrada 1200 owners to purchase from Ducati Dealers – it's a CD Rom containing the workshop manual for the Multistrada 1200 in PDF format. Cost in the UK………..£48!!
At the moment (update Jan 2011) the manual is still a 'Draft' version which is all the more disappointing considering the cost – I'm hoping that for the purchase price owners of the draft version will be untitled to the final manual FOC! (awaiting response to enquiry to Ducati)
Update 19Mar2011: See update below for MY2010 HTML final version workshop manual (plus link to online version)
What's on the Workshop Manual CD…
Multistrada 1200 Workshop Manual Contents
Section Index:
1 – General
2 – Model-specific information
3 – Technical data
4 – Maintenance operations
5 – Fairings
6 – Electric system and engine control system   
7 – Chassis
8 – Fuel System/Exhaust System
9 – Engine
Click for the full contents listing (PDF doc – 42kb)
You'll need a decent PDF document viewer, imho Adobe Reader is best avoided! …..PDF XChange Viewer (free) is great 😉
Example page from the PDF manual: "Refitting the clutch transmission unit" (clutch slave cylinder)…
Get your Ducati Multistrada 1200 workshop manual from Ducati Motorcycle dealers.
Update 19Mar2011
I now have a copy of the 'final' version of the Ducati Multistrada 1200 Workshop Manual.
Ducati MTS1200 Workshop Manual part numbers:
91371731X was the first original draft
91371731A is the final version
91471061A is the interactive wiring
 
Multistrada 1200 ABS / 1200S ABS Workshop Manual (External link)
nb: not downloadable, viewable online only;-)
Ducati Multistrada 1200 Workshop / Service Manual (Final version – part code: 913.7.173.1A) – CD Rom available from Ducati Dealers
The update from the 'draft' PDF version now runs in a web browser window and includes the Parts Catalogue…
Larger versions of Images here
….the new manual now also includes the Multistrada 1200 Parts Catalogue
The contents page for the workshop manual…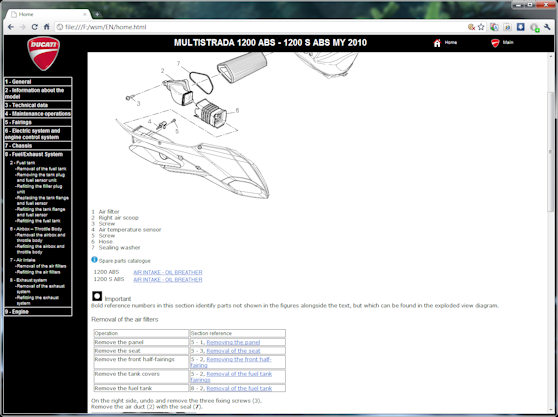 Larger versions of Images here