Sexy Orange R1200GS
By jayjay10117 from Northern Ireland – 29Oct2007
(AndyW – ok 'sexy' might be an exageration but I really do like orange paint schemes and it suits the R1200GS……and what a lovely pair of pipes:-)
I have been riding bikes for almost 30 years, since I was 18 around 1977! – only the 'old codgers' among us may know some of the bikes I've owned:
Suzuki GT250M
Kawasaki KH400S3
Honda CB750K7
Honda C400F2
Kawasaki Z1R
Suzuki GS500F
Kawasaki GPz500
Honda VF750S
Suzuki GSXR1100
Kawasaki ZX10
Honda GL1200 Aspencade
ZXR 750J2
Kawasaki Z1100R Lawson Rep.
RD400 (restoration)
Suzuki GSXR1100 Streetfighter
BMW K1200LT
Aprilia RSV1000 Mille R
BMW R1200GS
Triumph Speed Trile 1050
Kawasaki Z1R (again restoration)
Arilia Tuono '06 model
BMW R1200GS 2004
Only the GS and Z1R left now. At least the old memories are still there 🙂
My last bike, or at least the one I traded in for the 1200GS was a K1200LT. I bought that with 7K miles on it and it was my first BMW. Clutch went at 8K…reverse went at 10K and the whole rear diff assembly went just after I traded it in ('after'…Thank God). BMW Warranty always paid for the parts but I was always caught for the Labour charges. The GS was bought in August '04. I have put 6.5K miles on it since. Work prevents me riding as often as I would like (I can't even commute these days) and up until recently there were three bikes in the garage so I always had a choice of what to ride. I have always liked something a little different and have even been through the Streetfighter phase for a few years with a GSXR 1100.
Reasons for the change?? Strangely enough not the reliability problems. The LT was so touring focused that you just didn't feel like taking it out for a quick blast on a Sunday afternoon. A mate had an 1150 ADV and he loved it. He has now moved on to a 1200 ADV incidentally. The 1150 styling was just too radical for me but I fell for the 1200 when it appeared. Arranged a test ride and the rest is history.
The bike was bought new by me in 2004. Most of the parts you see were all bought from a UKGSer as a job lot and fitted by myself. Even the bodywork in the orange colour. I really feel the need to change the colour though. You see in my mind, although I quite like the colour, while it's still orange it's still the other blokes bike and I really feel the need to put my own mark on it. I'm sure you can understand that. I can do a little airbrush work myself so that is definitely my winter project. As for the other bloke, I have lost contact with him.
I love my GS. I loved it before the changes and I love it's appearance now. I try to get a couple of trips in every year, even if it's only over to Scotland to visit my son or friends in Lancashire. I don't get as much time to ride as I would like. We did a South of France/Italy/Switzerland trip on the LT and really want to do another to Southern Germany but that's one or the future.
A few details on the bike……..
The rims are 17″ BMW Units from the R1200 RS/RT models and have been sprayed Satin Black.  The inside face of the rear rim had been machined before I bought the wheels to allow it to seat further to the right and to bring the wheels more into line (apparently now only 4mm out).  I'm told that some BMWs do run out of line which does not appear to be a problem.  The Head Covers have been sprayed to match the rims.
The Front mudguard is a Carbon unit.  I am informed that it was one of a prototype batch of ten but I have no idea if it ever went into production. (If not, it should have, because it's a nice piece of kit).  The rear guard is also carbon and bought from Sandbar Composites.  It is for an R1200S to accomodate the wider tyre, however when it arrived it would not clear the Akrapovic Race System so I cut the lip off along the left side with a Dremel.  Turned out alright.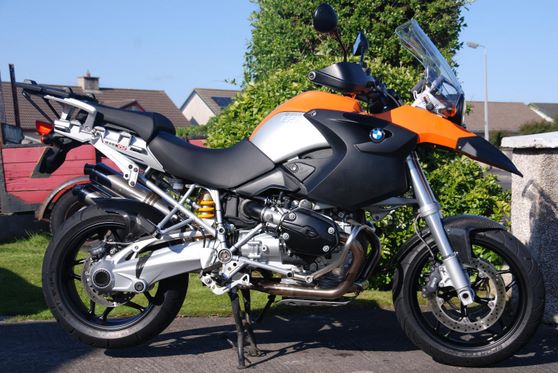 Since the pictures were taken, I have replaced the exhaust with the Remus header/Akra can mix and I suspect the guard might have cleared that setup.  There certainly seems to be more clearance.
Suspension is Ohlins.  'Nuff said.  I always believed the BMW Telelever / Paralever system was excellent but this is just way ahead.
In summary…..I have always liked the Supermoto concept and am really pleased with the bike.  Handling has changed for the better, as it turns in easily and feels so planted.  Sometimes wonder if I shouldn't have gone the whole hog and fitted the R1200S rims.  Have seen that and it looks really well.
Cheers
John