BMW R1200GS Adventure (R1200GSA) Rox Bar Risers Installation
Rox Risers install on a R1200GSA
By ADVRider 'longtallsally' – see the original post and discussions here
So there is a really good thread out there with good info in it, but no pics of some of the critical stuff. So I thought I might fill in the gaps a touch. This will be mainly pictorial. For more tech questions go to Jim VonB.

Here they are prior to install:
Before and totally stock:  
Factory switch removed:
Bars removed:  
I must be an idiot as I don't think there is any friggin' way to get a torque wrench in there to get this to spec as shown with these:  
Here is the initial view of the bars in place:
Taking the caps off the fork tubes:  
Loosening the bolt and holding the bottom part stationary with a 19mm wrench (no one else mentioned the size). The upper nut is a 14mm. Just like everyone says, once the nut comes off the top, the fork just slides down. Easy peasy. And just as easy to get it back up. 
Initial view of them in there:  
Fork tube dropped:
One of the zip ties that had to be clipped close to the ignition key:  
Another zip tie needing to be clipped:  
My solution for the foglight switch: 
I don't see a need to "fix" this any further as the only thing it does is make the key take an extra 2 seconds to pull out. The bike is garaged and I am getting to where I only use it on trips, so the key rarely comes out any more so who cares and it is totally stationary.

Rear view of them in place: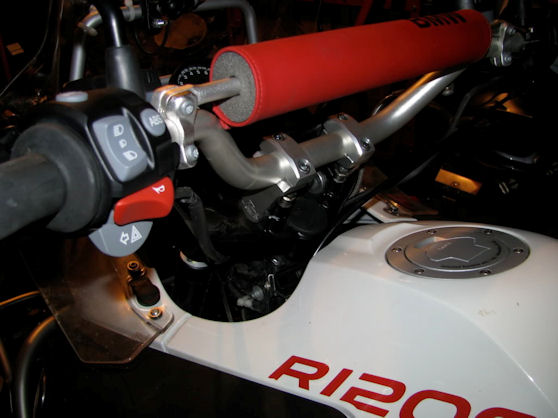 Pics of the wires and cables re-routed:
I'm not nuts about the wires hanging down like they are, but I think they will be OK.
First impressions are that for the first time on a bike I can stand up completely straight. I have not totally finalized the location just yet, but I think I'm close. I put a HUGE amount of weight on them (I'm 220+) and bounced a bit and they seem stable. I'll find out real world in a couple days up in El Dorado in the Sierras.

It's kooky as I feel like I've got ape hangers now, but I think it will by comfy- especially standing up.
Footnote by 'JimVonBaden'
You can torque them with a crows foot wrench on this:
Looks like this: