R1200GS DIY Rear Mudguard / Fender
See also: R1200GS DIY Hugger Alternative
Author: 'Bullwinkle' ukGSer.com 29/09/2005 updated 08/01/2007
View thread for additional comments: 
Inexpensive Rear Fender Fix  (external link)
I wanted a real rear fender and was getting tired of people asking me what the "crap catcher" was and why was it there. I also own a R11RS and thought the rear fender (part # 46 62 2 313 123… they're about $20 US) from one might be made to work on the GS.

When you get a brand new one, it looks like this
So I cut it down somewhat to this to fit the GS: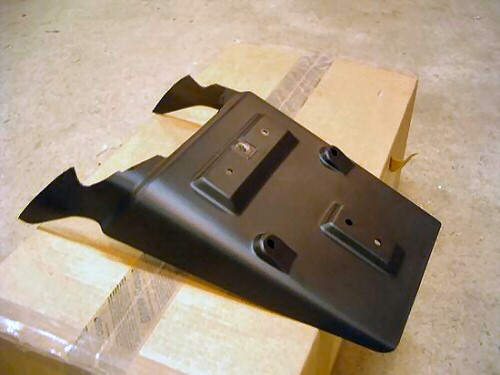 I took off the license plate bracket and bolted it between the bracket and the support, using the same holes and spacing. The result is something that looks stock and let me get rid of the crap catcher with a clear conscience:

It works well.
1. Resizing of the image in your word processing or photo software may be necessary to get the printed template dimensions of 7 5/8" long, and 2 ¼" wide (dimensions are point-to-point). Ensure you maintain the proper aspect ratio when resizing.
2. Cut out the template using the outer lines. The template is for the left side of the RS fender, simply reverse it to mark the right side. Use tape or temporary sticky putty to hold it in place on the fender.
3. The edge "B" is placed along the top edge of the contour that divides the fender in half, wrapping it around the corner from the side to the rear. Edge "A" is placed flush with the side forward edge of the fender. Transfer edge "C" to the fender as the line to cut the top part of the RS fender away.
4. Repeat step 3 for the left side of the fender.
5. Draw a line on the fender along the top of the contour, between the inner points of the template markings. This contour will fit over the top edge of the GS bracket for proper positioning. See photo for explanation.
6. Ensure the cutlines etched onto the fender are accurate and symmetrical. Remove the material above the lines you have scribed. Cut outside the lines (allowing extra material for exact trimming) with a jigsaw or scroll saw.
7. Fit in place and trim for best fit, smoothing all cut edges with a file or sandpaper. The forward 'wings' of the modified fender fit between the inner fender and the tail section bodywork.
8. Place two ¼" thick spacers between the modified fender and the LP bracket to allow for the thickness of the mounting contour of the fender.
9. Attach the modified fender using your existing LP carrier, however, longer screws may be required. I used M5 x 23mm screws and self locking nuts. For the smaller North American LP carriers, only two bolts are required.
10. Fill in extra holes in RS fender with reflectors, decals, etc. as you see fit.
Here is the template for cutting the RS fender:

I hope this helps.