2010 Multistrada 1200 / MTS1200 1 Year 10,000 Mile Report
An interesting read with lots of great 'on tour' photos by Ducati.ms forum member 'Ramv' (aka Aaron J) – 27Jan2012 – Original forum post here.
 
Multistrada 1200 Review – '10 Multi 10,000 mile / 1 Year Report
27 January 2012 – Should hit 10k miles tomorrow, bought the bike one year ago this weekend.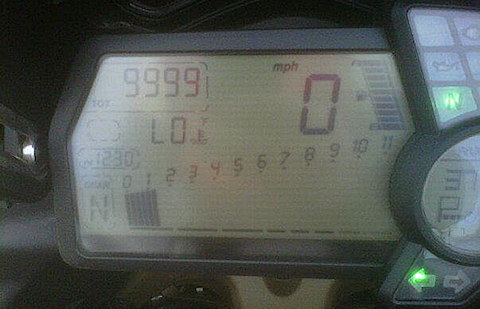 I was hoping to get 12k miles this year, but a new expansion at work put me on the road travelling a lot. Only 2500 miles since August. I cancelled our trip around Lake Michigan, which would easily have bumped it to the 12k mark. Not to mention I had intended to take it to Glacier while I was working up there, but simply didn't have time.
When I bought this bike, I had considered the BMW GSA 1200, (dealer didn't recommend the 800 for 2 up), and the KTM SMT. The GSA was out of our price range, so we went back and considered the 990 Adventure. The Ducati won out on the rear seat comfort in the show room. We also looked at the V Strom, Versys and even a Gold Wing, but I wanted some off-road capability and my wife wanted comfort and she felt the Gold WIng just was too big. (Her brother does have a Conc 14). The Super Tenere and Tiger 800 XC were not available at this time.
We did some great rides!
Pacific Coast (Santa Barbara to the Giant Redwoods)…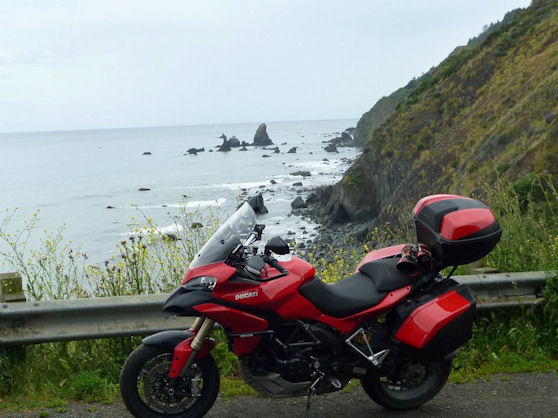 Sonoma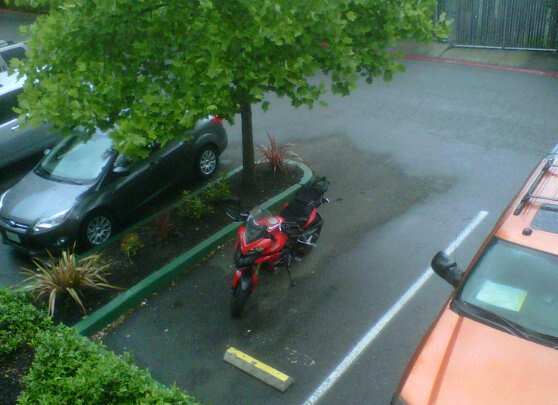 Lots of rain soaked days and fog, but riding the Golden Gate bridge out of the fog was truly amazing, wish I had a picture!
Central Colorado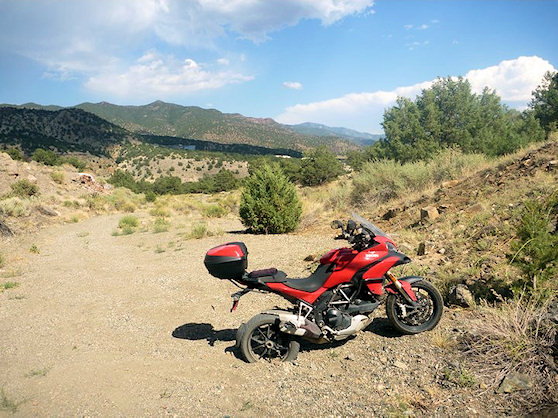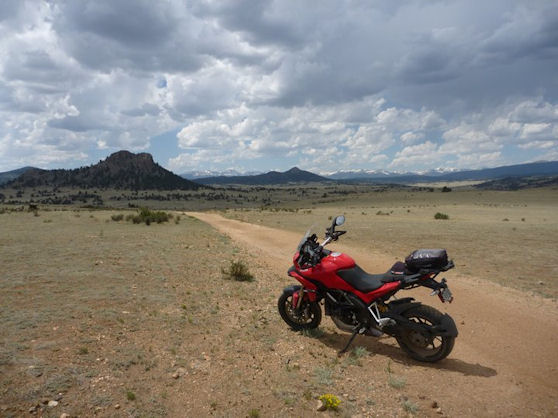 Trail Ridge Road through Rocky Mountain National Park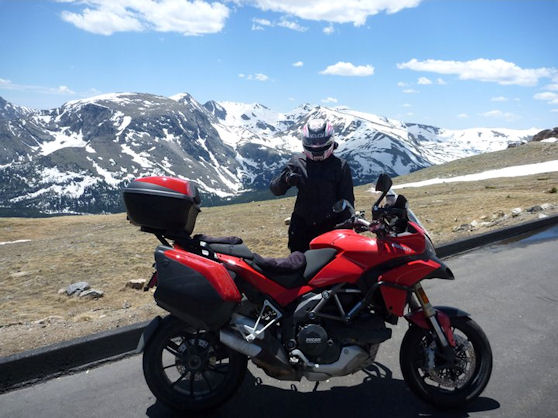 Ride the other day
Modifications to date:
Alt Rider crash bars, water pump guard, header guard. Nice stuff, but doing it again I would just get the header guard.
DP 73 litre luggage, top box, rear rack, heated hand grips. Grips are fantastic but way way over priced ($300, my oem KTM which add a switch were $90). Luggage is stylish, great capacity, but poorly made and pricey. Secondary latches on the panniers pop open, which causes them to leak. Rear latch didn't open, until the rear panel fell off the box, mounts have broken, rack constantly rattles and loses bolts (despite using a torque wrench and locktite).
Evo-tech rad/oil cooler guards. Totally worth the money, nice kit.
Airhawk seat cushions, mine really helps, hers is some help.
Gee Bee 14T sprocket, helps make the taller gears more useful, no loss in fuel mileage, still pull 150+ indicated.
Barkbusters — sweet! Saves the cheapo factory guards.
MRA Sport Screen — Sweet! Fixed 9000 miles of annoying rattle in the stock screen the dealer couldn't duplicate.
Tires — 4000 miles on rear before punctured on a rock (limped 200 miles spitting out plugs to a dealer for a 180 PR2, 6000 miles on it. worn but has done well). 7500 miles on stock front, side lugs wore down to wear bars, Distanzia SM since, no complaints, 2500 miles.
Overall the bike has been very good. No unscheduled dealer vists (save the rear tire), works great for a sport tourer and commuting. Power has been no where near I expected, but is very smooth. The electronics are gimmiky at best. (base model). I have finally turned off the traction control as it makes it un-rideable on the dirt roads around my house, and even on the rough pavement will engage under power. Power settings are equally worthless. Why do I want less power?? I don't notice much difference other then throttle response in the other settings, and i don't really like the slower response so I leave it in Sport. Instead of the mode button, a traction control on the fly would be more useful to me. I do appreciate they have a full off option, and when set, it stays off, even with ignition cycling, which is pretty cool compared to most other vehicles.
Problems I have had:
Ignition not recognizing the key
Rear brake performance
Clutch fluid leak
Poor fuel mapping initially
Windshield rattle
I figure the pro/con list would be most useful:
Pros:
Smooth, wide power band
Fast, 0-60 especially
Comfort, luggage capacity makes it a good tourer
No noticeable fork deflection
Reliable!
Good range and mileage (Average about 40 mpg, have got over 200 miles on tanks before the light came on)
Lots of information on dash
Not too heavy for back country use, can load in the pickup by myself
Plenty of electric juice for the vest and hand grips even on 30 deg days
Good wind protection
EFI is awesome. Runs great at home (6500′) and 12000′ regardless of temp
Cons:
Gearing sucks. Even with the 14t, still hit 60 in first, and basically am over 20 to have the clutch disengaged
Rear brake sucks
Wireless ignition is lame ( doesn't work if I have my blackberry)
Not many tire options for non-paved use
Rear spring is inadequate for 2 up. (pre-load cranked to the max for the 2 of us and it still is soft, we are about 350 lb without gear total)
Windshield rattle
Build quality is questionable (mud guard broke off, hand guards are cracked, screws need to be constantly checked, luggage mounts broke, have never dropped or even come close to hurting this bike)
Resale is terrible, considered trading for a new KTM at Christmas, dealer had no interest at all, said they turned down a T model on trade and the guy only wanted $12k. (same dealer I have bought several bikes at, Ducati / KTM / Aprillia / Kawi / Honda etc)
Needs more power!!!! No power wheelies, and 2 up in the mountains could use some more juice for passing cages. 1 up is pretty solid as long as you aren't trying to be a hooligan
Front end feels light/wobbly on spirited twisties, maybe a sport bike tire or a steering dampner would help
I did end up buying a Super Enduro, which will be my fun bike and mild off-roader, (can actually do power wheelies, and should stand up better to rough roads), and will use the Multi as my commuter/2up/tourer. It does those things very well. I am hoping to do a ride to Sturgis this year, and lots through Colorado.
Conclusion:
Overall, I think it is a very good sport tourer, and is fun and pleasant to ride, well being fairly low in maintenance (not Honda low, but decent). Not too expensive compared to others in it's class. I think the marketing hype is way over board, especially on the Enduro side, but if you want a fast bike that is also comfortable, with out getting into the giant bikes like the VFR, Conc and BMWs, I think it's a great choice.
---
On the 2010 issues:
Tthe fuelling was supposed to have been updated before I picked it up. It wasn't but they corrected it at the 600 mile service, no complaints on it after that. (Well you definitely want to let it warm up, the rich circuit when the coolant temp is reading LO causes some interesting surging, blew the stop sign at my corner one day before I realized this!)
Compared to the Concours, this bike feels very small. Which I prefer. I think if you were cruising across America on the interstate, the Concours might be preferable as it has all day comfort to bask in and is very planted. The Ducati is a little more nervous and a little cramped after a few hours loaded up. However, for the riding I do, (30 minute commute, lots of twisties, some dirt roads, and even the interstate sections tend to be curvey), I think the more outgoing chasis of the Multi is preferable. We like to stop to warm up, grab a coffeee, etc..
Dakken Road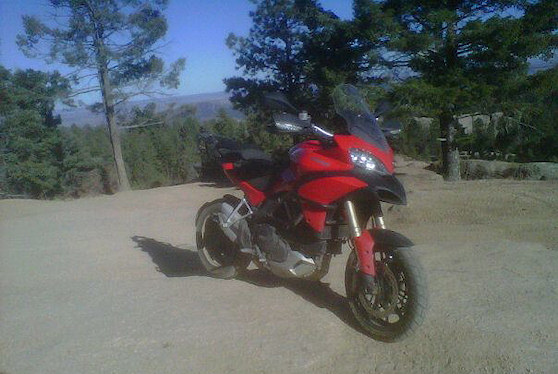 Pikes Peak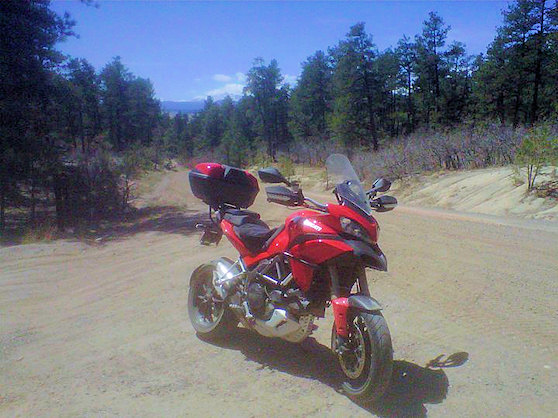 South Park
I think the altitude is really where the power falls off on the naturally aspirated bike. It is way faster then my buddy's R6, and if I am agressive, I can outrun the Buell XB12X all day. COmpared to my old SUperhawk, it has a much wider power band. Of course the VTR had huge carbs so tended to need some revs to get a good mixture going at altitude.
The KTM is much more of a dirt bike and has very low gearing compared to the Duc so power wheelies are just part of life. (and much smaller carbs then the VTR) The Superhawk would only wheelie on agressive launches (which the DTC stifles on the Multi, but I imagine with it off, I can easily pull a first gear wheelie).