Ducati Multistrada 1200 Test Ride Report by Ducati 1098 Owner
By Ducatisti.co.uk member 'nsm3' 23May2010
Update June2010 – I am in – got a cancelled Red Sport S
Test ride on a Multistrada 1200S Sport version, bear in mind my subjective comparisons are between the MTS1200S and a 1098S.
I have to confess that I couldn't detect much of a difference between the bike being in Sport or Touring modes – although dropping into Urban, the bike feels comparatively sluggish and is much better for negotiating heavy traffic. That has convinced me that my choice to go Base model, with one suspension setup at the front (assuming the Marzocchi forks are good) is the right one for me.

Power wise, this thing is sorted and driving out of 40mph corners to over the ton (allegedly) at the same rate of knots as a sportsbike, sitting bolt upright is quite an experience. It even threw in a couple of complimentary wheelies when throttling up over crests. The road "presence" factor is great, looking over the top of cars and hedges, rear view mirrors that work, decent wind protection from the screen on low setting (didn't try to see if the high setting would keep my visor free of bugs?) and the general comfort are all good. The light, wet plate clutch is a delight and feet up maneuvering is CBT test easy (do they still have those?) – I thought I had forgotten how to do it after 3 years of paddling the 1098.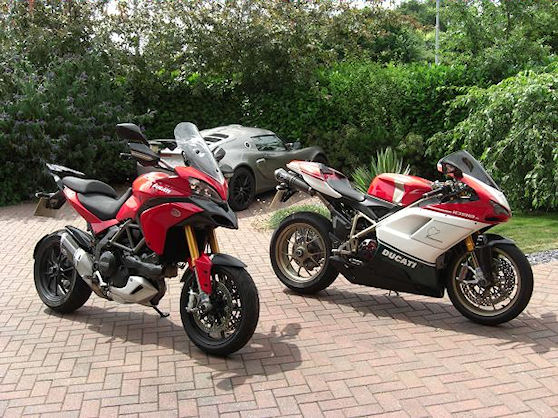 The handling is deceptively good, with the wide bars giving huge leverage – the first couple of fast corners felt odd as the brakes haven't "quite" got the bite of the monoblocs and the fork dive, whilst not excessive at all, is slightly more than I am used to. I felt it was running wide the first couple of times, but when the inside bar was pushed harder, I soon got it up to the same cornering speeds I would do on the 1098, certainly on the road, but then these things aren't going to find themselves on track that often.

It is a big bike and at 6′ and 34″ inseam, I could just get my feet fairly flattish on the floor, so I would imagine the low seat option is an absolute must for anyone shorter?

I put a drop of fuel in while I had it and that exercise confirmed that having keyless ignition without a keyless fuel cap is ridiculous – at least with a key in the ignition, it is a straightforward task to open the tank without strip searching yourself for the key – I think Ducati have got that one wrong and it should be a standard fit item – needless to say I have now added the option to my order.

On standard cans, the bike is very muted for a Ducati I thought and lacks the big booming noise I like, allowing the mechanical thrashing of the engine to filter through. I am hoping the stubby Termi will add a bit of base, but I won't go as far as the full system as it looks crap and is megabucks.

So what didn't I like – this may sound trivial, but the handlebar grips are very hard, ridged plastic and unpleasant to hold (with summer gloves on) – I am having heated grips and hope that they come with some softer rubber, otherwise I will be looking for something aftermarket. Probably upgrade the horn as per the other thread running as that tinny farting noise does not go with a big machine like this. I think the quality of the switchgear is definitely is step downwards from that on my 3 year old 1098 and looks/feels a bit cheap.

However, that said, there is one issue I would like some feed back on from you guys that already have some proper miles under your belts. On the bike I rode, I felt that there was excessive slack in the throttle action, such that there was a large portion (for me at least) of throttle movement which had no effect on the engine (to be fair, the throttle on my 1098 is quite firm and very direct, as my Jap4 riding friends have commented, so it may be partially a case of me adjusting somewhat?). For instance, I always like to give a small "blip" on down changes and found because of this dead band it was a bit hit and miss? I understand that it is a ride-by-wire system and has a millisecond of working out to do before it delivers what you ask for, but there is also a push-pull wire link (I think it is mainly a safety back-up for closing the throttle) and I am hoping that mine can be tightened to the max to eliminate this looseness?

Anyway, I am looking forward to taking delivery and hope that all my accessories arrive with the bike. They are not starting to make Base model bikes until June and they are slightly behind at the moment, so there is little chance my bike will be around for the next Ring/Alps trip on 24/6? I think I may have to hold onto the 1098 until I have completely made my mind up although, the baggy throttle and other trivial issues aside, I have to give the MS a big thumbs up!
Update June2010 – I am in – got a cancelled Red Sport S in lieu of my Red base model – didn't really want the fancy suspension to be honest (I think the base looks better?).
It ties in nicely with my Ring and Alps trip on the 24th – I am hoping to get the 600 mile service done before I go. None of the extra bits are available (shame about the rack) but will come in due course.