Panda Moto R1200GSA 'PJ'
BMW R1200GS Adventure GS-A 'PJ'
Panda Moto R1200GSA 'PJ' Lowered GS Adventure
'PJ' ~ Petit Jambes meaning "small legs" i.e. in reference to the bike having been lowered
Larger versions of images here 😉
Panda Moto are a French company specialising in modifying BMW motorcycles:
http://www.pandamoto.fr
I came across their website by chance and the following scan of a motorcycle magazine article on the Panda Moto modified R1200GSA 'PJ' caught my eye. Many thanks to ukGSer Manny 'London Mole' for the French/English translation below 🙂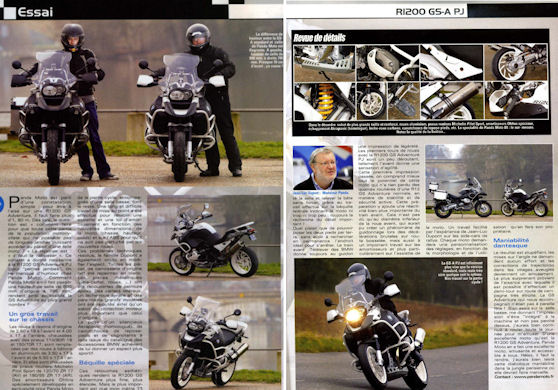 R12GS-A "PJ" – Lowered!
[Cover page]
The R12 GS Adventure has only one real flaw, its seat height. Panda Moto has just made the GS-A accessible to all with its R12 GS/PJ ("little legs"): the seat height goes from 890mm to 795mm!
[Page one]
Panda Moto started with a simple observation: to ride a R1200 GS Adventure comfortably you have to be F511 or taller. Thereafter the question was "what can be done in order that all the motorcyclists without long legs can access the pleasures of such a bike?". The answer was: "it has to be lowered". This simple fact gave birth to the R1200 GS Adventure PJ (for "short legs", we have quite a sense of humour at Panda Moto). How did Panda Moto manage to lower the seat height from 890mm to 795mm, making the GS accessible to all?
A big work on the frame
The stock wire wheels, 2.50 x 19 front and 4.00 x 17 rear with 110/80R 19 and 150/70R 17, are replaced by cast aluminium wheels, 3.50 x 17 front, 5.50 x 17 rear, with Michelin Pilot Sports, 120/70 ZR 17 front and 190/55 ZR 17 rear. A pair of Ohlins shock absorbers were specially designed for Panda Moto.
[…]
… of the frame, with a lower seat, take care of the rest. A long and difficult tuning work has been done to achieve an effective trim ["Horizontal balance"?] and a good suspension set-up according to the new bike's dimensions (frame, height, weight), as well as work on the ABS so it functions with the new wheels. Once those technical issues were sorted, the Dupont family wanted to change the looks of the bike. All the stock panels were painted white. The metallic parts (bash plate, wheels…) were painted with epoxy. Some rocker covers, rear mudguard and large hand guards were added as well as a bigger bash plate than the stock one. Also, an Akrapovic can (legal), footrests rubbers and LED indicators from the BMW catalogue give the bike a sportier look.
Those visual improvements make the R1200 GS Adventure slimmer, more slender…
[…]
… the seat and get the monster back up without struggling, thanks to the work done to the side stand which is neither too steep not too upright: always taking care of important details. What a pleasure to be able to put both feet on the ground without having to look every time for an ideal spot to stop. The front suspension with Telelever always feels light. The first few yards riding the R1200 GS Adventure PJ are a little disconcerting because the front feels so agile. Once this first impression passes, one understands better the potential of this bike which has lost none of its long distance riding qualities, regarding stability and ABS. This preparation gives more agility to the front end. This is not only because of the smaller wheel diameter; which could have caused weaving during hard braking on uneven road surfaces; but also because of a very big work on suspensions, more importantly on the bike's levelling (trim). A work made easier by Jean-Luc Dupont's experience with off-road side-cars. Each bike will need a personalised set-up depending on the rider's size and use of the bike. The result is gobsmacking, leaning the bike requires no effort and changing trajectory in blind bends become a doddle. The most surprising is how easy it is to do a u-turn on a narrow country lane. The (stock) GS Adventure riding with us wasn't so lucky! Comfortably sat on the low seat, making me feel "part of" the bike and not stuck on top of it, I would have gladly carried on riding all day for fun. From an excellent bike that is the R1200 GS Adventure, Panda Moto has made it excellent, playful and accessible to all. Sadly I have to give it back, I would have loved to test its fantastic handling in the Parisian jungle where it should do wonders.
Another nice BMW R1200GS Adventure GS-A modified by Panda Moto 89…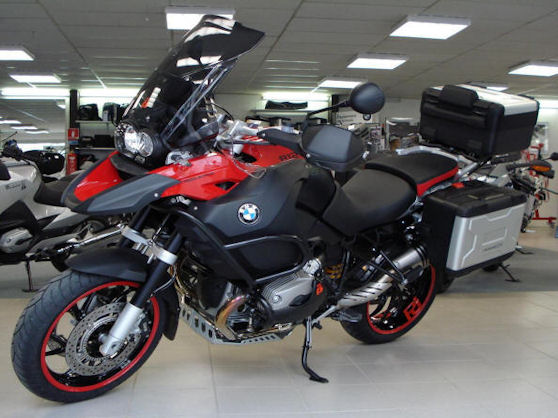 And it's not just R1200Gs's they modify!…modified BMW HP2 Sport…