FC Moto Designs Multistrada 1200 / MTS1200 Handlebar Clamp with GPS Mount
Design innovation in motorsports
CNC billet aluminium and plastic parts
FC Moto Designs is dedicated to designing and producing innovative products. We do not limit ourselves to one medium or field. We are experts in plastics, composite materials, and alloy's. Creativity and quality are our passions. Our aim is to produce a unique product line for high performance motorcycles and automotive applications.
Multistrada 1200 Replacement Handlebar Clamp with
GPS RAM Ball Mounting Lug
FC Moto Designs Multistrada 1200 handle bar clamp with built in mounting position for RAM ball mount. You can use this to mount virtually any device that RAM makes a mount for!!!
Features:
*Fits- 2010 -2011 Ducati 1200 Multistrada
*Made in the USA
*6061 Aluminum featuring amazing 3D machine work
*Black anodized bright dip finish with an amazing luster
*Designed to accept RAM ball mount part number – RAM-B-367U or
any RAM arm for 1″ RAM balls
*Unique design keeps devices mounted to RAM arm centered on your Multistrada 1200. Low slung ball mounting position keeps devices from obstructing rider view of road ahead and instrument panel. Much better ergonomics that most mounting solutions.
*You can use virtually any affordable RAM mount for a wide array of
GPS / SatNav Systems and other electronic devices.
*Cheaper and more flexible than OEM Ducati GPS mount solution.
*Includes 8×1.25mm cap head screw for mounting RAM ball
NB: RAM ball mounts or RAM arms are NOT included, you must purchase separately.
Visit the RAM Mounts website for parts options (e.g. RAM-B-367 GPS RAM Mount).
Flight Comp Inc is not affiliated with RAM Mounts in anyway.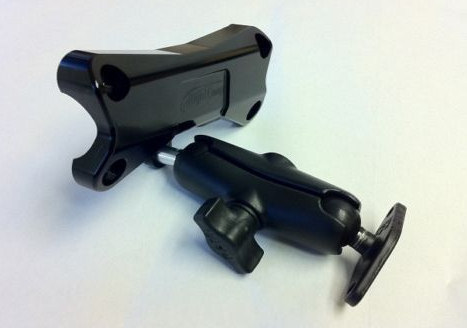 DESIGN:
Do you have a concept you would like to see manufactured? Let us know. We are open to working with good people with great ideas. We can help you take your ideas from concept to actual part. CNC, injection molding, vacuum forming
and composite parts.
WE DO IT ALL!!!