Cleaning Your Bike (Motorcycle) :-0
Author: AndyW  May2007
See also: Cleaning Spoked Wheels  ♦  How to become a Cleaning Freak…
See also: VentureShield Paint Protection Film – care advice
AndyW – usual warning, refer to manufacturers workshop manual and the instructions for any cleaning products you choose to use.
 
I'm one of those people that actually enjoys cleaning and maintaining my bikes and I take pride in the appearance of my ride!  I'll admit that I am a polishing and tinkering addict but it's just part of the whole motorbiking experience for me – I DO like to get out there and do the miles all year round as well! 🙂
Parts of my cleaning/washing methods may seem a bit OTT…….up to you to choose what suits you but my system works well e.g. 2001 Fazer sold after 2 years, good as showroom condition and 2003 SV1000 sold after 3 years also good as showroom condition (and very good sale prices for me 😉
Winter Tips
Give your bike a rinse off / hose down with cold water after it has cooled down from particularly dirty rides and always (as often as practical) when there is salt on the roads. Never use warm water when the bike is salt covered – warm water speeds up the salt's corrosive action!
Do this regularly and the weekly clean of the bike will be much easier and quicker and build up of hardened on dirt on the hot parts of the bike, engine and exhaust, will be less.
Use anti-corrosion products liberally – ok they're not cheap but you'll get their value back and some when you come to sell your bike on – corrosion free and shiny! 😉
I use and have been impressed with…..Scottoiler FS365 Protector  ♦  ACF-50 
Even use of WD40 regularly on vulnerable areas will help.
As a bonus, assuming you do some or all of your bike servicing/maintenance yourself – life will be much easier with clean parts, no corrosion and fixings that are not ceased!
Caught in the act……FS365 in action
(Santas on bikes charity event Rockingham Dec2004)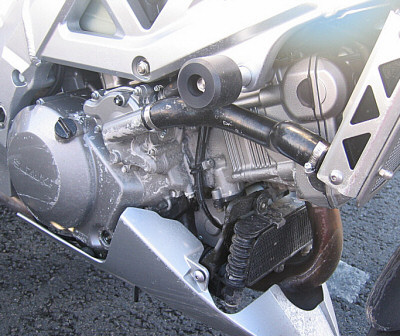 ….and here's why, SALT!
Cleaning / Washing your Motorcycle
Using Pressure Washers can be risky – you can end up driving water into bearings, electrical connectors and other places that may bring problems and end up driving grease/lubricant from places it's needed. You can also do damage due to the force with which the water hits the motorbike (I've seen paint lifted off where the water has been driven under small nicks in the paint surface and radiator fins flattened!).
That said if used with care (careful direction of the water jet, used from a safe distance or pressure reduced if possible) Pressure Washers can be very convenient to use, effective and most have the facility to spray car wash/wax etc which is useful.
Step 1 – Pre-wash
Hose the bike down with cold water to remove loose dirt and grit and start softening the more stubborn stuff. TIP: I block the end of the exhaust with an old spray paint can lid so no water is inadvertently sprayed down the exhaust pipe….yeah I know bit ott but I did warn you 🙂
Let the water drain off for a few minutes then spray the bike with a motorcycle cleaner product making sure you cover all those awkward to get at nooks and crannies. I've tried several and found Autoglym Motorcycle Cleaner  and the Heine Gerricke stuff to be the best.
The HG motorcycle cleaner is considerably cheaper but I am a fan of Autoglym and found that you can bring the cost down by buying a 25ltr container (group buy;-) – you can buy 5ltr to 25ltr containers but only from the local distributor not retail.
Find a local distributor here: www.autoglym.com
Leave the motorcycle cleaner to act for a few minutes and then rinse off with the hose.

Of course one of the benefits of having a shaft drive bike like the R1200GS now is that you don't have chain grease/lube to deal with. Chain cleaning is worth covering as a separate section so I'll do that soon.
Step 2 – Washing the bike
Avoid using sponges or cloths to wash all but the fiddly areas of the bike, use brushes – imho you run the risk of picking up a bit of grit or other hard material with a sponge or cloth and then marking paintwork, plastics etc as you use them. I use a range of brushes from a quality, very soft bristled car wash brush down to tooth brushes 🙂 (bottle brushes are excellent;-) I'll post photos when I get a chance.
TIPS:
• Wash from the top of the bike down and the least dirty areas first.
• Hose down occasionally to wash off loosened dirt as you go.
• Screens are easy to scratch and mark – lay a wet cloth over fly/bug carnage and leave until they soften anough to clean off without having to scrub
• Summer – choose a shady area or wash early morning or evening when it's cooler (helps avoid/reduce those annoying water streaks)
Use warm (not hot) water with a washing product such as Autoglym Car Shampoo (as well as the obvious cleaning 'chemicals' it contains protectants and anti-corrosion agents) or a quality car wash/wax product.
NEVER use household washing up liquid as it contains salt!! Many other household cleaning products also contain chemicals that may damage the finish of your bike and its parts over time  – use automotive products.
If you have time it pays to remove plastics and trim panels to allow access to those areas not usually visible. I also remove the seats usually as the underseat area of many bikes and the R1200GS in particular collects plenty of road dirt – some care required not to swamp electrics 😉
Step 3 – Rinse and dry
Hose the bike down to remove any residue of the cleaning products you have been using and ensure no loose dirt is left. At this point I'll spray the bike with Scottoiler FS365 Protector, Scottoilers anti-corrosion treatment – every wash during the winter and occasionally through the summer (during the winter reapply after rinsing salt off the bike – FS365 Protector)
I often spray some Clutch & Brake cleaner through the brake calipers to clear any wash/wax residue or FS365 that may have found its way onto the pads/disks – then hose through with water. (CARE: some Brake & Clutch cleaners can damage paint finishes e.g. wheel rims). If you do this regularly you are unlikely to ever have problems such as sticky brake cylinder pistons.
Leave the bike to stand for a few minutes for water to run off.  If you have a compressor you can blow the worst off and from awkward spots where water sits (e.g. R1200GS cylinder head cooling fins!).
TIP: (thanks to AndyN for emailing me with this one)
I don't have an air compressor but I use the garden leaf blower which works well!!!
TIP: (thanks to GeorgeK for emailing me with this one)An alternative to a compressor or a leaf blower for drying the bike is to use the blow function on your vacuum cleaner (if it has one). Works like a charm.
[edit = AndyW]
I hadn't come across them before but I've now seen that there are a number of actual motorcycle dryers available….just search on 'motorcycle dryer' on Google 😉
Use a quality chamois leather (it pays to get a good one – more absorbent, less bits left behind and they last longer) to wipe the bike over and dry it
Step 4 – Finishing touches
You can now check the bike over for any stubborn dirt lurking or just plain not shifted by 'normal' washing. A soft clean cloth soaked in WD40 is good for lifting greasy stuff and buffing up exhaust pipes etc. White Spirit or Parafin are good for lifting tar spots and won't damage paintwork. Pledge Orange Furniture polish is great stuff for getting a nice finish quick!! (and cleaning screens and visors – spray on, leave a few minutes and polish off with a soft clean cloth 🙂
TIP: If the bike is to be parked up after its wash and clean I turn the wheels a few times over the next few hours to stop the pads binding to the disks, wiping any moisture from the disks with a soft clean cloth (again……I told you…OTT?!:-)
Winter – either apply anti-corrosion treatments to vulnerable ares now or ideally in a few hours time when any residual damp has evaporated (assuming you have a garage or dry place to keep the bike!). ACF-50, WD40 etc
ACF-50 is excellent based on my personal experience over the last year or so and recommendations from many bikers that have sung its praises on the InterWeb (originally produced for and still used by the aviation industry…say no more!)
Polishing
Surprise! – I use Autoglym products and have done so for many years. I've tried other products but always come back to Autoglym (as approved by Jaguar, Aston Martin, Mercedes and more) – No I don't work for Autoglym 🙂
I'm not going to try and tell anyone how to polish their bike – at the end of the days it's one of those things that you just have to take your time with to get a good finish.
TIPS: When it's hot and sunny try and find shade – it'll be easier to see what you're doing and the polishing surfaces that are hot under the sun is harder work!. Try and find soft, lint free cloth to use. Follow the manufacturers instructions.
That's it………..just a few last comments:
TIP:  Picked this comment up off another website. ACF50 is now on the motorbike and I can say that it does exactly it says on the tin, is easy to apply (just wipe it on with a cloth or use the spray). Makes the motorbike look nice and shiny. I bought it from 'Nippy Normans'. My advice would to get the one litre pot, not the aerosol, but not use the supplied spray dispenser as it is rubbish and needs pumping every ten seconds. Better to transfer the stuff to an old kitchen cleaner sprayer or such like (but make sure it has been throughly rinsed out first!)
Google ACF-50 and shop around for the beat price 😉
One final recommendation – I strongly recommend that once every few months you strip down the motorbike as far as you confidently can and clean all those areas you don't usually get to. It's a good practice to get in to the habit of – servicing and maintenance will be easier and you may spot problems (loose fixings, wear and tear, leaks etc) before they are an issue or end up as an expensive fix!
WARNING: Recommended products – please DO read the manufacturers instructions for use and safety warnings for example contamination of brake parts by some products can have a dangerous outcome!!