Piero's Custom Modified Multistrada 1200S Sport
The 'proprietor' of the Austrian Multistrada forums loves trick bits and tasteful 'bling'!……….your bike looks fantastic Piero 😀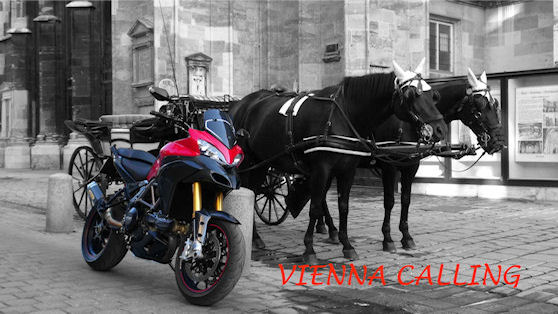 Piero's Ducati Multistrada 1200 S Sport Custom – mods & parts list!
**NB** Larger versions of all photos here
Piero's 'tasty' (lol!) Multistrada 1200 in Vienna
(More photos below;-)
Ducati Performance – Carbon windshield (Pikes Peak)
Ducati Performance – Carbon Fenders (front)
Ducati Performance – Rider's and pillion seats (Pikes Peak)
Ducati Performance – LED indicator mirrors
AviaCompositi carbon rear side panels – Ducati & "S" painted over.
Aviacompositi carbon seat cover with black border
Marchesini forged wheels
Brembo sintered pads (front and rear)
MFW Vario pegs joints
CNC RACING switching and brake lever
CNC RACING handlebar clamp
CNC RACING windshield screws
DUCABIKE frame caps
DUCABIKE filler plug
DUCABIKE sprocket cover
DUCABIKE clutch slave cylinder
Hunter Motorsport – aluminum rod end shifter
Ilmberger Carbon Tank Cover
Ilmberger Carbon lateral wind deflector
Kellermann "micro Rhombus" blinkers
PAZZO clutch and brake levers
Rizoma license plate holder
Rizoma Water Pump Protection
RIZOMA handlebar bar ends
RIZOMA clutch and brake fluid reservoirs with holder
Spider Grips handlebar grips
ARROW RaceTech Carbon Exhaust Complete System
BMC Air Filter (Racing)
DID chain
REXXER ECU mapping
Various works:
Pegs, Engine skid plate, exhaust bracket, handlebars and water pump protection, powder coated black.
New paint, side panels tank and mask + various writings.
Gear lever mech/joints anodized.
Handguards removed.
Rack cut away from the end of the pillion handles, filed/sanded and repainted.
Misc purchases:
Ducati Performance plate holder, Pikes Peak trim parts. Ilmberger Carbon Deflectors.