ACF50 Corrosion Block – anti corrosion / rust inhibitor for motorcycles
Kills existing corrosion and prevents new 'ACTIVE' for up to 12 months Excellent lubricant and penetrant Approved for use on electrics and engines Easily applied non-drying, ultra thin, clear film Contains no wax, silicon, Teflon or water
Riding your bike through the winter? Don't want it to be corroded by the rain, road muck and salt? Want to prevent rust and corrosion? Then check this product out…ACF50 Anti-Corrosion Formula for Motorbikes.
ACF-50 Motorcycle application advice (pdf doc 148kb – hints and tips for motorcycle owners)
Where to buy ACF-50
You can Google it and probably find it anywhere but I always buy mine from these guys. They offer free next day delivery and have never let me down.
What is ACF-50?
Well actually it was originally designed for the aircraft industry so you can imagine the quality standards it has had to meet!
ACF-50 (Anti-Corrosion Formula) was developed 15 years or so ago and was originally designed to protect aircraft from existing and new corrosion and is now available to motorcyclists. Aviation products have to meet rigorously high standards and ACF-50 not only meets these but has been awarded Aviation approvals – MIL-SPEC 81309 types II and III which means it is 'approved for ferrous and non-ferrous metals, electrical systems and electronic components'.
The US Navy carried out tests using ACF-50 on the jets on their Aircraft Carriers. They found that ACF-50 so significantly reduced the corrosion they had previously experienced they now use ACF-50 all the time! It works in that type of harsh environment so imagine how well it's going to protect your bike! When applied ACF-50 forms an 'Active' ultra-thin clear film that will kill any existing corrosion cells and will protect your bike against new corrosion forming.
On areas such as switches or under the tank and seat, one application will last up to 12 months. Other more exposed areas will need topping up more regularly. ACF-50 has the ability to 'chemically neutralise road salt' and water will bead on contact and literally bounce off. Ideal for the bike that is used all year round in all weathers, a superb service spray as ACF-50 is also a lubricant and penetrant (without loosening structural attachments) and if you put your bike away for the winter, applying ACF-50 will ensure that moisture will not be allowed to cause any damage! Untreated moisture will creep into cracks and will not freely evaporate – ACF-50 actively ejects moisture from these areas.
| | |
| --- | --- |
| The Facts Kills existing corrosion and prevents new 'ACTIVE' for up to 12 months Excellent lubricant and penetrant Approved for use on electrics and engines Easily applied non-drying, ultra thin, clear film Very economical Contains no wax, silicon, Teflon or water |   |
How to Use ACF-50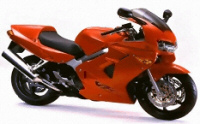 ACF-50 is 95% product, hence virtually no propellant. Keep the tin in a warm environment, shake very well before use and remember a little ACF-50 goes a long way, so keep a rag handy to soak up any excess – then use the rag to help spread the product. ACF-50 has strong capillary action so will creep into all the areas that moisture can, 'actively' pushing out moisture and replacing it with protection.

Go cautiously when applying near to or above brake callipers to ENSURE YOU KEEP IT OFF THE BRAKES! Use ACF-50 anywhere, except the brakes, on your bike including the engine and exhaust (will smoke on first start and burn off down pipes but still slows down corrosion process). Safe on paintwork, most rubbers and brings up black plastic trim a treat. ACF-50 contains no water and is approved for electrics so spray directly into electrical joints and components where it will prevent corrosion induced failures and high resistance joints. Works well at stopping dirt, mud and salt from sticking. You can come back from a winter ride with the bike 'white with salt' – a quick wash off and it's gone with the bike still protected. Areas not in direct contact with the elements ie tank/seat areas, electrics require treating approx once a year. Other exposed areas re-apply as necessary. You can tell the product is still 'Active; as water will bead on contact…having no water content and not being water soluble ACF-50 only dissipates by being 'sacrificial' whilst stopping existing or new corrosion so just re-treat as required.
Remember, ACF-50 protects jets on US aircraft carriers! If it works for these jets in these conditions, think how well it's going to work for your bike!
I'll say it again: Extreme caution must be taken when applying anywhere near to or above (drips;-) the the brake calipers to ensure you KEEP IT TOTALLY OFF THE BRAKES.
What People are Saying about ACF-50
"My mate ran this on his Fazer coated the engine, etc. Rode all winter in the wet, kept outside under a cover. Washed it off at the end of the winter, bike looked mint! Mine looked worse with only a handful of winter dry miles and garaged! Great stuff
I've used both: FS365 the winter before last and ACF50 this winter just gone. I prefer ACF50. "
Andyw – I started using Scottoiler FS365 Protector several years ago and found it very effective if used as prescribed. A couple of years back I discovered ACF50 and have been using that as well, using it sparingly, just on the more vulnerable/likely to corrode/rust areas but still spraying the bike with FS365 regularly after rides on salty roads (I buy the 5ltr containers and use a garden 'pump up' sprayer to apply once the bike engine is cool/cold). I particularly impressed by ACF50's ability to penetrate and protect.
ACF-50 – Active Thin Fluid Film chemistry penetrates corrosion deposits where it chemically emulsifies and displaces the electrolyte. This isolation process keeps the corrosion cell deactivated.
---
Why not FS365?
"The big disadvantage to FS365 is you have to keep re-applying it, especially after a wet ride. You get home, it's teeming down with rain and you have to spend a minute or two out there spraying the engine, fork legs, etc before you can cover it or roll it into the garage (assuming there's not enough room in your garage to do this).
With ACF50 you apply a nice coating and … leave it. You can spray extra on occasionally, as you see fit. The engine looks absolutely filthy after a while, but that means its doing its job. I only cleaned the engine once or twice last winter, which meant reapplying the ACF afterwards, and it has survived fine. For the fork legs, I would clean and reapply every time I washed the bike. 
It doesn't take much ACF50 to get a good coating so a can should last several winters, which makes it better value than FS365 in my opinion."
---
"I was sceptical at first but I researched it on the net – It's used by the US Airforce on their aircraft carriers, used by boeing and other manufacturers. I have used it since September and apart from having to reapply it to my downpipes it has lasted through many washes and many winter rideouts, no furring on nuts and bolts or whatever. When you ride a 9 grand superbike it's worth its weight in gold. I have just replaced my tin having used it on my other vehicles. I paid 12 quid-ish. Despite the cold weather I have used my bike far more than before because I'm less anxious about road salt rotting my pride and joy!"
 Andyw – Invest a few ££/$$ now and be rewarded by a better resale prices when you come to sell your motorcycle…….in GOOD condition! 😉
Links:
Sources – Google ACF50, ACF-50 and/or ACF 50 for retailers – non motorcycle related outlets may be cheaper! :-0