Long weekend trip to Croatia on my Multistrada 1200
By UK Ducati Forum member 'G_1200'
Intro
Greetings, my name is Gio and I'm originally from Ireland with an Italian parentage.
I only started biking a few years after I moved to the UK. I passed my Direct Access test in December 2004, prior to the motorcycle CBT I had never even ridden a moped and I  had a brief only ever had a ride on the back of my uncle's Guzzi in Italy when I was  younger.
I passed the test and then went out and bought my first bike, a 2003 Yamaha Fazer 600 in yellow. I rode everywhere that first year, commuting into Central London and riding around the south coast of England. Covered 8,000 miles on that bike, I remembered the mileage as I  got the usual dealer reaction when I went to trade it in – sucking in air  through clenched teeth – too much mileage on this bike for the year, not worth a penny etc…. I then asked myself if people actually rode bikes or not!

From the yellow Fazer I moved on to a 2001 Fazer 1000. I bought the  bike from a dealer in Bournemouth and I remember riding it home to London on a cold February's day on the A272 from Winchester. I remember thinking that it was too much bike for me at the time and I had  a few moments going home. It was fitted with Sports tyres and so had little grip that day in the cold. I kept the bike for about 3 years and was covering  about 10,000 miles a year at this stage. I soon moved onto the sport touring tyres as I was riding in all weathers as the bike had become my only form of transport. I also did some extra training, BikeSafe and Rapid Training to further improve road my skills.

I sold the Fazer 1000 and moved to a TDM 900. I still have this bike and  despite it's image it has taken me on a tour of Scotland in 2010 and a trip across France in 2012. I have also acquired a Ducati Multistrada 1200 now and it's a fantastic bike for exploring Europe on. This is much easier now as I'm based in Switzerland, so I have the luxury of France, Germany and Italy within a  couple of hours. However, my biking season is now limited due to the winter season here.

In 2008 I did the Enduro Himalaya trip and met some fantastic  people, many of whom I am still in contact to this day and we then went on a tour with them in 2010 around Scotland. I am now constantly looking at more tours in Europe, trying to make the most of my location whilst based in  Switzerland.
 
…two Multistrada 1200's and an R1200GS go to Croatia

I would like to share my recent quick trip to Croatia from 16th to 20th May. Being based in Zurich makes it relatively easy to make these trips over a long weekend. Four of us travelled on 3 bikes – 2 x MTS 1200 and 1 x BMW GS 1200 Adv (with passenger).

A couple of days before departure I noticed that the front Scorpion tyre was about 1mm from the wear indicator (but the rear was actually in good shape) so it was time to change the tyres. Quickest option was the Pirelli Angel GT (more on those below).

Day 1 – 2
Very straight forward ride from the office to Como on day one, just to get the first stretch out of the way and to avoid any heavy traffic at the Gotthard tunnel. During any public holiday the traffic going through there can be heavy and it's no fun with several km's of queues waiting to get through. Day 1 was a partial success as the group avoided any traffic at the tunnel but we got absolutely soaked on the ride to Como. We were looking for a hotel that evening and riding through the city at one point I couldn't actually see where I was going due to the heavy rain and the micro climate that had developed inside my helmet – somehow I had fog and rain inside the visor! The roads were also a challenge with some bad potholes about.

Wake up the next day to find some very wet bikes outside in the car park. At least they were washed and ready for the trip!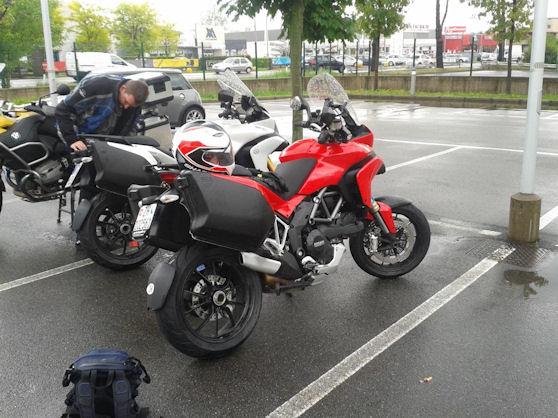 We then headed straight for Trieste along the Autostrada and tried to dodge the rain. We managed to avoid most of it until we got to Trieste and made our way across the border into Slovenia. We took the coastal route through Slovenia – there is a vignette system for the motorway (which we didn't need) and that we would require it for the short highway/dual carriage way from the border to Koper. So take the exit for Muggia and just follow the coast all the way around until you get to the border control.

We pushed on towards Croatia and our first proper stop – Rovinj. At this point the weather was starting to improve, the clouds had gone and the sun was starting to come out. Finally some luck coming our way.The route from the Slovenian/Croatian border was fairly straight forward, just stick as close to the coast as possible. Road 5002 in Croatia towards Umag and just keep heading south. Near Novigrad the road descends right down to the sea and you are then at sea level before climbing up towards the town of Tar. From here you start seeing many of the restaurant/grill rest stops. So tempting to have sampled the meat but we didn't stop.

Arrive at the first stop in Croatia in the afternoon and we're almost dry. We go to a restaurant on the quay side and we walk around the town that evening.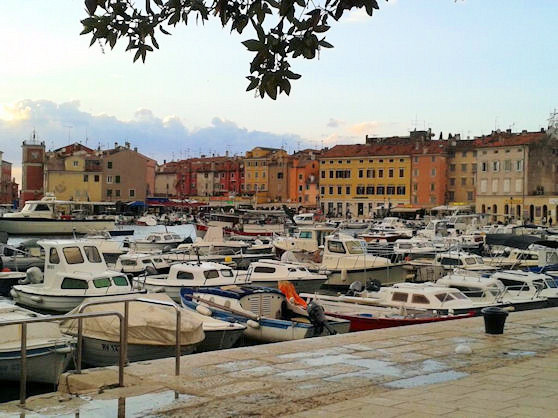 Day 3
We head out of Rovinj to head towards Zadar and most importantly we want to take the coast road. I had a route made that involved not motorways but it was going to take about 6 hours, so we decided to use the motorway as far as Rijeka and then start the coast road. I decided I wanted to have a play and grabbed a handful of throttle to get through a sweeping right hander only to have the bike get into a shake/weave – totally unexpected on a dry road surface. The roads here are slippery.

At this point the weather had completely changed and it was about 25C which made riding a joy.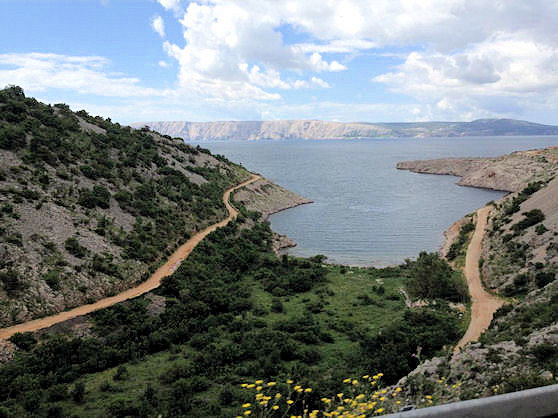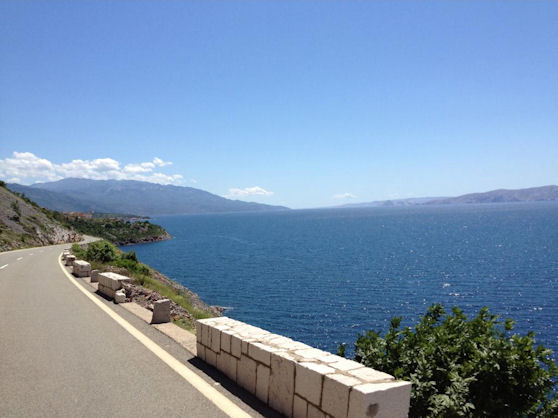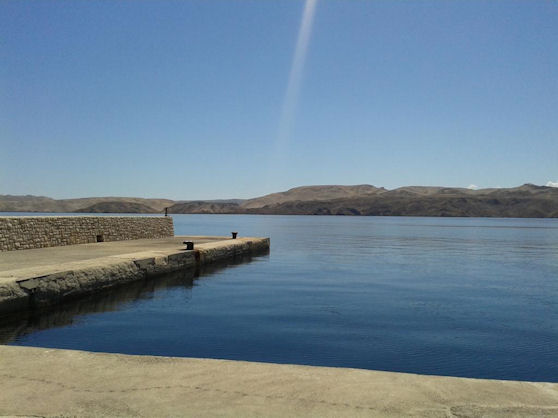 Day 4 & 5
Leave Zadar and head back towards Italy and again we used the motorway to travel to the Slovenian border. The scenery is nice enough and the roads were fairly quiet so no issues. Getting closer to Rijeka we did spot the police with their radar gun from a bridge. The limit is 130km/h and on certain sections (with bridges) it is down to 110km/h which is probably due to the strong winds from the coast.
Quick pit stop above Rijeka.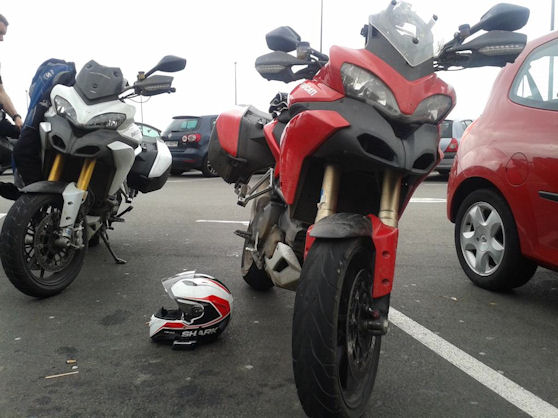 Then we set off for the Slovenian border. I got rid of all my Kunas only to find there was a final pay station for a short section of motorway left – doh!. One of the group paid for all of us. As soon as we get into Slovenia the rain started to come down hard again.

We have an overnight stop in San Daniele del Friuli then leave the next day to return to Switzerland.

The Stelvio is still closed so we choose an alternative route – Ofenpass followed by the Flüela pass. It did start to snow on the Ofenpass and there was still enough snow on the sides of the Flüela pass.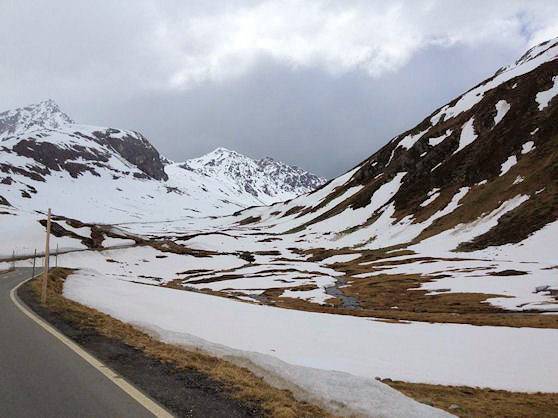 Some advice/tips & information;
Croatian roads seem to be very slippery even in the dry. I wanted to have some fun when I saw a sweeping right hand bend. Grabbed a handful of throttle and tipped the bike in as I would normally do. All of a sudden the bike developed a weave and I had to back of or I would have lost control.

Cafés in Croatia don't seem to serve any food during breakfast, not even a basic croissant! We asked at one place in Zadar and we were told to buy from the bakery next door and have with our coffees.

Allow more time than you plan for. The coast road is stunning and you will probably want to ride it in both directions, stop off at the small towns or just soak up the sunshine.

Watch out for police speed traps – one on the coast road with radar gun, located on a fairly straight section of road so easy to get carried away. Another radar gun spotted on the motorway (2 cops on a bridge) on the return journey.

The speed limits off the motorways were a bit confusing for me. I know the towns were 50km/h but other parts it was never really clear as you would get a 60km/h for a bend and then back to normal. Of course the gps indicated speed never really seemed to match up.

The tyres;
I know this is usually causes some debates and people have preferences but here are my comments after using the Angel GT after this trip. I left and had only covered about 40km before leaving for the trip. I was scrubbing the tyres in the wet so was taking it easy. Performance on the wet motorways of Italy proved to be excellent. Hard acceleration (Touring mode) was fine without any complaints from the traction control. Tyres felt very confident in the wet. Dry weather performance was also good and never had any moments no matter how far I was leaning it into the corners. I actually like the tyre and it's now just a case of seeing how much mileage I can get out of a set.

Trip stats;
Info taken from 'Trip 1' on the bike:
– distance: 2,175 km
– Avg consumption – 5.1l/100km (which I think is about 50mpg in old money).
There was a lot of motorway cruising which helped the fuel consumption. The coast road speeds were ranged from 50-100kmh but so many turns it was a case of 3rd and 4th gear for most of the road.
Absolutely no issues with either of the Multistrada 1200's during the trip. White one was a 2010 year model and mine is not even a year old yet. Just have an issue with some vibration from the front brake when applying gentle pressure on the lever so will have the dealer look at it soon.

Hope you enjoy. Any questions please ask!
Gio