Ducati Multistrada 1200 – Timbuktu Challenge 2010
  
See also: 2014 Affetto Ducati MTS1200 Special – Ducati Multistrada 1200 'Toubkal' 
  
ORGANISATION TIMBUKTU CHALLENGE
The Timbuktu Challenge is the new "child" of Gert Duson….
On November 6th, 2010, 30+ adventurous motorcyclists departed from Amsterdam and Brussels for an epic ride. A trip of 3 weeks with 3 African countries separating the adventurers from their legendary final destination…the golden city of Timbuktu Mali ….
 www.touareg-trail.be / gert@touareg-trail.be
• From Europe to Timbuktu and Bamako
• 7000 km via 3 African countries
• The Atlas Mountains, the Sahara and the Sahel
• 30+ enduro bikes (BMW GS type, KTM Adventure, etc)
• Accessible to every level of experience
• The ultimate motorcycle adventure in its purest form
Many thanks to Gert Duson (timbuktu-challenge.com) for some of the photos below. Larger version of all the photos plus many more can be seen here:
Multistrada 1200 Timbuktu Challenge Photo Gallery
Also thanks to Joris Meerbach for getting me in contact with Leo 🙂
Update Mar 2013 – No doubt inspired by Leo's MTS1200 Dakar / Timbuktu Challenge MTS1200 one of his customers has approached him for his Ducati Monster to be modified for this years Challenge: Ducati 'Monstercross' 😀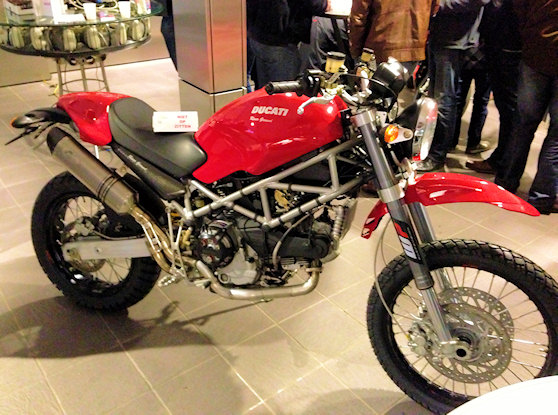 One of the major difficulties was the front suspension and the larger wheel – to create sufficient space for the wheel to travel without touching the engine or frame. They had to alter the headstock bearings in order to increase the front fork angle by 2 degrees ….
'Ducs to Dakar'
By Leo Fleuren of Affetto Ducati, Overasselt, Netherlands
One of the things ranking high on my "to do" list was riding a Ducati to Dakar. I already did the trip once by Jeep but to do this on a bike would be another experience, especially if that bike was a Ducati!
I have been monitoring the possibility for years though it never materialised for some reason or another until Ceciel van Hattem (CielYourEvent) called with the message that she had a problem to resolve with the 2010 Timbuktu Challenge and she got my name from a friend of a friend. One of the support team riders was not able to join and they required a replacement, departure in 3 weeks. This Timbuktu Challenge was organised for (Dutch) adventure BMW riders, other brands are welcome but you need to ride a (large) all-road bike.
After some discussion with the family and the shop team it was clear: go! But then I only wanted to go by Duc of course and the Multistrada 1200S demo bike in my shop would fit the all-road profile perfectly:-)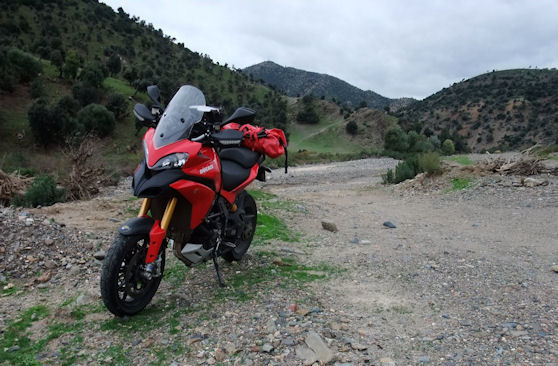 I fitted protection for the oil cooler and radiator and a protective plate in front of the front exhaust pipe was also on the list in view of the expected stones. The rear Scorpion tyre had to be replaced by a Continental cross tyre although the rim is bit wide for that.
---
Additional tire (tyre) / wheel rim info
[by Joris Meerbach] I talked to the dealer who informed me as follows :
– both bikes used the standard wheels and tires plus the Conti (Continental) TKC 80's
– they tried to source 19″ front and 17″ rear wheels with smaller rims but did not succeed. No chance to fit another diameter rear in view of the swingarm. They had a rear wire (spoked) wheel made up by a specialist fellow dealer but it couldn't pass the(ir) stiffness test. The angle of the spokes was too little and that resulted in to much sideway flex in the wheel. So they aborted that try. Compare to the GSA wire wheels – they cross over to the other side …. Leo (the dealer) told me he is continuing the search for alternative wheels.
– The knobbly rear was a Continental TKC 80 150/17. Both on the 5.5″ Hyper as well as on the 6″ multi rims.
– As the TKC is not tubeless an inner tire was fitted. They were afraid that the rim would move around inside the tire (not enough friction between rim and tire) when putting to much power on but that did (fortunately) not happen. Things were snug enough, they never experienced any problems with this solution. A bit to their surprise if I read between lines.
– Leo rarely drove in sport mode, enduro most of the time with the Conti on.
– depending on the route they decided a tire choice for each day, much sand the TKC, much tarmac road tires. In other words : the 2 rears for each bike were swapped at night as thought fit.
---
The bike itself has all thinkable motor-management and suspension adjustment possibilities so nothing to alter there. On road I did some 6000 km but of course I did not know what to expect off road. On the day that I decided to join Hans van Hal visited with his Hypermotard 1100S and decided to join as well!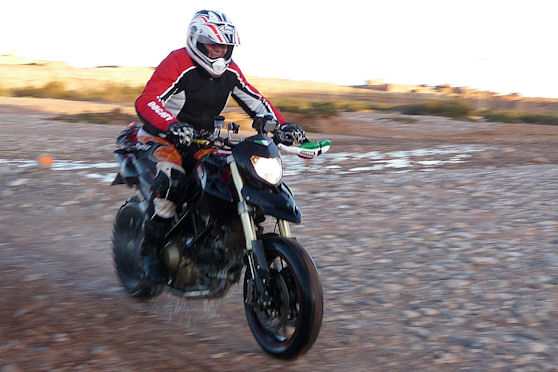 The Hyper was already kitted out with (amongst other items) a 23 liter fuel tank. The max distance between fuel stops would be 300 km so that would be alright for both bikes.
All other preparations had to be fixed in no time, visa permits, vaccinations, other clothes, tent, sleeping bag, tools for changing wheels easily etc.
Barcelona was the starting point of the Challenge, from there we would take the boat to Tanger. The bikes were brought to Eindhoven to be transported by truck to Barcelona whilst we took a flight and met the other riders there.
…Look carefully for the Multi 😉
At this first meeting it became clear that not everybody had equal or similar off-road experience. In total there were 23 riders and 9 support team members. Further an Overland truck with spare parts and food for 21 days, 2 cars and a broom wagon. A jump team would ride 2 days ahead in order to ensure the route is clear.
After 26 boat hours we arrived in Tanger. The weather was cold and wet, surprise surprise, but that turned around after a couple of days. We took the coastal route heading for Casablanca to get good weather asap. At Rabat we went through the middle of the Atlas mountains to Kasba Tadla where a 200 km long super pass starts. Beautiful tarmac, no people in sight, a donkey here and there. Spectacular views with mountain peaks of 3370 m high, red earth and clear blue skies, oasis and canyons. Speed limits are still to be invented here. We finish that day in the Gorges du Todra Tinerhir.
Early morning we departed for Merzouga. On this road we saw the first wild camels when the sand dunes showed us the way to go. We met Dakar rally teams underway that train here "for the real work".
Merzouga to Zagora is some 350 km.
I was curious how both Ducs were doing, they are of course better known for on road use then off road or enduro style. Friend Hans was in the fast group and he was going like Robby Gordon in his Hummer….well, most of the time!…
I was following the group with the least experience. There it showed that the BMW Adventures are big heavy bikes and that the weight and size is often a disadvantage. The multistrada has an advantage here. There were many falls due to the loose sand and quite a lot of help was necessary from co-riders to unbury the bikes and get them back on their wheels. It was a long and tiring day the first group arrived on the camping site at 15:30, at 18:00 we had 7 hours to go to the same site! We slept in the desert therefore.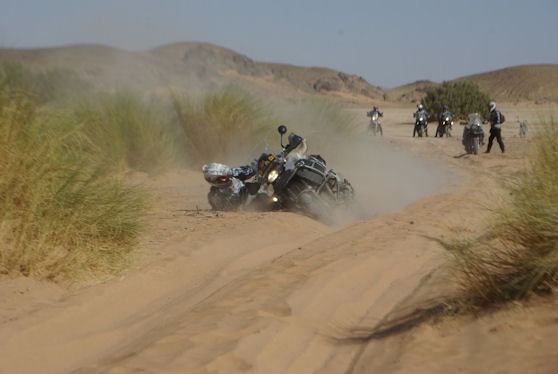 …and yes ok I got the MTS1200 stuck as well occasionally, although it's a very convenient way to park 😀
Most of the riders fortunately carried there sleeping bag, the broom wagon could have brought some supplies but we decided to overnight in the desert without tent which was really cold. Rise at 5:30 and start at 6:00. We arrived on site at 15:00, everybody knackered of course.
The next day we left for Marrakesh via the beautiful du Draa valley. We had dinner on the Djemaa-El-Fna square, on the Unesco World heritage list. From Marrakesh to the South we will have to cross the high Atlas mountains. Again better than superb routes with very smooth tarmac. These were the last moments through the beautiful Atlas as we went for the Western Sahara. This is an enormous flat area with a rock desert as soil which we want to leave as soon as possible. A nature reserve where many North European birds stay during winter is passed by at a couple of 100 km before Mauretania.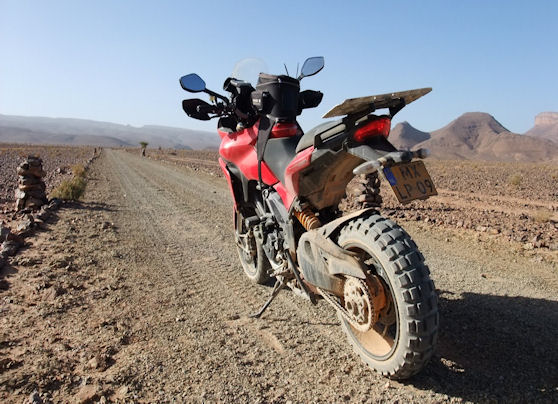 Passing the border took a couple of hours. Mauretania is a very poor country and here we faced that poverty for the first time on our trip. Again good tarmac during the day, most of the nights we slept in our tents in the middle of nowhere.
To pass the border with Senegal took a day. Why this long nobody knows and without money you do not have much chance to enter. Half way through Senegal it appeared that due to riots in Mali it was not possible to reach Timbuktu.
The organisation dialled in a couple of heavy off road routes and Dakar becomes our final destination. The bikes will be transported back to Antwerp from here.
It was a beautiful journey, it fulfilled a boy's dream for many. No issues with the Ducati's except for one stone going through the oil filter of the Hyper which was easily resolved. The Hyper developed into a pur sang desert racer whilst the multistrada proved it's name without a doubt., superb all-road and very comfortable. Most of the time I was riding in touring mode and the chain, well, I did not need to adjust the tension at all during 5510 desert kilometres.
Leo Fleuren
Affetto Ducati
Overasselt, The Netherlands
+31 24 6222 001