Choose the right tyres for safety in cold weather
It is well known that ensuring that your tyres have good tread depth, are in good condtion and are inflated to the correct pressure is a crucial part of making sure that your motorcycle is safe to ride. However, what many riders don't realise is that it is just as important to have the correct type of tyres for the time of year / season. For example, 'winter tyres' for the cold weather months. There are many motorcycle / car tyre suppliers but the widest choice and most competitive prices are often found from online retailers. For example www.tirendo.co.uk can supply the tyres that are suitable for your needs from a huge range at extremely affordable prices.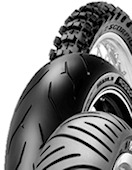 Why cold weather tyres are a must
Now, why should you be concerned with having the correct tyres for the time of year / season?
At any time your tyres are probably the most important thing on your bike. Tyres don't do an easy job and in winter especially we expect a lot from them in poor road conditions. Motorcycle winter tyres aren't that popular in the uk but there's plenty of potential for big improvements to the way your bike will handle difficult situations by fitting a decent pair of tyres designed for wet weather performance. There is a large choice of bike tyres that are designed specifically to provide good levels of grip even in wet and cold conditions i.e. not 'sports' tyres!.
Tyres with deeper tread, better water dispersing tread pattern and made from rubber compounds designed for use in colder temperatures will increase your safety by reducing the risk of loss of traction when cornering and under braking. You'll probably be surprised how much of a difference a decent pair of tyres can make to your bike's handling during the cold months.
Are all-season tyres suitable?
One option is to opt for all-season tyres, which are designed to be suitable all year round. These are not particularly suitable for extreme weather conditions though, in which case specialist tyres would of course be best but they can provide good protection and an assurance of safety through a wide range of conditions.
Ultimately, to make sure you are as safe as can be on your motorcycle, you should find a tyre specialist online, such as www.tirendo.co.uk and seek advice. Do do this – having the right quality tyres on your motorcycle could mean the difference between a safe ride and an accident and is well worth the investment.