Shaw Stainless Steel Fastener Kits
High quality stainless steel fastener kits (nuts, bolts washers and items such as filler and drain plugs) – Each kit is specifically designed for the model and year of your bike and for ease of fitting all items are packed in bags labelled with part numbers that match the list supplied.
Kits are available for all BMW GS motorcycles not to mention almost the entire range of other BMW motorcycles.
R1200GS  ♦  R1150GS  ♦  R1100GS  ♦  R850GS
BMW R1200GS stainless steel complete fastener kit – this is a stainless steel fastener kit suitable for the R1200GS & R1200GS/ADV .This kit replaces almost all external fasteners that are not stainless as standard (nuts, bolts and washers inc gearbox filler plug and drain plugs).
More information and the full product range/motorcycle fitting list visit…
BMW STAINLESS STEEL WHEEL REMOVAL TOOL
R1200GS ♦ 1200R/RT/ST/S ♦ K1200S/R/GT ♦ F800

Currently only available via Shaw Stainless eBay Shop
Chris Shaw Engineering – a family business manufacturing and supplying quality stainless steel fasteners for most BMW motorcycles from 1970 to the present day. These kits are, in our opinion the best quality and the most comprehensive on the market and are designed to enhance the look and value of your bike by replacing almost all visible external rusty, oxidized/oxidised or corroded fasteners.
All numbers are removed from bolt heads these are then individually lathe turned to a highly polished finish.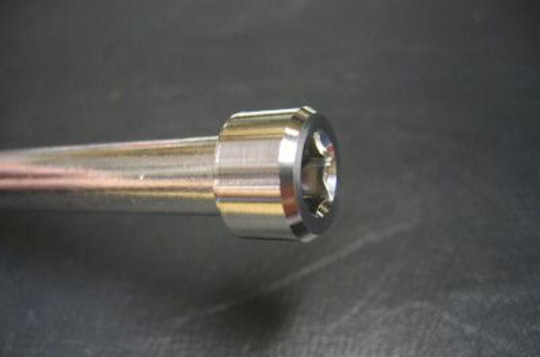 In addition to the complete kits, partial kits or individual items are also available. Many of the kits include specials such as brake pins, bleed nipples, filler and drain plugs etc etc. Further items available include:
Fairing bolt kits
Filler and drain plug kits
Wheel spindles
Example of the contents of a stainless steel fastners kit from Chris Shaw Engineering (R1200GS):
FRONT SPINDLE PINCH BOLT   x1
FRONT DISC MOUNTING BOLTS   x10
FRONT CALIPER MOUNTING BOLTS   x4
FRONT CALIPER BOLTS   x8
FORK PINCH BOLTS   x4
HANDLEBAR BRACE BOLTS   x4
ENGINE OUTER TIMING COVER BOLTS   x3
ENGINE INNER TIMING COVER BOLTS   x12
ROCKER GUARD BOLTS   x6
INJECTOR MOUNTING BOLTS   x4
LEFT HAND CAMSHAFT COVER   x2
RIGHT HAND CAMSHAFT COVER   x3
GEARBOX FILLER PLUG   x1
GEARBOX DRAIN PLUG   x1
SWINGARM BEARING COVER BOLTS   x4
REAR CALIPER MOUNTING BOLTS   x2
BRAKE RESERVOIR MOUNTING BOLTS   x2
BRAKE LEVER MOUNTING BOLT   x1
TORQUE ARM BOLT   x1
REAR WHEEL HUGGER BOLTS   x3
More information and the full product range/motorcycle fitting list visit…