Multistrada 1200 – Fix / Greatly Reduce Wind Noise & Buffeting
Many Multistrada 1200 owners are / have been unhappy with the effectiveness of the stock Ducati screen and many have found that even after-market screens are often less than perfect. The complaint……wind noise and buffeting due to turbulent airflow from the screen.
It seems that the fault lies more with the design of the Multistrada 1200's nose fairing than with the screen itself, although dependent on the rider's build/height, most after-market screens do offer some improvement for many MTS1200 owners. The problem, the nose fairing and attached screen mounting / height adjustment system governs the fixed angle of any screen fitted. Also, lifting any screen further away from the bike's bodywork would allow increased airflow behind the screen the effect of which is to better balance / equalise air pressure either side resulting in less turbulence.
So, the solution is easy, custom screen spacers that change the screen's 'angle of approach' and lifts it from the bodywork a little at the same time. As far as I am aware at this time there are just two different 'fix kits' (screen spacer kits) you can buy (please feel free to correct me!….contact AndyW):
Givi Touring Screen replacement – a great option, this screen will almost eliminate wind noise.
Puig Touring Screen – Superior height offers great comfort and will reduce wind noise
Iain Palmers Screen Adapter Kit, a combined spacer and mounting bracket system that allows variable screen angle adjustment, details here on his website: Palmer Products
Aztec Screen Adapters, screen spacer kit (below;-)
See also: Wind noise fix (external link to a discussion on the Ducati.ms Multistrada forum including one of several DIY approaches I've seen to a screen spacer kit i.e. make your own screen spacers)
See also: Cured most or the screen noise external link to Ducati.ms forum. Discussion on Aztec Screen Spacers with member feedback.
 
Aztec Screen Adapters, Multistrada 1200 screen spacer kit
By Ducati.ms UK member 'Aztec' (aka Dave)
Screen angle altered with a properly engineered solution
Some have used the Palmer Products solution, others lengths of tube and spacers, I chose to have some bespoke items CNC machined, the result is fantastic!
I chose Black Acetal for its ease of machining and tapping threads, made two 43mm long bosses for the top screen fixings and a 20mm long boss for the bottom. The result brings the screen more upright by about 9 degrees and that's enough to make a big difference to the wind noise I was experiencing riding at all speeds.
Scroll down for photos 😉
In the UK people were requesting these so I had a small batch machined to supply as requested and have continued to have further batches of the spacers made due to demand. People have been very happy with the noise reduction achieved.
---
Aztec Screen Adapter kit:
---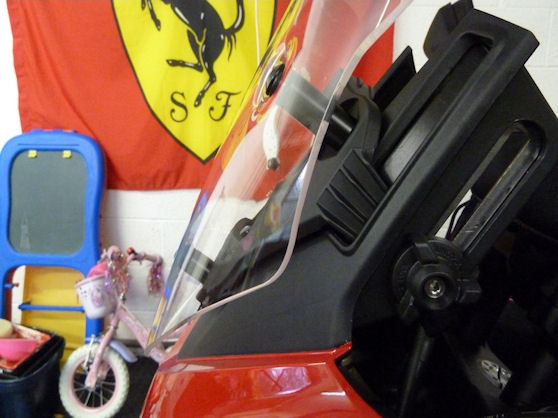 Alternatively, just fit a larger screen like this one and you'll reduce wind noise and improve comfort.