R1200GS DIY Hugger Alternative
See also: DIY Rear Mudguard / Fender
Many riders don't like huggers for various reasons, if you're an avid off roader in particular there's the risk of mud clogging between the tyre and the hugger as a result of which the hugger will bust at some point. John's article provides some good ideas on an alternative to a hugger, giving protection to the rear shock and keeping some dirt/spray from the back of the rider's legs.
AndyW – update Jan2008: Looks like Wunderlich have pinched John's idea. A few months back now they introduced their Internal Rear Hugger better described as a Rear Splash/Shock Guard. The Splash/Shock Guard protects the rider and the bike from dirt, mud, water and stones thrown up by the rear wheel.
It provides effective protection for the rear shock absorber, which lies directly in the path of the water and dirt stream (stone damage and subsequent rust on the shock absorber rod will cause leaks and premature shock failiure.)
The guard protects the shock, frame, rider and passenger legs without disturbing the overall design of the bike. The guard is made of tough thermoformed ABS plastic.
Will not fit with any make of rear hugger
Fits: R1200GS / R1200 Adventure.
---
Author: 'Bullwinkle' ukGSer.com 29/09/2005 updated 08/01/2007
View thread for additional comments: 
Inexpensive Rear Fender Fix  (external link)
Even before I picked up my R12GS, I knew that something needed to be done to finish off the front half of the rear fender. I had an idea from looking at the bike in the showroom, but have since finished the installation. I thought some of you may be interested in some of my ideas…

I had an old aftermarket front fender off a dirt bike that I sawed in three pieces…
The fat front part is a little wider than the rear tyre, so I thought it could be bolted on as the front half of my new rear fender.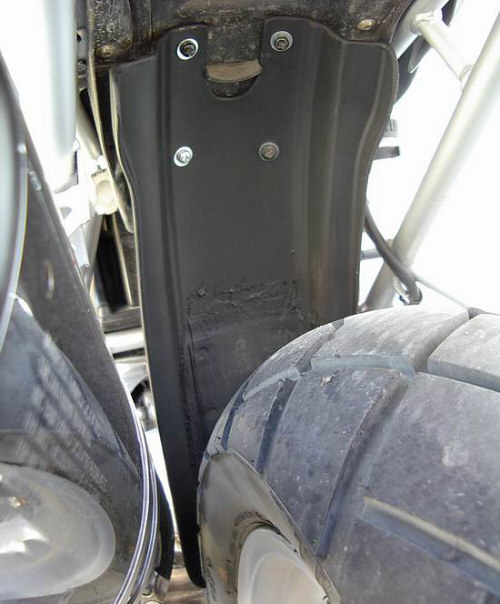 As it turned out, the curvature was perfect and it fit with clearance to the tyre.
And it lightly rests against the plastic shock shroud.
The finished product works well, and isn't objectionable looking.
Oh yeah, the back half of the dirt bike fender got trimmed down to make a front fender extender…