The Telegraph – BMW R1200GS Review
Source: www.telegraph.co.uk/motoring
Update – see article (2) added below "Lightweight boxer packs a heavy punch"
Kevin Ash traces the success of last year's best-selling bike, on display at the London Motorcycle show (Feb 2007) – BMW R1200GS / R1200GS Adventure
  
Photos of the BMW R1200GS (external link to Telegraph.co.uk)
For most motorcycle manufacturers, 2006 was an unremarkable year at best: sales overall were flat, margins tight and savage discounting rife. Harley-Davidson shone as a rare success story with sales increases of 10 per cent, but the best-selling motorcycle was neither American nor Japanese. Instead, for the first time, BMW has just announced that the UK's top-selling bike was its own R1200GS. OK, you have to include the GS Adventure variant for the German giant's trail bike to beat the traditionally best-selling Honda FireBlade's 2,067 units with 2,277, but the Adventure is essentially the same bike lightly modified to enhance its off-road ability.
The reason for the big German twin's phenomenal success in the Japanese sports bike-obsessed British market is usually put down to Long Way Round, the televised trip from London to New York two years ago – via Europe and Asia – by Ewan McGregor and friend Charlie Boorman. The pair made the arduous journey on two R1150GS Adventures, giving the bikes massive credibility as well as coverage for their very real off-road ability.
In fact the programme was more like a valve opening on market pressures already building. With riders getting older and, in some cases, wiser, along with the proliferation of speed cameras, more and more had been considering alternatives to their head-down, bum-up, licence-threatening superbikes anyway, especially as other types were becoming plenty fast enough for normal roads. But it's not just that the GS offers all-round ability and performance – plenty of bikes do that. It does so in a way that allows fragile male egos to choose it with no loss of face: my bike might not do 170mph, but hey, it can cross a few deserts.
Well, that's not the sole reason it's done so well. As Long Way Round showed, and our own dirty excursions confirm, it really can cope with rough terrain, rather than merely looking as if it can. This takes out the negative element of posing for its own sake and brings new potential as a beast of leisure compared with sports machines. All other big trail bikes bar KTM's Adventure 990 are such in name only. The GS also happens to make a fine touring bike, a purpose most riders use it for. The suspension is great for poor-quality back-roads in remote regions – or most British roads – while the GS has a good fuel range at 200 miles and the Adventure an incredible one, with its 7.3-gallon tank and 50mpg capability. Comfort is excellent, and a factor that should not be overlooked (although most other manufacturers do) is dealer service – BMW offers the best. Reliability is average despite the usual assumptions that come with the badge, and quality worse, but owners' experiences at dealerships are generally so good they easily compensate.
The GS is still one of the more improbable motorcycles of the past three decades. The bike arrived in 1980 as the R80G/S, the suffix standing for Gelände/Strasse, or country/street, when there was no such thing as a big-capacity trail bike – Yamaha's XT500 single was the biggest – and as for it being a boxer twin, this was plain mad. But it caught on at once, becoming motorcycling's Range Rover, and has evolved into a brand in its own right.
advertisementThe current R1200GS appeared in March 2004 and was significant as the first of the modern BMW boxer twins to benefit from a new weight-saving regime, losing 66lb over its R1150GS predecessor. With its extra power and greatly improved handling, suddenly its performance was being noticed by all types of riders. The Adventure arrived in March 2006 and, despite its massive seat height ruling out even average-size riders, sold more than 800 that year.
It's been a good year for BMW overall, too. In 2006, for the first time in its history it sold more than 100,000 bikes in a year. And nearly a third of these were R1200GS and GS Adventures.
The BMW R1200GS costs £9,095 and the GS Adventure £9,895.
Article (2)
Lightweight boxer packs a heavy punch
By Kevin Ash (Lat updated 14 Feb 2007)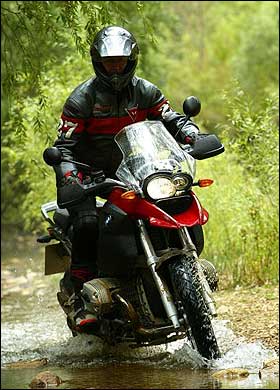 The weight lost from BMW's tourer is
equivalent to 6.6 gallons of water
BMW has pulled out all the stops to make its new R1200GS lighter and smoother – and the results are apparent immediately, writes Kevin Ash

During the development of BMW's new R1200GS, design chief David Robb kept a container holding 6·6 gallons of water in the centre of his Munich office. Not because creating the replacement for the R1150GS, BMW's most successful model of recent times, was thirsty work, but because the water represented the weight the team was aiming to lose, 30kg (66lb). This symbolic mass was intended as a graphic reminder of what the current model was needlessly carrying – it is a huge amount of weight for any motorcycle to lose, and even with no other improvements its replacement would have been significantly better for shedding all those pounds.

We have become accustomed to sports bike designers trumpeting weight reductions in terms of grams or ounces, so how has BMW been able to lose the equivalent of two heavy suitcases without omitting the engine or listing the wheels and suspension as optional extras? Impressive though it is – the target has, of course, been met – the achievement also points to a change in attitude at BMW. In the past it relied on the inherent lightness of the air-cooled, horizontally opposed "boxer" twin configuration, which fostered complacency about the weight of other components. Since the Japanese showed that it is possible to make liquid-cooled fours that are considerably lighter than air-cooled twins, the Germans have finally taken on board the increasing complaints about their bikes' excessive weight and become as serious about the subject as the obsessive Orientals. Quite right, too, as savings here mean gains in acceleration, economy, braking and handling.

You notice as much within yards of setting off. The upright and commanding riding position is little changed compared with the 1150, but the agility has been transformed, the 1200 responding so much more sharply to steering input that an 1150 would be left trailing after a few corners. It's not as agile as the latest generation of street-sport machines such as the Aprilia Tuono or Ducati Multistrada, but the BMW would not be embarrassed by them, which is impressive for what is the world's biggest-capacity trail bike.

For all its off-road pretensions, however, the vast majority of buyers will use the GS as a touring bike, and the improvements are just as obvious here. It's extremely comfortable and protection from wind blast at speed is disproportionate to the size of the screen, while the slipstream hitting the rider is smooth and reasonably quiet.

The familiar-looking boxer engine is new, featuring for the first time a Lanchester-type balance shaft to tame the high-rpm vibrations that cursed previous BMW twins, along with measures to improve emissions, fuel consumption and performance. Peak power is up by 16bhp to 100bhp, while the torque is spread across a wider rev range – combined with the weight loss, the result is far punchier performance. The new, six-speed gearbox finally matches the best from Japan, with slick and positive ratio swaps, and now you hardly need to touch the change lever as the bike is quite quick enough when left in top.

The example ridden at the launch was fitted with optional anti-lock brakes (which can be switched off for riding in the dirt) when the handlebar lever operates all three discs and the foot pedal the rear only. It's also power-assisted, a system that has irritated with its on-off action during gentle braking but which on the 1200 gave no such cause for complaint. The stoppers now merely feel strong and effective.

BMW has also continued to refine its unique suspension. The telescopic fork and wishbone combination at the front (called Telelever) is backed up by a Paralever single-sided swingarm and shaft drive unit at the rear, with a double-jointed drive shaft and geometry designed to eliminate rear-end elevation under acceleration. It works extremely well, providing outstanding stability under the heavy braking of which the 1200 is capable or in severe crosswinds. Even the quirky push to the side in response to blipping the throttle (the torque reaction to the longitudinal crankshaft) is reduced, thanks to the contra-rotating balance shaft.

The suspension has some advantages over conventional systems, but the downside is additional unsprung weight. BMW has minimised this on the 1200 but its suspension still weighs more than that of a chain-driven bike with conventional forks, and the ride quality suffers accordingly. At speed the ride can be fidgety and big bumps jar more than you'd like, while some of the corrugated surfaces we experienced off-road utterly defeated the suspension, the wheels kicking off the ground so much that steering and braking control were significantly diminished. On metalled roads the front end always has an anaesthetised feel compared with most, but these losses are a fair trade against the gains.

Elsewhere there are plenty of neat touches: the multiplex electrics mean dash information is comprehensive, the screen is easily adjusted for varying rider height while the seat height ranges from 31·9 to 35in thanks to a combination of three optional seats and standard adjustability.

Tourers will be disappointed by the fuel capacity dropping almost half a gallon to 4·4 gallons, but the improved economy will compensate for much of that. Typical riders will achieve about 50mpg and be able to squeeze 200 miles from a tankful.

Availability could be a problem. The 1150GS was the best-selling bike in Germany in 2003 and is popular throughout Europe. The 1200 is a major improvement, retaining the knockout styling and character with far better dynamics. Demand will be stronger than ever, and rightly so.

BMW 1200GS [tech/spec]
Price/availability: £9,275 on the road. On sale March 13. Contact BMW (GB), 01344 426565 (www.bmw-motorrad.co.uk).

Engine/transmission: 1,170cc, boxer twin four-stroke with eight valves; 100bhp at 7,000rpm, 85lb ft of torque at 5,500rpm. Six-speed gearbox, shaft final drive. Performance: top speed 136mph, average fuel consumption 50mpg (est).

We like: Torque, power, stability, brakes, style, responsiveness.

We don't like: Fussy ride quality, lack of steering feel, reduced fuel capacity.

Alternatives: Aprilia Caponord, £6,999. Honda Varadero, £7,999. KTM 950 Adventure, £7,700. Suzuki DL1000 V-Strom, £7,349. Triumph Tiger 955i, £6,999.