BMW HP2 Megamoto Review – Mossy Rides
Source: Crash.net Road Tests
 
Our man Mossy gets one of the first UK rides on BMW's latest attempt at a 'fun bike', the HP2 Megamoto.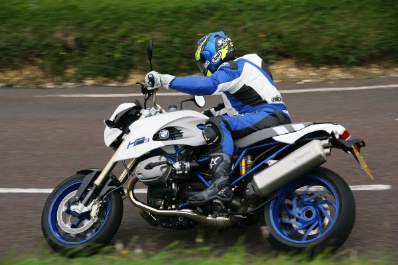 Words/pics by: Chris Moss/Mike Weston (Crash.net)
BMW make good bikes but praise for them is often along the lines of them being very capable, practical and durable. They are the sort of bikes that you respect and admire, rather than get excited about. But that's just changed with the arrival of the HP2 Megamoto.
The new bike fits in nicely with BMW's aim to broaden its range of bikes and, as a result, cater for a wider range of customers. The firm also points out that the Megamoto is another example from its limited-edition HP (high performance) range; a sector that focuses on building bikes featuring uncompromising performance and exclusivity.
Being the sceptic that I am, I have to admit that though the spec sheet and the corporate claims for the HP2 gave the impression it might have a bit of fizz, the established reputation of bikes branded with the blue and white roundel suggested that probably wouldn't be the case. However, a day on board the German steed changed my mind completely. This might be a BMW, but it's actually a riot to ride and easily the most exciting and sporting model yet produced in Munich.
It's a bike that pleases almost straightaway. It's got a real quality, hand-built look to it. And with parts with things like Ohlins and Akrapovic written on them, it's clear that the Megamoto is a serious bit of kit. Getting on the thing is a bit of a serious affair too. With a seat seemingly tall enough to rival the London Eye, adopting the seated position is tricky for five-foot seven inch short-arses like me. And even when you have mastered the art of getting on board, you need to be careful not to get caught out by unhelpful cambers or drops that will leave you very much foot loose. There is a lower seat option available as an extra, and I for one would entertain buying it for piece of mind. Those of average height will be less bothered by that though, and no doubt really enjoy the rest of the Megamoto experience. I know I did.
The light weight of the bike is immediately obvious and makes the Bee-Em feel positively toy-like. Lightness is definitely a real advantage in a sports bike – which is what the Megamoto very much is. It aids acceleration, braking, and overall control of a bike and is a key to the BMW's appeal. This is a bike to have lots of fun on. And though normal fans of the brand might miss typical niceties like heated grips and centrestands, they'll be more than compensated by the HP2's entertainment value.

Getting out onto Brighton Prom amidst the morning traffic presented no problems for the bike. And with its easy manageability, and manoeuvrability it dealt with the challenge as easily as a hot knife through Flora. The tall seat redeems itself a little by giving a fine view of what's likely to have to be carved through well before you get to it.
Lack of weight makes it easy for the engine to show its best too. It might only be making a claimed 113bhp, but the delivery of the power adds to the Megamoto's useful appeal. And of course there's not too much weight for it to cope with. There's plenty of low rpm punch for the 1170cc, flat twin to give swift and strong throttle response. And there's an extra kick at around 6,000rpm to raise a smile and launch you forward at an extra rate of knots. The motor's flexibility is a real asset and makes life on board seem all the more laid back. If you're in a more urgent mood though, cane the motor hard from the off and rev it hard through its six gears and you'll probably record a genuine 120mph. And though that's hardly record-breaking velocity, the stomp of the motor is generally enough to please. Especially if you use your loaf and ride the bike where it's best suited; quieter back roads like the ones we used on this test. Do that and the motor will always feel strong enough. Make that the route of choice though, and it won't just be the engine that'll impress, it'll be the chassis that draws most praise.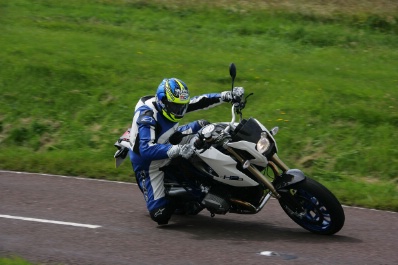 The Megamoto is a really flickable bike thanks to its lack of kilos, and with firm, but not harsh suspension at both ends, speedy riding couldn't be that much simpler, or more nicely controlled. Whatever the surface, and whatever the pace, the forks and shock offer great feel and feedback by giving the bike plenty of support yet are still able to deal with the ruts and bumps with commendable compliance. Combined with excellent brakes that offer lots of progressive and predictable stopping power, and superb Michelin Pilot Power tyres, you'd have to be doing something pretty reckless to get into trouble on this bike. This is a bike for purists.

It's not an every day bit of kit mind you. Stuff like the tall seat and range-limiting small tank, restrict the versatility of the Megamoto a little. But as a limited-edition, well-crafted tool of entertainment, the BMWis a winner every time. Only thirty of them will be in the shops now, and the vast majority of those are already spoken for. The next batch won't be here until December, and if you want one of those, you have to move right now.

I had a great day on the Megamoto. It's a top bit of kit that rides really well. But the thing I'll remember it for more than the wheelies and charging round corners like a TT racer, is the fact that it made me laugh. And for a BMW to do that, is a first for me.
  BMW HP2 MegaMoto Specifications
2007 BMW HP2 Megamoto Price: £12,595
Performance: 120mph Engine
Type: air/oil cooled, 8-valve, sohc, flat twin
Displacement: 1170cc
Bore x Stroke: 100 x 73mm
Compression: 12:1
Maximum  power: 113bhp @ 7500rpm
Maximum torque: 85lb/ft @ 6000rpm
Carburation: electronic fuel-injection
Gearbox: six-speed, shaft drive

Suspension
Front: 45mm Marzocchi USD telescopic forks,
adjustable compression and rebound damping
Rear: Ohlins monoshock, fully adjustable Brakes
Front: twin 320mm discs with four piston calipers
Rear: single 265mm disc with twin-piston caliper Wheels/Tyres
Front: 120/70 -17
Rear: 180/55 -17 Chassis: Steel tube trellis
Rake/trail: 28 degrees, 6 minutes / 95mm Seat height:
890mm (860mm low seat available as an extra)  Wheelbase: 1615mm
Fuel capacity: 13 litres
Dry weight: 179kg
Optional extras: HP brake lever/clutch lever
HP forged wheels
HP carbon cover for engine housing
HP carbon cover for cylinder head
HP foot rests
HP fork bridge
HP Paralever strut
Low bench seat
HP hand guards
Protection kit
HP2 tank bag
HP2 rear bag
HP2 handlebar crash guard
Navigation system holder