Termignoni Exhausts, A Bit of History…
The brand names Termignoni and Ducati (or should that be Ducati and Termignoni?:-) are synonymous.
Termignoni exhaust systems are seen on many of todays Moto GP motorbikes that make it regulary onto the podium. The italian manufacturers supply exhausts for Yamaha, Kawasaki, Honda but are generally known for their link to Ducati. Almost all Ducati owners prefer a Termignoni exhaust system due to the quality, styling and most of all, the fantastic exhaust note. They produce road legal exhausts as well as race systems for todays fastest superbikes. "Termi's" as they are known are designed with over 30 years experience and produced with the finest components with italian style and an unbeatable racing bike heritage.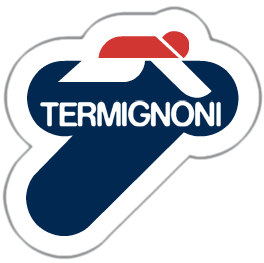 ---

Thanks to Simon (MrSimon916) for the video
---
Termignoni exhausts compete in a very competitive market including manufacturers such as Micron, Blue Flame, Yoshimura and Arrow to name a few. But it is Termignoni which has the racing pedigree through experience and intense research and development on their exhaust systems.
It is very unlikely to see a Ducati 999, Ducati 748, Ducati Monster and now the Ducati 1098 without a Termignoni system as they are the ultimate pipe for any Ducati.The Ducati 1098 Superbike is the most powerful twin-cylinder mass production motorcycle in the world. This incredible motorbike produces an amazing 160 hp and 90.4 ft lbs of torque, and weighs a mere 381 pounds, giving it the highest torque-to-weight ratio of any sport bike on the market today.
Termignoni S.p.A History
Founded in 1969 by Mr Luigi Termignoni, the company was acknowledged on the motorcycle market right from the start for both its elevated quality and the high performance.
Racing Exhaust production began in 1970
1980 – Production of the first exhaust for Ducati Corse.
World Champion SBK Honda RC 30
First Titanium prototypes made in 1990 for Ducati/Cagiva
2002-2004 Used on Yamaha MotoGP bikes.
…2009 Collaberation with Ducati and Yamaha official teams in MotoGP and SBK.
MotoGP Championship with Valentino Rossi