Multistrada 1200 – 'Wobbly' Rear Mudguard / Fender & Indicators
Multistrada 1200 – Rear mudguard / fender unit appears 'loose' and bounces around when riding on rough surfaces – see below for the simple fix.
Multistrada 1200 rear indicators / turn signals also appear 'loose' / not fitted as tight as they might be. See below for the simple fix.
 
It's possible that to some extent Ducati intended for there to be some 'play' in these parts however the movement is excessive and in my (and many other's) opinion unnecessary and annoying. I'm sure I read somewhere a while back that in fact the issue is fixed on later (2011 onwards?) Multistrada 1200's (I'll be grateful if somebody can confirm please;-)
 
Multistrada 1200 rear fender, number plate holder, rear light and rear indicator / turn signals components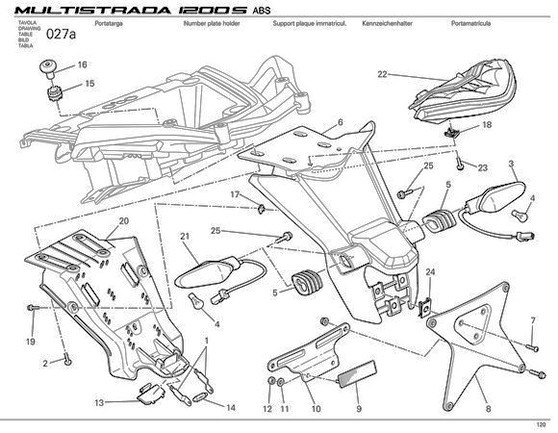 FIX #1 – Rear end wobble
Wobbly rear end? Noticed how the rear light, fender/mudguard tail section bounces around? (anyone that's followed you will have;-) – quick and easy fix, remove the 4 mounting bolts one by one (access under pillion seat;-) and reinstall with washers…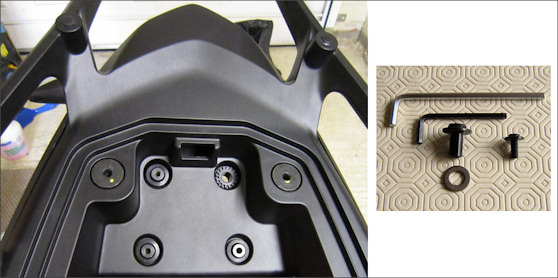 NB: Iain at Palmer Products is now selling 4 plastic spacers (washers) for £1.50 if you can't source some locally 😉
 
Fix #2 – Wobbly / loose rear indicators / turn signals
Thanks to Don K for this one 🙂
Larger versions of the photos here
Hi Andy, An easy fix !!! but not as I thought. The *25 screws only hold the rubber grommet/buffer to the indicator, it is this rubber bit that is held in the last groove, by the two sections of the tail, that creates the wobble.
I cut two shims form a plastic pot plant tag the same shape as the end of the indicator and placed them on the inside to take up any slack, Crude but effective. All back together and no wobble anywhere.
I have attached some pics that should give you an idea of what I did.
In pic 1 it is installed on right side (white shim) but not on the left side.