ICE-help: In Case of Emergency Critical Information Products
See also: ICE – In Case of Emergency and Ride Safe, STAY SAFE!
 
>> use voucher code MCINFO for a 10% discount on all products <<
Motorcyclists are one of the most vulnerable groups of road users and sadly probably the most likely to be seriously injured in the event of an accident……..having critical information on you relating to your identification, health and contacts in case of emergency could be a life saver!
ICE-help USB ♦ ICE-help Tags ♦ ICE-help Labels
ICE-help gives the Emergency Services quick and direct access to information that might be critical at the time – medication, allergies, next of kin and so on. Motorcyclists should always ride with ICE-help.
The ICE-help USB (our ICE-stick) allows you to create an individual profile with critical information In Case of Emergency, which is stored in its memory. In fact, any information YOU decide to show that you feel is important while travelling or, heaven forbid, would be essential In Case of Emergency.
>> use voucher code MCINFO for a 10% discount on all products <<
ICE-help… 
labels, tags and USB-stick
information for tags and labels is web based, and can change depending on location
2 years registration to the ICE-help web site included in the price
ICE-stick USB also integrates with web site, so there is no need to input contacts twice
web site functions to registered users: email and SMS
SMS service for reporting found items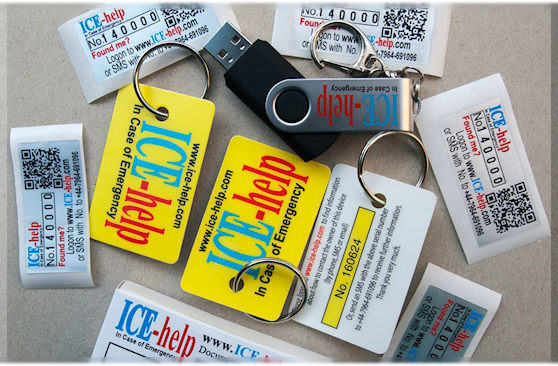 Motorcycle Holidays and Tours
The ICE-help service allows any tagged item to be easily returned to the owner by the finder should it be lost, by logging onto the website and getting information about who to contact to return the item.
ICE-HELP TAGS – for larger items – luggage, lap-top bags and so on – we recommend using ICE-help tags. Use these also as a key fob for your home, car and motorcycle keys.
ICE-HELP LABELS – smaller items (and often the most valuable) like cameras, 'phones, laptops etc need only the super-resilient ICE-help Label – impossible to remove and by using sophisticated printing technology, impossible to erase.
All ICE-help products (labels, tags and USB) have unique ID numbers, which after activation via the web site identify them as yours. Any items you carry with you tagged by the tags, labels or USB can then be matched to you. In addition, using the web site you can provide information about other people to contact when an item is found.
>> use voucher code MCINFO for a 10% discount on all products <<