Multistrada 1200 / MTS1200 DIY Front Cylinder Head Guard
Making a DIY front cylinder guard for the MTS1200
by Don K from Australia (Feb 2012)
Don's finished DIY engine guard, a great match with the EVOtech radiator guard.
While looking at Andy's version of the front cylinder guard on his custom MTS1200 bits page, I noticed he made comment that a larger guard would be better, but unsightly. [ready to be proven wrong 🙂 …….AndyW]
This got me thinking of a possible design that could be easily made in the home workshop, either painted or powder coated and look to be part of the Multistrada, not an unsightly add on.
I came up with a design and asked Andy for his thoughts. He liked the idea and kindly gave me permission to use his design as the basis for mine, which is an extension of Andy's with the addition of patterned drilled holes for air flow around the front cylinder.
Here's the MKII version of my Multistrada 1200 cylinder head / valve cover guard ready for coating…..final finished photo(s) to come. (now below;-)
I used 3mm aluminium sheet for the guard, it is ideal and can be bent cold.
I cut it to shape with a hacksaw and cleaned it up with files and emery paper.
A file card or wire brush is essential here, as aluminium clogs the file teeth up.
I marked out all the holes to be drilled as per my design, with a set square, steel rule, sharp pencil and cd marker, and then centre punched the holes.
The above photo is of course of the MKI guard marked out for drilling…..sorry, forgot to take a photo of the MKII at this stage! 😉
I used a bench drill for drilling the holes, much more accurate than a hand drill. For cleaning up the holes (countersinking) I used a larger drill bit for this, carefully did one
and set the depth stop to this one so that all holes have equal countersinking.
I then cleaned the surface of the aluminium using 280 wet or dry paper and water.
With MK1 the bending was a bit ad hoc, using a strong vice bolted to a length of solid
timber for stability, and with the workpiece between two pieces of timber, (good) but it was basically bent using a rubber mallet. It worked out ok but as I wanted to make another guard that was personalized to the Multistrada I needed a more positive and easier method for bending.
I made a lever arrangement using a strong hinge and placed this on the inside of the front vice jaw. The other end of the hinge is bolted to a 3ft length of 2×3 inch timber giving good leverage for the bending.
I made a template for the desired bend and used this to make a form/guide from a piece of wood round which to bend the flat aluminium plate to get the exact curve during the bending process to achieve the finished shape of the engine guard.
I placed my now newly shaped timber former against the back jaw, then the workpiece, a timber protector and then the lever arrangement, aligned them all, and tightened them up. Small pieces of timber were used in different positions to protect the workpiece and get the best leverage during the bending.
See more photos of the bending process at the end of the article.
This bending method was so easy. It took 10 minutes to complete, including taking pics. MK1 took about 4 hours from the start, to the etch priming. MK11 took 5 hrs for the same result but it has more detail and it took some working out.
I think it looks good in full gloss black but semi gloss is more in keeping with the existing Multistrada 1200 paintwork. I might paint MK11 with semi gloss black just to see the difference. Powder coating would most likely give a more robust finish but I've yet to find a local company that'll do this small job without charging an arm and a leg!
Photos of the finished engine / cylinder head / valve cover guard to come.
Treated with an etching primer (recommended for Aluminium;-) ready
for painting with the semi gloss black top coat
…and with the finial paint finish
……a great improvement over my first attemp (the MKI)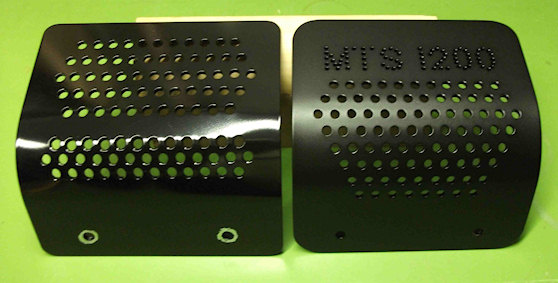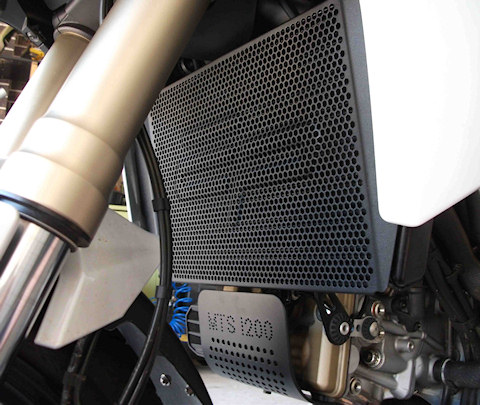 DIY aluminium guard bending process…