ITNConv – GPS Routes (Mapping) & Route File format conversion utility
See also: TYRE TomTom GoogleMaps Utility – Tyre: 'Trace Your Route Everywhere'
NB: not restricted to TomTom users 😉
WinGDB – Convert Tracks to Routes and Vice Versa
About ITNConv, free GPS SatNav Route Utility – So your mate tells you about a really good ride route, how frustrating is it that you can't use his GPS route map as he uses a different motorcycle SatNav system to you?!
Share your GPS / SatNav routes – convert just about any route map format to pretty much any other mapping software format. A few examples of the file types handled:
| | | |
| --- | --- | --- |
| – CSV (Long/Lat) – Google Earth (.kml) – GPS eXchange (.gpx) – GPX MapSource (.gpx) – MS AutoRoute (.axe, .axg) | – MapPoint (.ptm) – MapSource (.gdb, .mps) – Magellan SD (.rte, .upt) – TomTom 3,5&6,(.itn, .ov2) – ViaMichelin (.xvm) |   |
I downloaded this great little application recently after searching around for a while for a means to convert Garmin Mapsource files to a format that could be used on a TomTom SatNav system. Very easy to use, intuitive, and does exactly what it says it does. One of the nice features is the way it seamlessly uses Google Maps for the cartography and searching.
What's more it's a stand alone application (no installation routine on your PC – no Registry clutter, no DLLs littered everywhere!) – just click ITNConv.exe and away you go.  ITNConv.exe is just 216kb file size available as a ZIP download of just 95kb – current version (30Sep2007) v1.63
ITNConv has its own route map editor allowing you to search for addresses and locations and the planning of routes with several stages. Use the software to open existing routes or plan new routes to be saved in any number of the mapping file formats ITNConv understands.
As ITNConv 'integrates' with Google Maps, searching for / finding specific locations is a doddle. For example, enter any of the following 'data' in the Search box to find Bristol Motorrad UK:
51.442486 -2.564396 BS4 3EW 357 Bath Road Bristol

Bristol Motorrad
Longitude / Lattitude Postal code Street address Location name
 
ITNConv is 'freeware' but there's a button in the program for you to make a donation to the author via PayPal…….definately worth supporting the author with a few £/$ 🙂
Download ITNConv from:
A few screeshots (click the images to see larger versions in a new window;-)
ITNConv utility software
Map view, route creation, route editing view (route road map view)
…same location having switched to satellite view (zoomed in)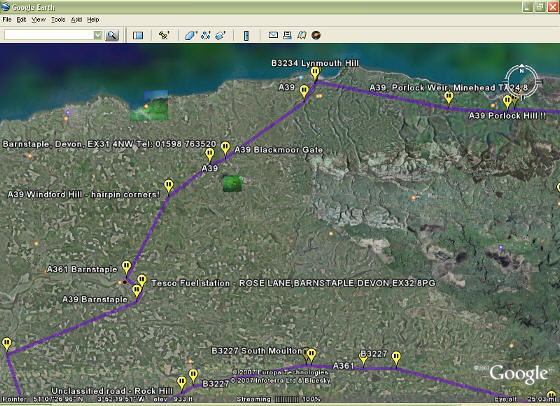 ….and see the whole route mapped out (see comment re Google maps below)
Currently Google maps won't 'follow' the route via roads it simply shows 'as the crow flies' lines between waypoints i.e. Google Maps is not capable of routing (does not recognise the roads) – I believe there is third party software that can get round this if it's an issue for you i.e. you don't have your own mapping / routing software such as MapSource.