Motorcycle GPS Sat Nav Power Connection
See also: R1200GS Above Dash GPS / SatNav Mounting Bracket
How to make a power lead for your Garmin, TomTom or other GPS Sat Nav system to connect to the BMW Navigator GPS power socket found on R1200GS motorcycles (and many other BMW bikes)
I highly recommend a RAM mounting kit for your sat nav device. They're well made, secure and easy to adjust.
**WARNING** – the onboard GPS power connector supplies 12 volts (12V) and therefore is not suitable for direct connection to GPS units that require a 5 volt (5V) power supply without modification. Typically 5V systems e.g. 'TomTom One' charge/are powered via a USB type socket only but check your manual. 5V SatNav systems will require a 12v to 5v voltage regulator incorporated into the power lead (available from electrical/electronics retailers e.g. Maplins)
See also: Multistrada 1200 / MTS1200 Custom GPS Power Lead
Different bike but the instructions for making up a custom power lead apply the same.
External link: BMW K1200S Power Socket (will be similar for K1200R and K1200GT)
Wiring a Powerlet socket to the unused OEM GPS power connector on the K1200S.
Tip from Kendrick P Oct2011 – "Hi Andy – regarding the Blue/Green pin 2 in the aux connector. To get this to work for a cruise control pulse or to use with a PC-V for maps by gear you need to put a 300R resistor (1W) between acc power and the pin 2. I'm told the K1300 doesnt need the resistor. Take the wire from the pin 2 to your cruise or PC-V. You should get a square wave 5V signal around 4919 pulses per mile.
FYI I am using that VSS signal both for a Rostra Cruise Control and for a speed input into the Dynojet PCV for maps by gear. It works above about 25km/h.
Cheers Kendrick (K1200S 2005)"
---
Author: AndyW  July2007 (updated Feb2008 [and again Sept 2008] – socket location for the 2008 model R1200GS)
Update Oct2008 – add an additional connector
Update Apr2010 – 2010 R1200GS and Zumo 660

See also: Garmin Zumo 660 Cradle – Wiring Loom / Cables Modification
 
View thread for additional comments: 
Taking power from the BMW GPS socket  (external link)
Alternative method: GPS SatNav Power Connection (2)
Usual disclaimer – mess with your motorcycle electrics, without knowing what you're doing, at your peril! 🙂
NB: Click small images to enlarge (open in new window)
There's been lots of discussion on how best to get power to motorcycle GPS Satellite Navigation systems on the R1200GS (search on ukGSer.com 😉
I liked the idea of plugging into the socket provided for the BMW Navigator GPS system, after-all it's there for that purpose (although designed for BMW's proprietary connector plug) and benefits from being managed by the bikes CanBus system i.e. the socket remains powered up for a short time after the bike's ignition is turned off.
BMW R1200GS
Wiring Diagram Extract For anyone that's interested here's
the wiring diagram schematic
showing the GPS connector
(optional accessory socket) (1) Brown = ground
(2) Blue/Green = Speed Pulse
(3) Red/White = 12V (Click image to enlarge)
1) You'll need to buy the connector plug that fits the socket on the bike from your BMW Dealer – part number 80 00 0 611 656  (£8.52)
UPDATE Oct2010 – The BMW connectors have apparently had their part number changed to the following:- C83.30.0.413.585 and they are now £14.34 inc VAT!
NB: for USA/Canada the part number is 83 30 0 413 585 (looks like different part numbers are used in different locations worldwide?!)
This is from Chicago BMW.
Part Number Description Regular Price Quantity
83300413585 REPAIR CONNECTOR-3 P S $ 19.44
List from BMW is $24.30
2) Locating the GPS Sat Nav power socket (optional accessory socket) on the bike. The diagram up above gives a pretty good clue but here's some photos of the real thing below. To do the job you'll need to remove the fuel tank side panel at the very least and most likely the beak as well. I'd recommend taking the tank off as well (it's not a big job and only takes a few extra minutes) so you can really see what you are doing.
(the location has changed for 2008 model R1200's – see below)
 Beak and tank side panels removed.
You can see why this will be a fiddly
job with the tank in place.
NB: Click to enlarge small images
Closer view.
Much better access with the fuel
tank removed (and good excuse for
some cleaning under there! 🙂

The socket is taped to the main wiring loom, snip the tape, unwrap it from the socket/wiring loom and you will be able to pull the socket away from the wiring loom by a few centimetres. The socket is blanked off by a black plastic cap.
GPS Sat Nav socket freed from
the main wiring loom. The arrow
indicates the 'catch' that must
be lifted so that the blanking cap
can be pulled from the socket.
It's a tight fit and takes a bit
of wiggling to free it.
3) Make up your custom GPS power lead with the connector plug that fits the GPS / optional accessory socket on the bike. If you've not already sussed – yes you need to cut the power lead that came with your GPS system! (no big deal, keep the bit you don't need to patch back together should you want (?) or you can always buy another as and when you sell your GPS unit)
Before (!) you cut anything, work out how you'll route the completed power cable to your GPS unit. I made my power lead a fair bit longer than necessary to allow scope for changed plans at any time – the excess is tied out the way under the tank with the bike's standard wiring looms. I made mine 1.5m in length.
Strip wire ends ready to connect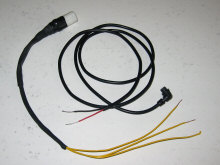 Twist wires together
BMW connector plug and cut down
Garmin power lead. I shrink wrapped
the socket to ensure it's water tight 😉
You could use self amalgamating
tape or similar if you don't have heat
shrink insulation tubing
Solder the twisted wire connections
If you're using heat shrink insulation
slide it on the wires before you join
them! Twist the corresponding bare wires together tightly to make a good
clean connection.
Finished power lead with heat
shrink tubing…….shrunk 🙂
Why I don't use conventional wire tinning and soldering method:
By twisting the wires together you have a perfect metal to metal connection which is then soldered to prevent oxidation and make the join permanent. This avoids solder 'dry joints' and high resistance joints that can result from conventional method of tinning and soldering wires. (in my opinion!!)
TIP: Test you connections with a multimeter or test bulb to ensure they're good (multimeter is best – zero resistance:-) – I do this at various stages e.g. wires twisted together, then when soldered etc
(1) Brown = ground  (-ve earth)
(2) Blue/Green = Speed Pulse (not required)
(3) Red/White = 12V (+ve power)
The three yellow wires on the BMW plug are very helpfully marked with corresponding numbering (1, 2 and 3). The connector only fits one way so you'll see which wire is which in any case. Your original GPS unit power lead will most likely have black and red wires (earth -ve and 12v +ve respectively) – in any case the 12v +ve lead should be easily identified by an in-line fuse.
NB: It seems that where the yellow wires are numbered varies – make sure you mark the yellow wires if your going to trim them if the numbers are on the bits to be cut off!
4) Fit the new power lead to the bike and route the cable safely and tidily to your GPS unit (tie wrap the lead to existing wiring wherever possible – ensure it won't be trapped or chaff anywhere)
With the new power lead connected to
the socket on the bike and hanging
loose I taped the connector/plug to
ensure it's waterproof……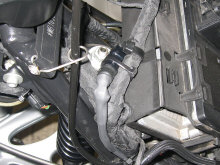 …..as can be seen here. The connector
is tie wrapped to the wiring loom
and placed so that the back of the
socket is downward facing to
keep water out of that end.
5) Test with your GPS before you replace the tank and plastics 🙂
Job done.
Update Feb2008 & Sep2008 – 2008 GS models
Update Oct2008 – Add an extra connector in the power lead
I forgot to post this until now! By adding an extra electrical connector in the lead, close to the Garmin power plug you have the option to remove your GPS mount/RAM mount and cradle from the bike without dismounting your Zumo/SatNav. Useful when you're bike is going to be left unattended for any length of time (when some 'scrote' might try to steel your GPS mount/RAM mount and cradle if left in place). Additionally, if you have two bikes this is also a neat solution to swapping your GPS between them as you can leave a power lead in place on both bikes with the same connector.
I even made up a 'blanking plug' to make the lead left on the bike watertight when not in use (tyre valve dust cap, spare electrical connector and some silicone sealant:-)
This just tucks away behing the speedo/trip computer unit when not in use.
You can get electrical connectors like the ones I used from Maplins or any electrical components shop.
Alternative methods for powering GPS Sat Nav systems:
#  'Piggy-back' connections to the back of an existing Accessory Power Socket.
Cons: could be issues with the CanBus system if the socket is used to power other items – making proper/good connections could be difficult – could be fiddly to undo)
#  Use the original power lead provided with your GPS system to connect direct to
the battery
Cons: The connectors on your GPS system cradle will be live all the time so there is the possibility, however slight, that water could ingress and cause a short when the GPS unit is not mounted. Power lead has to be routed most of the length of the bike.
There's another 'con' to add to your 'Use the original power lead… direct to the battery' — that the terminals get oxidised by being live all the time. (Tim Cullis – GSclubUK)
Update Feb2008 – location of the GPS power socket on 2008 model 1200GS's
(thanks to ukGSer 'Thunder' for the photos:-)
Update Sept 2008 – thanks to Ken S for emailing and letting me know that the socket was located differently on his 2008 R1200GS
Update Apr2010 – 2010 R1200GS and Zumo 660
The GPS power socket remains in the same place (behind the oil cooler) on the 2010 R1200GS / R1200GSA (located as per the 2008 bike photo above).
Garmin Zumo 660 Cradle and Power / Other Leads
See also: Garmin Zumo 660 Cradle – Wiring Loom / Cables Modification
Extract from a discussion on ukGSer.com:
Q: With regard to requiring 1 GPS power cable – the zumo 660 comes supplied with a cradle incorporating the power cable which then splits into
a) bare wires with inline fuse for power connection
b) headphone / audio out jack – 3.5 mm
c) mini usb connector for traffic receiver
d) microphone jack – 2.5 mm 
I understand the instructions with regard to the bare wires with inline fuse for power connection – my issue is where do I route cables b, c, and d – here is an image of the cradle and associated cabling
A:(by ukGSer 'Wapping')
(a) You route to a suitable power supply. Either the battery or to the dedicated spur behind the oil cooler / headstock are popular choices. That you know.
(b) You route, probably under the tank cover, to whatever you need to connect it to. An Autcom is a popular device.
(c) You connect to the traffic receiver. This is probably hung like a washing line across your screen, so not much choice.
(d) You will need to connect to the microphone's lead. Again, you can route this under the tank cover. I took mine back to an Autcom.
Just take a bit of care that you are not going to catch / fray the lead(s) when the steering swings through its arc. Also take care that the cable(s) are not routed anywhere where they can pick up stray electrical signals, or you will get interference. On my 1200GSA and on my previous vanilla 1200, I routed them under the nearside tank / side cover, back to an Autocom that resides permanently under the seat. A bit of your own trial and error may be necessary.


In short, you can route cables (a) (b) and (d) just about any way you like, towards wherever you want the ends of the leads to come out. (c) will have to go towards wherever you dangle the traffic receiver itself.